Contributors:
Ralph Finos
David Floyer
Brian Gracely
Premise: While the majority of CIOs rank Hybrid Cloud within their Top 3 priorities, far too many companies are not sure how to align their application portfolio to the capabilities of a Hybrid Cloud environment. As IT organizations evolve their environment to a Hybrid Cloud, it is critical that they focus on application placement to maximize their investments. While most applications will not be migrated to public cloud, there are many opportunities to optimize or augment those applications in order to drive rapid ROI. Wikibon looks at how large and mid-sized companies are evaluating their application portfolio and aligning it to multiple Cloud Computing platforms. 
[This is Part I of a two-part series of research where Wikibon will look at the application trends and operational economics of Hybrid Cloud. Part I is focused on application portfolios, and Part II will focus on economic models.]
Drawing from a combination of in-depth interviews, industry research and nearly 1000 survey responses, Wikibon evaluated the current sentiment within the market for how companies view their current application portfolios, as well as future trends. Wikibon has questioned the maturity of Hybrid Cloud offerings in the market, as vendor-led offerings tend to lack public cloud capabilities, or transition models for customer's existing application portfolios.
The Many Definitions of Hybrid Cloud
While the NIST definition of Hybrid Cloud states –  The cloud infrastructure is a composition of two or more distinct cloud infrastructures (private, community, or public) that remain unique entities, but are bound together by standardized or proprietary technology that enables data and application portability (e.g., cloud bursting for load balancing between clouds) – the industry has adopted many different functional definitions of Hybrid Cloud. Vendors have brought a variety of definitions of Hybrid Cloud to market:
Software-Centric, Single-Vendor: These offerings bring together Public and Private Cloud management software, edge gateways and Public Cloud services to create a hybrid cloud. Vendors with these offerings include – Amazon AWS, IBM, Microsoft, Pivotal, and VMware.
Software-Centric, Multi-Vendor: These offerings bring together multi-vendor Public and Private Cloud management software, edge gateways and Public Cloud services to create a Hybrid Cloud. Vendors with these offerings include – Red Hat/Microsoft.
Software-Centric, Multi-Cloud Provider: These offerings bring together cloud management software across multiple Cloud Providers (or Service Providers) to create a mesh of interoperable cloud environments. Vendors with these offerings include – Avni Networks, Cisco, HPE, Mirantis, Pivotal, Red Hat, Virtustream, VMware.
Converged Hardware + Software, Single-Vendor: These offerings bring together converged hardware + software that is consistent across both Private and Public Cloud environments. Oracle Cloud solutions offer this solution.
Converged Hardware + Software, Multi-Vendor: These offerings bring together converged hardware + software from multiple vendors as a single offering, that is consistent across both Private and Public cloud environments. Vendors with these offerings include: Dell/Microsoft, HPE/Microsoft, HPE/AWS.
These offerings are not an extensive list of Hybrid Cloud solutions, as many vendors either have multiple partnerships to address Hybrid Cloud (e.g. EMC Federation Hybrid Cloud Solution), or they deliver converged hardware + software solutions that can be combined with other elements that can assist companies in building a Hybrid Cloud environment (e.g Cisco/NetApp Flexpod, VCE Vblock). Still others offer on-premises solutions that can be combined using direct network connection arrangements with public cloud services such as AWS or Azure.
Wikibon has described and defined Hybrid Cloud as a set of skills and technologies (People Skills, Access, Workloads, Infrastructure, and Management) that need to be provided in a hybrid configuration.
Optimize, Augment, Migrate or Replace?
In Wikibon's on-going discussions with organizations of all sizes, across many different industries, it is clear that IT leaders look at Hybrid Cloud much differently than many vendor-led architectures. While some IT organizations consider the compatibility of hypervisors between multiple cloud environments, their primary focus is on the optimal placement of business applications. They are looking at a broad range of applications, which could be running within their data center, in a private IaaS or PaaS Cloud, in a public IaaS or PaaS Cloud, or as a public SaaS application.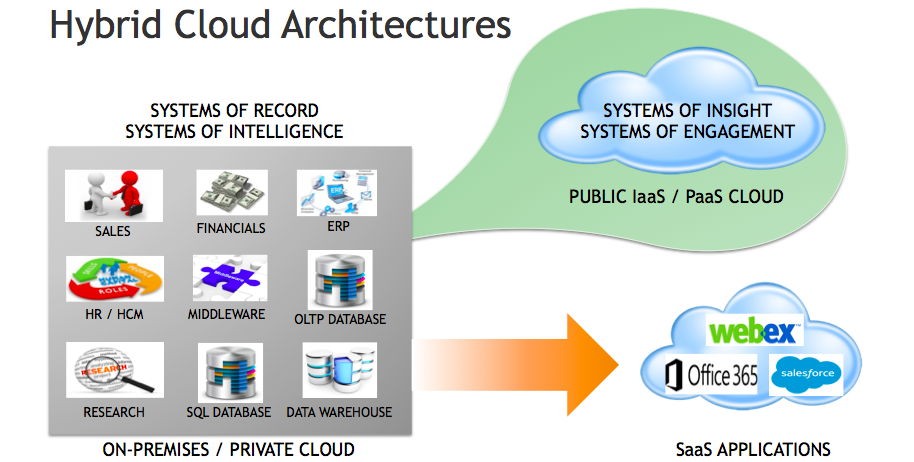 IT organizations highlighted five key consideration criteria when evaluating the future of their application portfolio:
[1] Do Nothing – Some applications, often industry-specific or delivered on a hardware appliance, do not make sense to change. This is often due to software licensing, or how the application is supported.
[2] Optimize – Many existing applications will not be changed from a software perspective, but IT organizations will attempt to optimize the environment around the applications.
[3] Augment – As the market evolves with Mobile, Big Data and IoT technologies, many companies are looking for ways to augment their Systems of Record with new applications that are designed for these new customer engagement models. This is where companies are actively investigating Cloud Native applications. Some companies are actively hiring in-house developers to build these applications, as these applications are beginning to become the new differentiation for the business. This is also an area where many companies create integrations between SaaS applications and their in-house Systems of Record. This is another area where business have an opportunity to better align the application development teams and the operations teams, especially since these Cloud Native applications will often have unique operational considerations.
Another approach is to move towards Systems of Intelligence by bringing the data and algorithms required to automate business processes to the existing systems of record. Initially these are automated decisions derived  from best-practice rules, supported by historic big data analysis. Over time these will migrate to algorithmic decisions based on multiple real-time data streams from inside and outside of the organization, again supported by historic big data analysis. Successful initial application of this approach have been in fraud detection in the financial and health insurance industries.
A key part in developing the algorithms for Systems of Intelligence will be utilizing historic big data sources, and analyzing them in depth. This is a development area where public clouds can offer significant on-demand large-scale compute and historic data resources, as well as a broad range of analytic tools. Wikibon expects that such deployments will grow very rapidly.
[4] Migrate to Cloud – While IT leaders understand the advantages of Cloud Computing, they are still evaluating if it makes more sense to migrate applications to a Private Cloud or a Public Cloud.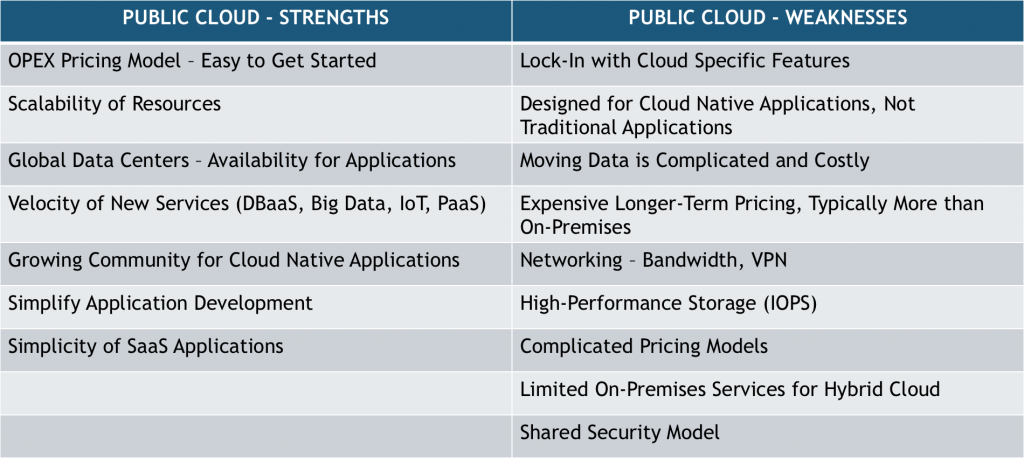 While Public Cloud has been growing significantly over the past few years, many IT organizations are still evolving their Cloud Computing skills and feel more comfortable with the control that can be applied to Private Cloud environments.
Migrating applications to a Private Cloud allows IT organizations to maintain existing performance and security characteristics, while having local access to application data. These migrations have proven to be more cost effective that migrating applications to a Public Cloud, due to the high cost of managing migrations that have integrations with on-premises Systems of Record.
Beyond being focused on internal migrations, many of the IT organizations that Wikibon have interviewed are building Private Cloud environments as a response to their business groups using Public Cloud to build new applications. The Private Cloud projects are focused on delivering automated infrastructure and services that mimic what can be consumed from Public Clouds such as AWS or Azure. Having API compatibility with AWS, Azure or OpenStack is a critical design criteria for these Cloud projects, as the broad architecture will support Hybrid Cloud in the future.
[5] Replace – For the past 10-15 years, most companies have used technology as a means of driving greater business or employee productivity. But as those technologies become less differentiating for the business, they are beginning to look at options to replace their previous investment with SaaS equivalents. These applications often align to a distinct job functions and business processes that can be isolated and replaced – such as Email, call-center management, Collaboration, Sales and Marketing or Human Resources.
A final consideration for many IT architects is the future portability of applications. In the past, this discussion was often limited to environments that ran the same hypervisor, which limited customers options. Recently, the conversation has evolved with the popularity of containers. While containers have the potential to create greater application portability between cloud environments, they don't do anything to resolve the challenge of trying to move large amounts of application data between clouds. The movement of data between clouds is still the biggest barrier to have true portability between any cloud environments.
The Right Location for the Right Application
As IT organizations evaluate their application portfolios, one of the most frequent questions they ask is where they should invoke change to either reduce costs or drive greater business opportunities. The chart below highlights feedback that Wikibon has received from Enterprise and Mid-Sized companies. The chart highlights where common business applications run today, the probability that they would be moved or migrated to a new environment, and the key challenges to those changes.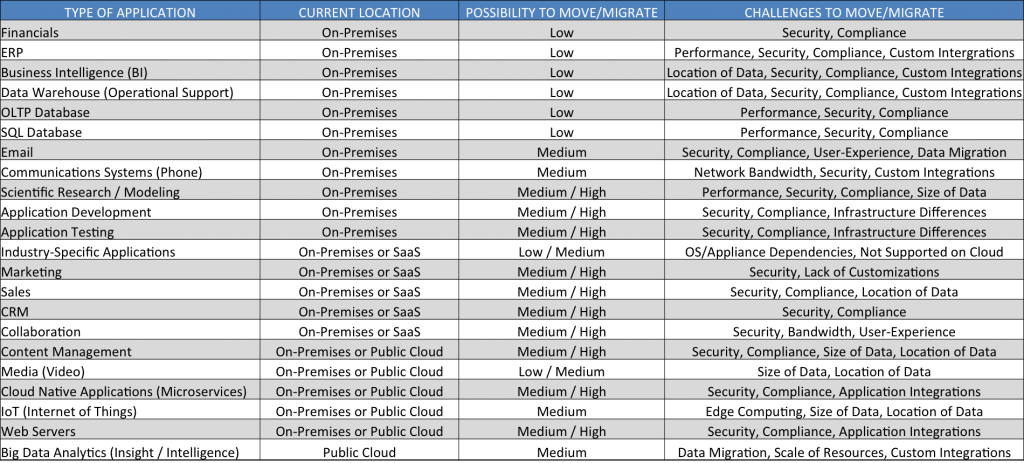 While any change to existing applications could introduce levels of risk, the process of evaluating a company's applications offers an opportunity to rationalize the existing portfolio, as well as prioritize the projects that can drive new business value.
Action Item: The focus of any Hybrid Cloud project or architecture should be on enhancing business value and reducing the risks during this transitional process. IT organizations should develop a methodology to assess business value  so they can focus on the projects that will have the greatest balance between business impact and risk mitigation. 
[Methodology – Wikibon frequently conducts in-depth interviews with businesses in many different industries as part of ongoing research. These are usually with CIOs and IT Architects. This insight is augmented with broad surveys of IT practitioners, as well as on-going discussions with leading vendors and open source communities on product roadmaps and technologies. Wikibon uses this information to influence our technology manifestos (e.g. Cloud Computing, Big Data), as well as bring additional validate to the economic models and forecasts we build about industry disruption and transitions.]