George Gilbert is Big Data & Analytics Analyst for Wikibon/theCUBE. Previously he was a Big Data analyst for Gigaom Research. Before that he co-founded Techalphapartners, a consultancy that advised vendors and institutional investors on market development and product strategy. George has led conference panels with prominent thought leaders in cloud infrastructure and big data. He has been profiled on the front page of the Wall Street Journal and published as a guest author in a major overview of the evolution of cloud computing in The Economist. Previously, George was the lead enterprise software analyst for Credit Suisse First Boston, one of the top investment banks serving the technology sector. Prior to being an analyst, George was a product manager on Notes at Lotus Development. George received his BA in economics from Harvard University.
George Gilbert View All
Posted On 3 March 2017

2017 Big Data and Analytics Forecast

Open source and integrated public cloud offerings continue to pressure pricing. Applications today require heavy professional services spend. Business objectives are driving software to support ever lower latency decisions.Read More
George Gilbert's Hashtags
Crowd Chat
bigdata
@theCUBE Talks Big Data
Conversation with George Gilbert Wikibon Analyst about bigdata Hadoop & other cool news & trends
JOIN DISCUSSION
---
localdata
Managing Billions of Files
What kinds of data management & backup challenges creep up when your NAS gets to billions of files?
JOIN DISCUSSION
---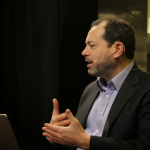 George's Research Agenda