Peter manages Wikibon and directs research at SiliconANGLE Media. His own research focuses on the evolving relationship among customers, business, and technology. collaboration, big data, and new application development tooling are among the technologies he covers. He has over 25 years of experience in technology and business. Prior to joining SiliconANGLE Media, Peter worked with Forrester, META Group (now Gartner), HP, the Naval Postgraduate School, and IDC. He lives in Silicon Valley, CA.
Peter Burris View All
Posted On 20 March 2017

Welcome to the Wikibon Team, James Kobielus!

Jim Kobielus has joined Wikibon/SiliconANGLE. Jim comes to us from IBM, where he was IBM's data science evangelist and managed thought leadership, social, and influencer marketing programs targeted at developers of…Read More
Posted On 20 February 2017

How Big Can AWS Get?

AWS will remain a major IT market force, but will have to address challenges as larger enterprises start demanding more from cloud-service providers.Read More
Crowd Chat
MITCDOIQ2016
Live Coverage of MITCDOIQ 2016
Tenth annual Chief Data Officer IQ Symposium from MIT in Cambridge, MA, held July 13-14, 2016.
JOIN DISCUSSION
---
---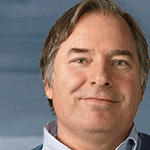 Peter's Research Agenda