In our 2020 Enterprise Technology Predictions post we said that organizations would slow down experimentation this year and begin to operationalize their digital transformation PoCs. We also said that, based on spending data, cyber security companies like Crowdstrike and Okta were poised to rise above the rest in 2020 along with an accelerated pace of cloud migrations. And we said the S&P 500 would surpass 3700 in 2020.
Little did we know that a pandemic would make these predictions a virtual lock. And of course, COVID blew us out of the water in some others, like our prediction that IT spend would increase 4% in 2020, when in reality we have it dropping by 4% to 5%. We made a number of other calls and did pretty well – but we'll let you review last year's predictions at your leisure to see how we did.
In this week's Breaking Analysis, we're joined by Erik Bradley of ETR to lay out our top picks for 2021.
Prediction #1 – Tech spending will rebound to 4% growth in 2021 and could go even higher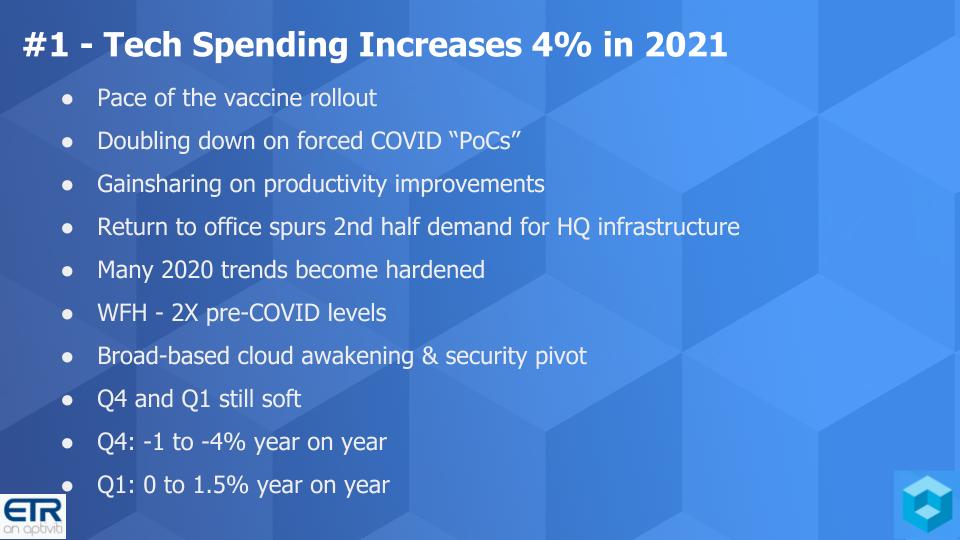 As we forecast earlier this year, there are a number of factors that support this prediction, which of course is based on ETR's most recent survey work. We've listed a number of them above.
The pace of the vaccine rollout leads us to believe that by June, we'll be back to a more normal spending climate. As the last three bullets imply – we're not out of the woods yet as Q4 is looking soft and CIOs are still cautious about Q1 spending levels.
But we believe that the pandemic forced a giant proof of concept on the technology world and will serve as an excellent predictor of what will work for a digital business. We believe organizations will double down on those successes in the coming year.
We also see a return to the office bringing more spending at central locations to close the gaps of the past ten months and meet the pent up demand for spending at headquarters and other central network locations.
Moreover, most organizations cite productivity improvements for remote workers and we believe companies will reinvest a portion of these gains back into the technology department.
Many 2020 Trends Show Signs of Permanence
Remote worker trends are expected to stay elevated for several more months (see below) and eventually settle at a rate roughly double pre-pandemic levels. We believe these changes will cause several COVID trends to become the new normal, particularly in the areas of security and cloud adoption.
We would also expect continued strength in collaboration software and remote tools such as laptops and VDI. However we expect growth in these areas to begin to moderate in 2021 and revert to a normal growth rate by the end of the year. Nonetheless, the cyclical trends of the past will take new shape, favoring remote work spending signatures.
Listen to Erik Bradley's commentary on this prediction. 
Prediction #2 – The percentage of remote workers settles in at an average of 34% by year end 2021 – Double pre-COVID levels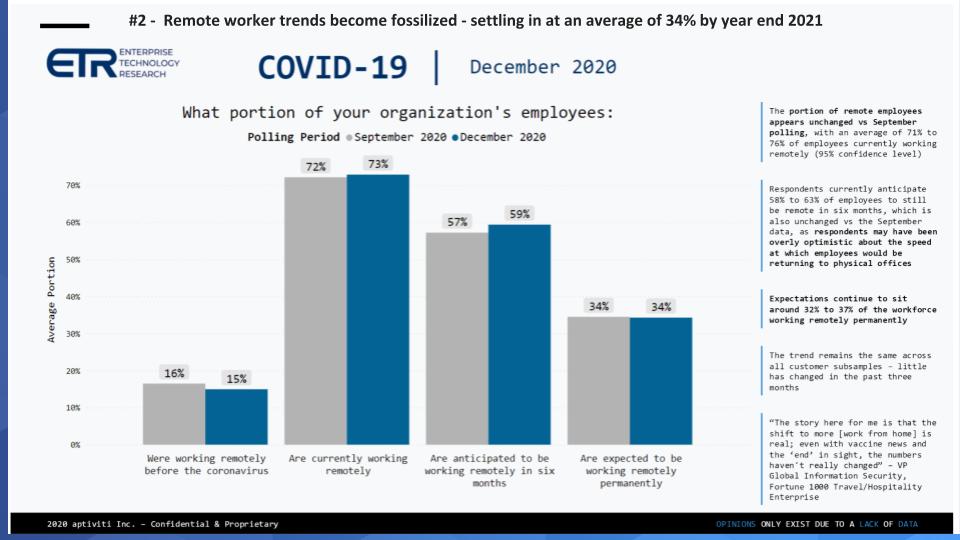 In the graph above, we're showing data from ETR's latest COVID survey, which shows that prior to the pandemic, about 15%-16% of employees on average worked remotely. That figure today averages in the 70's. We see this staying close to 60% in the first half of 2020 an by the end of '21, settling in at 34%, more than double pre-pandemic levels.
This data has been consistent from ETR surveys over the past six months and consistent across different customer subsamples for the most part.
Erik Bradley adds color to this data.
Prediction #3 – Productivity increases will lead organizations to double down on the successes of 2020 & select productivity apps benefit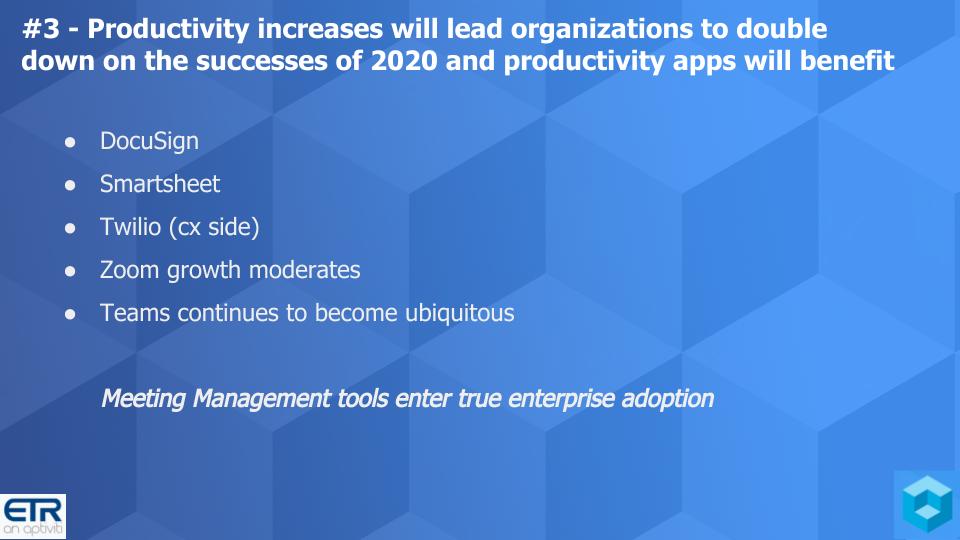 The winners in this trends are the companies seeing productivity increases. Executives are keen to bottle the wins of 2020 and at the same time don't want to burn out their employees. So they're willing to invest in maintaining the productivity gains this year. Notably, the ETR data shows that productivity continues to improve sequentially each quarter.
Early in the pandemic we saw the rising tide lift all ships. For example, legacy plays like Citrix saw a nice uplift. We also saw rapid adoption of tools like DocuSign, which we believe will bring permanent changes going forward. According to Erik Bradley:
Nobody is going to travel and sit in an office, just to sign a paper ever again– This is a paradigm shift that is not temporary.
Smartsheet has been another beneficiary of the work from home trend as remote teams endeavor to automate workflows and collaborate in new ways. According to ETR surveys, the data on Smartsheet continues to be strong.
Twilio is another winner showing signs of sustained success. With in-person transactions moving on-line, customer experience changes and becomes critical in new ways.
Qualtrics is another name to watch and it just announced an IPO that will fetch around $14B, just two years after being acquired for $8B by SAP.
While we expect the video conferencing trend to remain strong, we are seeing a moderation in the spending momentum for Zoom. Meanwhile, Microsoft Teams continues to be strong and a convenient option for Microsoft shops.
Erik Bradley comments further on the productivity / collaboration space. 
#4 – Permanent shifts in CISO strategies lead to measurable share shifts in network security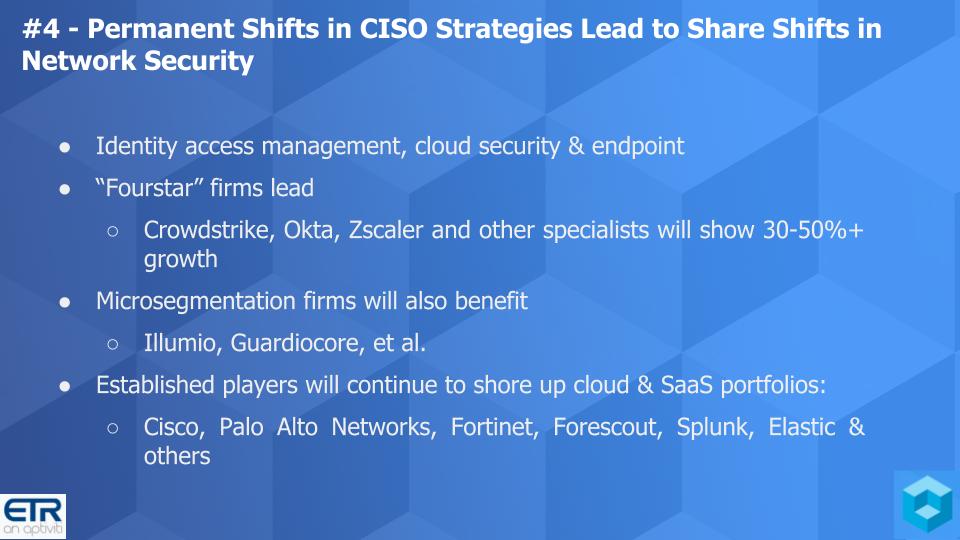 The remote work hyper-pivot has exposed us to escalated cyber attacks. Recent breaches underscore the need for permanent change. Identity access management, cloud security, endpoint and zero trust security have seen upstarts Crowdstrike, Okta, Zscaler  and others thrive. We expect these names to continue to show 30%-50%+ revenue growth into 2021.
We've reported extensively on the valuation divergence between these names and other established security players. In 2021, we would expect that gap to narrow somewhat but still favor the growth names.
In addition, certain micro-segmentation players will see big spikes in activity. As well, big name security players like Cisco, Palo Alto, Forescout and Fortinet  are also positioned to do well. These players have larger exposures to declining businesses but their security portfolios are transitioning to take advantage of the major waves. We've reported on the value divergence between Fortinet and Palo Alto earlier in the year and how Palo Alto has closed that gap with better cloud execution. Security is also a clear bright spot in Cisco's portfolio as well.
We expect the skill shortage to continue in 2021 and the market will remain fragmented with an increasing trend toward automation to help address the talent shortage.
Erik Bradley comments on the cyber space. 
Prediction #5 – Increased tech spend drives more IPOs, SPACS, M&A…Exceeding 2020's torrid pace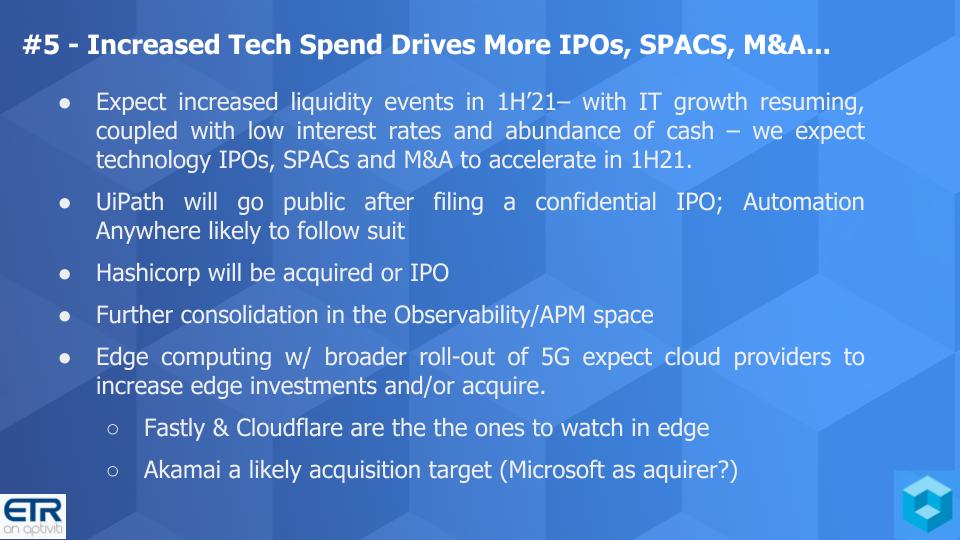 We've seen some amazing liquidity events this year, Snowflake, AirBnB, DoorDash, Palantir, JFrog, etc. UiPath just filed confidentially and we'd expect Automation Anywhere to follow suit at some point.  More on this prediction later in the post. Despite the strong 2020, we believe 2021 will be even stronger.
As Erik Bradley said:
There's a lot of cash on the balance sheet. Interest rates are low. Technology spending momentum is picking up in the enterprise. The three of those set up for a perfect storm of more liquidity events, whether it be continued IPOs or M&A.
Hashicorp was a company we called out in our 2020 predictions as one to watch and could be an interesting target. We also called out Snowflake last year and with its elevated stock price and strong balance sheet it could be an acquirer. We think the observability market is ripe for change and we've seen some real shifts in the space with Elastic and the ELK stack gaining prominence, while some new entrants like ChaosSearch just raised $40M. Established players like New Relic, Dynatrace and Cisco with AppDynamics could all be making M&A moves in 2021.
In addition, IoT and the edge will begin to contribute meaningful revenue to enterprise tech companies in the coming years. We would expect lots of edge-oriented M&A in 2021 to set up for the future. We see Akamai as a potential acquisition target, possibly with Microsoft (or perhaps Oracle) as an acquirer to compete more effectively with AWS in the CDN space. Importantly, Akamai's security business would be a real prize, not only for CDNs, but also to extend zero trust credibility in the cloud. Any acquirer would also get the boost of the postponed 2020 Olympics traffic.
Erik Bradley's take on M&A in 2021. 
Prediction #6 – In the 2020's, 75% of large organizations will completely re-architect their big data platforms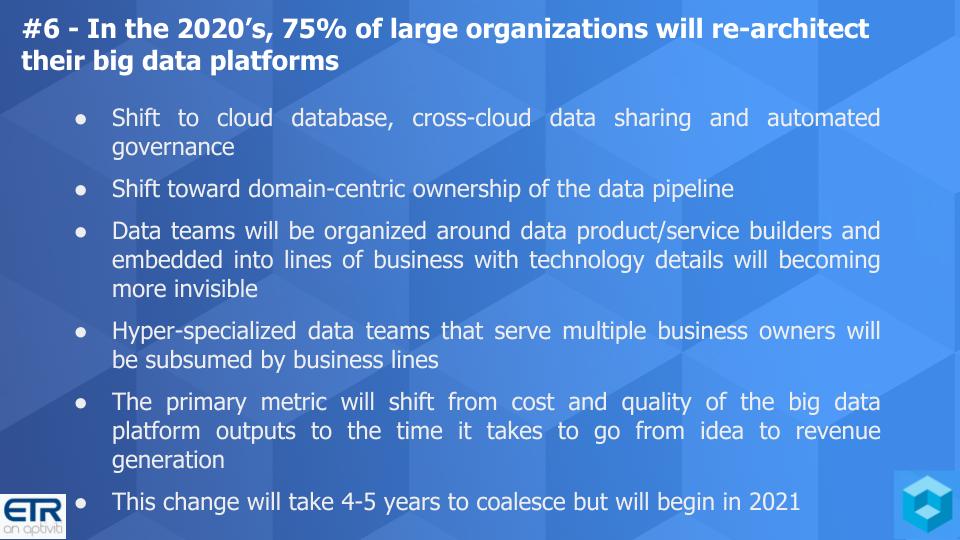 In this next prediction, we're not talking about incremental changes to data platforms. Rather we're predicting a major do-over in data platforms, architectures and importantly, how teams are organized.
We're seeing a rapid shift to cloud database, cross-cloud data sharing and automated governance. Our prediction is steeped in the notion that big data approaches are flawed and will not be corrected by incremental improvements in data lakes, data warehouses and data hubs Rather, we see a pending shift toward domain-centric ownership of the data pipeline where data teams will be organized around data product/service builders and embedded into lines of business.
In this scenario, technology details will become abstracted. Today's hyper-specialized data teams that serve multiple business owners with different data agendas, will be subsumed by respective business lines. In the future, the primary metric will shift from cost and quality of the big data platform outputs to the time it takes to go from idea to revenue generation
This change will take 4-5 years to coalesce but will begin in earnest next year.
We think this sets up an interesting competitive dynamic in the industry where players like Snowflake are trying to radically change the game and create an entirely new approach to data access, sharing and governance. Versus a path that Databricks seems to be on, which is designed to make a better data lake. As well, we see numerous other companies playing in this transformation, including Oracle that is consolidating databases, AWS, which continues to believe that specialized databases are required for different workloads. With of course Microsoft and Google firmly entrenched in the cloud database mix. And several credible companies like Yellowbrick Data, Splice Machine, SingleStore, MongoDB, Redis Labs eyeing the data prize. Even new entrants like ChaosSearch could be players in a new type of data architecture.
Erik Bradley comments and riffs on Snowflake, Databricks, machine intelligence and data analytics at the edge. 
#7 – The battle to define hybrid & multi-cloud escalates in 2021 and creates bifurcated CIO strategies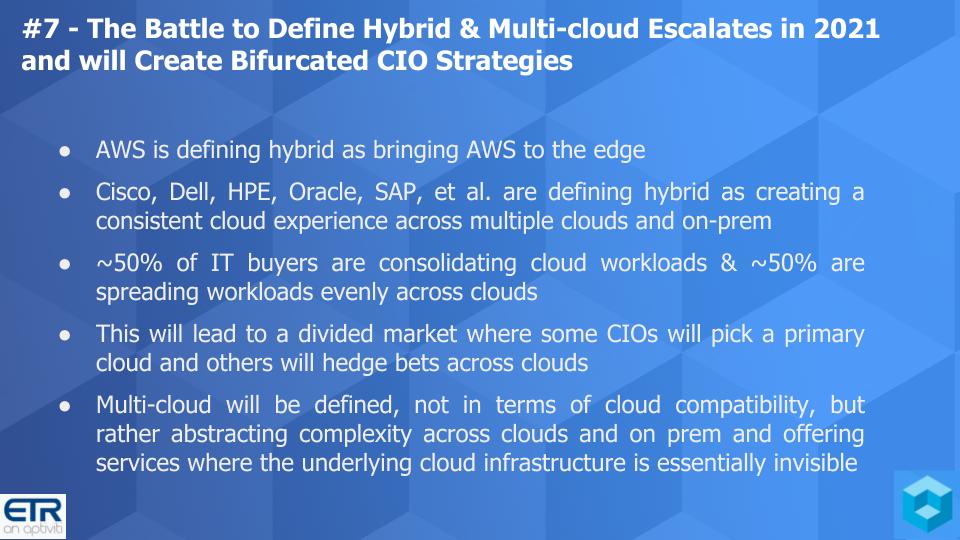 Spending data shows that cloud continues its steady March and its share gains. But the definitions of cloud are evolving. Just a couple years ago, AWS didn't talk about hybrid – much as they don't talk multi-cloud today. At this year's re:Invent we heard AWS CEO Jassy talk about the datacenter as just another edge node. Legacy players see it differently. They view the data center as the beating heart of an organization's systems and the cloud as a place for less mission critical work to be done. And they see cross cloud services as a strategic imperative for CIOs.
AWS on the other hand sees multi-cloud as a more expensive, less secure approach. And the data, while mixed, indicates that companies generally take one of two paths. Path 1 is a large commitment to a primary cloud and path 2 is a more balanced approach for workload placement. ETR data shows that just under 50% of buyers are following path #1 – i.e. consolidating workloads – and a similar percentage of customers following path 2 – i.e. spreading evenly across clouds.
CIOs have a choice to make. Ultimately we think multi will be defined not by the notion of cloud compatibility – i.e. my stack works in the cloud. Rather we see the true winners in multi-cloud as those companies that can abstract the underlying cloud complexity away and create incremental services value across clouds.
Erik Bradley's thoughts on multi-cloud with additional comments on AWS, Google Anthos, VMware and Red Hat.
Prediction #8 – Cloud*, Containers, AI/ML, Automation will Lead 2021 Spending Velocity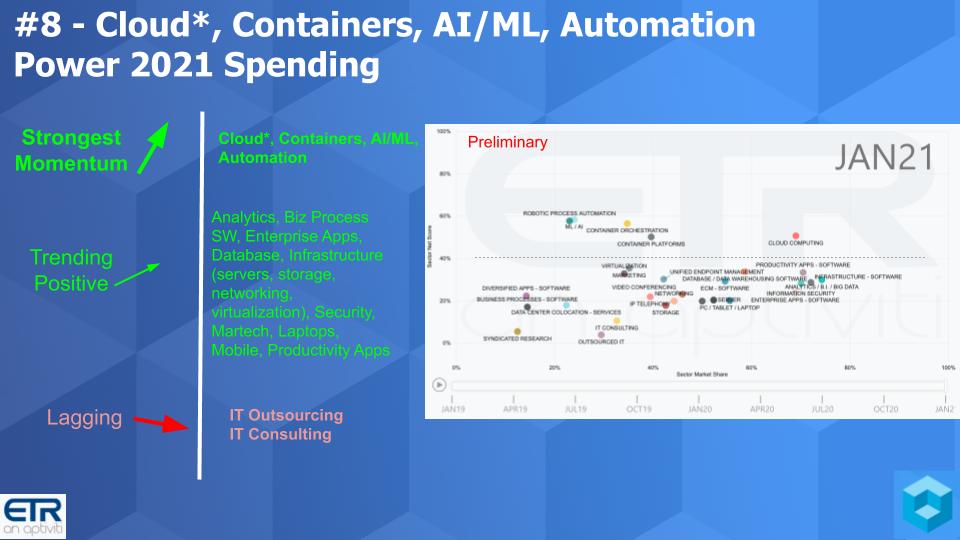 This next prediction is a bit nuanced and it supports our first prediction of a rebound in tech spending next year. We're seeing Cloud, Containers, AI/ML and Automation (in the form of RPA) especially as the areas with the highest Net Scores or spending momentum. Now we've put an asterisk next to the cloud because as you can see in the inserted graphic, cloud not only is above that dotted line at a 40% Net Score but it has one of the higher sector Market Shares in the data set. But virtually every sector with the exception of IT Outsourcing and IT Consulting are seeing meaningful upward spending momentum expected for 2021 based on the ETR surveys…and with IT project freezes thawing as we exit the year, even outsourcing and consulting could pick up.
Erik Bradley shares his thoughts on the sectors with momentum as we enter 2021; with specific comments on machine learning, automation and data analytics momentum and comments from practitioners on UiPath and Automation Anywhere. As well as calling the bottom on IT outsourcing and consulting. 
Prediction #9 – The Automation Mandate Accelerates in 2021 – UiPath & Automation Anywhere go Public but Microsoft Remains a Threat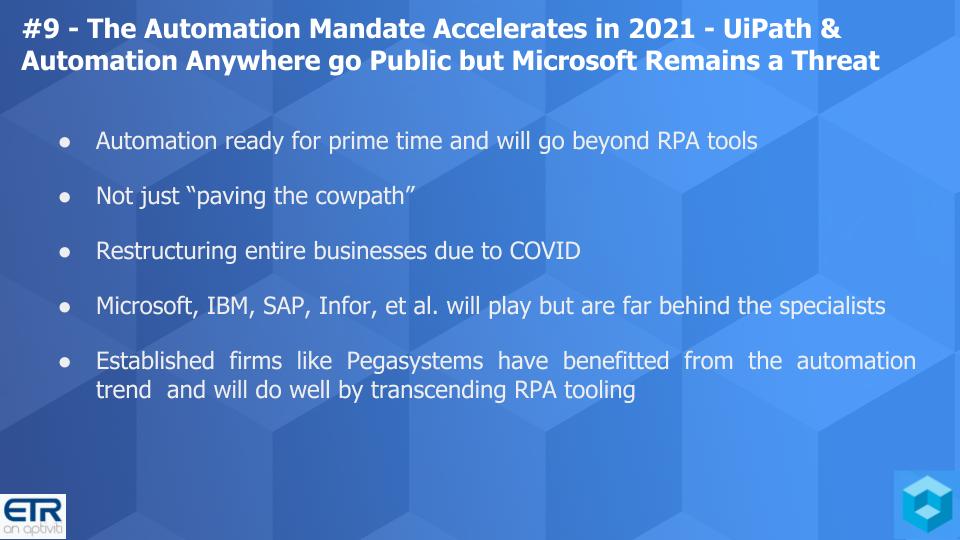 Automation has gone mainstream. The benefits of applying simple RPA tools to automate mundane tasks has both awakened organizations to the possibilities and, combined with COVID, has caused them to get serious about automation. 2021 will see organizations going far beyond implementing point tools – they will use the pandemic to restructure entire businesses.
We previewed in Prediction #5 that UiPath and Automation Anywhere would go public. Now you may think this is a safe but but not necessarily. These two companies still likely have work to do to get ready for an IPO. Automation Anywhere's CFO has a stronger track record at public companies so it was a bit of surprise that UiPath filed first. But they did couch the filing by signaling a 12-18 month timeframe, so perhaps it's not a layup prediction.
Microsoft continues to show strength in RPA within the ETR data. The company seems ubiquitous in virtually all sectors and RPA is no exception. Despite reports that the Microsoft offering is deficient compared to the leaders, their presence cannot be underestimated.
Another company we've been following is Pegasystems. The company has performed well in the automation space. We don't see Pega as an RPA specialist, rather they have a broader automation agenda building off of a traditional business process automation /business process management installed base.
Erik Bradley comments on automation and comments on UiPath's #1 position, Automation Anywhere and Microsoft Power Automate and its presence in the market.  
#10 – 5G Rollouts Push new Edge/IoT Workloads and Necessitate new Systems Architectures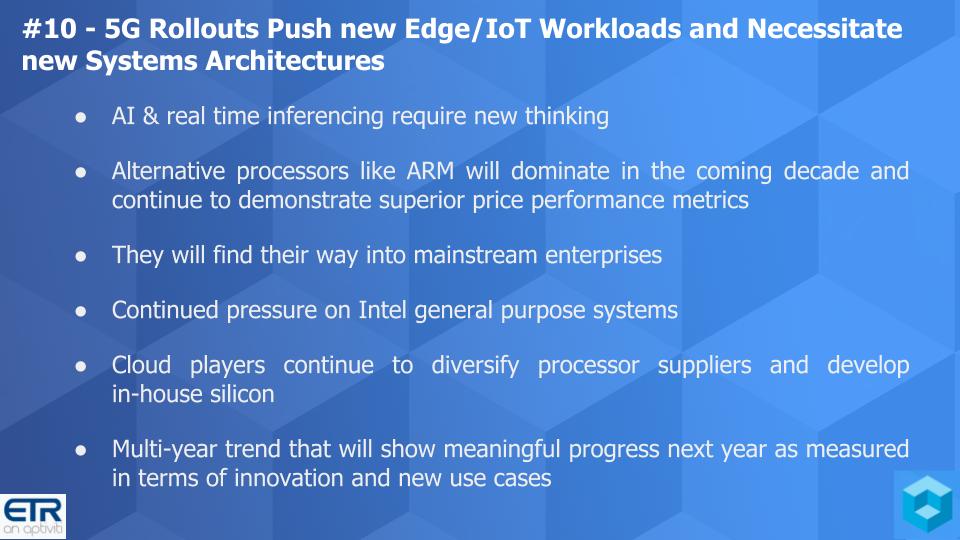 We believe AI and real-time inferencing require new thinking around processor and systems design. The focus will be on low-latency and much lower cost for a specific workload versus today's general-purpose approach. Alternative processor architectures from companies such as Apple, ARM, AWS, Broadcom, Fungible, Microsoft, Nvidia, and Qualcomm will dominate these new workloads in the coming decade and demonstrate superior price-performance metrics. Over the next five years, they will find their way into mainstream enterprise workloads and put continued pressure on x86 general-purpose systems from AMD and Intel.
This is a multi-year trend that will show meaningful progress next year as measured in terms of innovation and new use cases.
Erik Bradley comments on chip shortages, IoT, 5G and CDNs. 
Ok there you have it, our predictions for 2021 and the coming decade. Many thanks to Erik Bradley for his excellent contributions.
Remember these episodes are all available as podcasts wherever you listen.
Ways to get in touch:  Email david.vellante@siliconangle.com | DM @dvellante on Twitter | Comment on our LinkedIn posts.
Also, check out this ETR Tutorial we created, which explains the spending methodology in more detail and don't forget to check out the ETR Website for more data.
Watch the full video analysis:
Photo Credit Stephen Davies