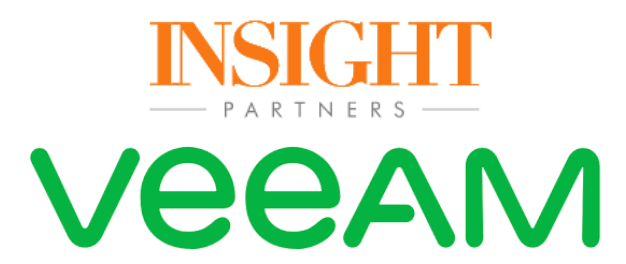 In this week's episode of theCUBE Insights, powered by ETR, we want to provide an analysis of the recent announcement that Insight Partners was acquiring Veeam for $5B. There's lots of information on the announcement in press releases and news articles so what we really want to focus on is what it means for the industry generally and the data protection community specifically. 
Veeam Background
Briefly, this was a $5B exit for Veeam on top of a $500M investment led by Insight Partners last year…We think of that earlier investment as kind of a "rent with an option to buy." New management is being promoted from within to replace the two founders, Andrei Baronov & Ratmir Timashev who will step down after the transition and give up their board seats. 
Veeam is a fascinating company that started around the 2006/2007 timeframe after the two founders who met in college, then formed and sold Aelita Software to Quest. They started a company called Amust Software from which they created Veeam. You've probably never hear about Amust but it appears to be the engineering and development arm of Veeam, which new CEO Bill Largent told theCUBE is now a wholly owned subsidiary of Veeam.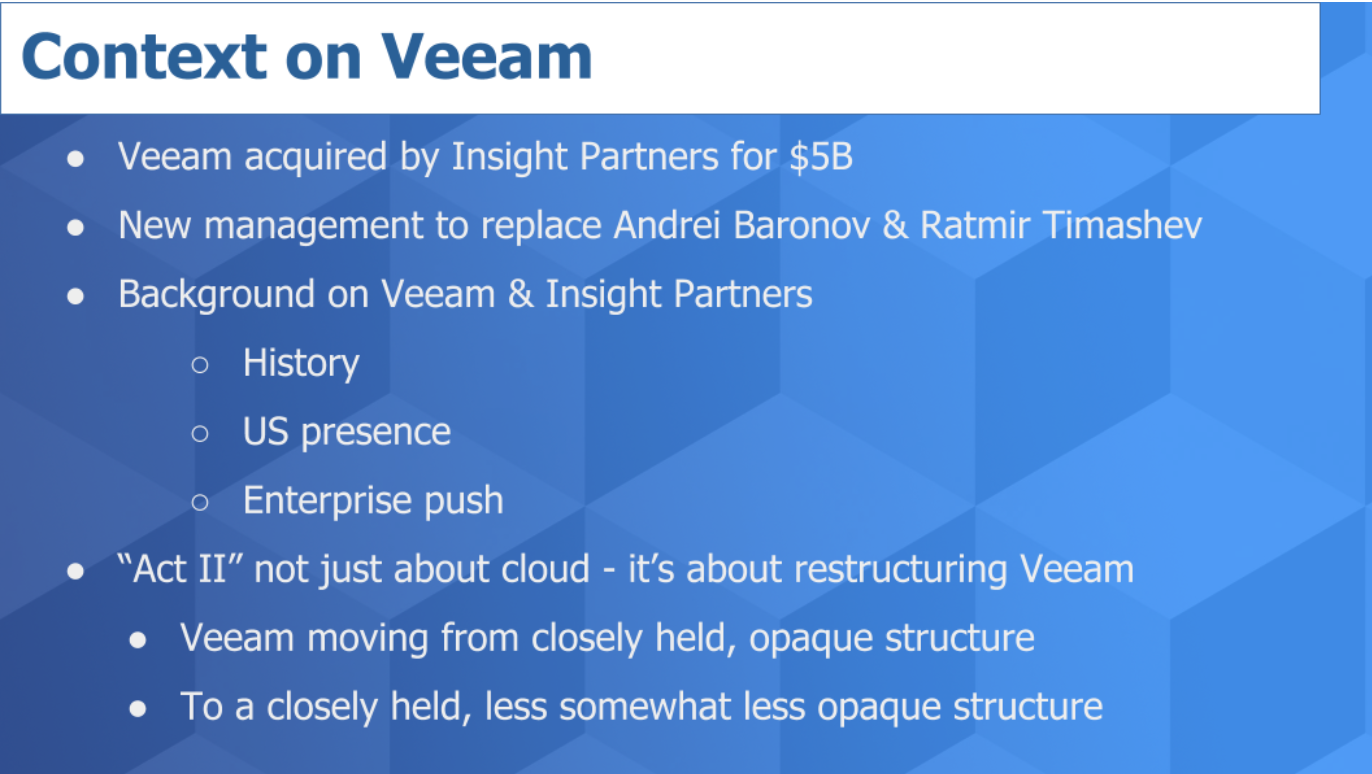 This is the thing about Veeam. It is a very closely held company controlled by its two founders with its domicile in Switzerland. Reports indicate that Baranov, the technical guru, is a resident of that country and the HQ is very lean with sizable engineering teams in Russia and Prague. Timashev resides in the US and is a marketing genius who helped create a company that always punched above its weight class. 
Veeam's Enterprise Push
Interestingly, Veeam's rise coincided with that of VMware. It became the standard backup software for small to mid-sized VMware shops. Veeam's products are renowned for simplicity and working as advertised…and their customer support is outstanding. But its US business has lagged despite the fact that most of VMware's business is in the Americas. 
A few years ago Veeam decided to go hard after the enterprise and brought in Peter McKay from VMware who began to build up the business in larger organizations. But the enterprise business required a number of things that were somewhat antithetical to Veeam…namely long sales cycles, expensive sales people and belly-to-belly selling with the expectations of roadmaps and clarity around enterprise feature sets. McKay was named Co-CEO with Baranov who continued to run engineering so it was a bit of a culture clash. A sales-oriented leader wanting his engineering team to turn on a dime to help close large deals and satiate partners (like HPE and Cisco) and a genius co-leader / engineer with an incredible track record of delivering features that customers loved. 
So it didn't work so well and Veeam scaled back its ambitions somewhat. 
Veeam's Act 2
At its annual user conference in Miami last year, Ratmir Timashev came on theCUBE and talked about how Veeam's Act 1 was dominance in virtualized environments. Here's a 30 second clip of what he said about Act 2: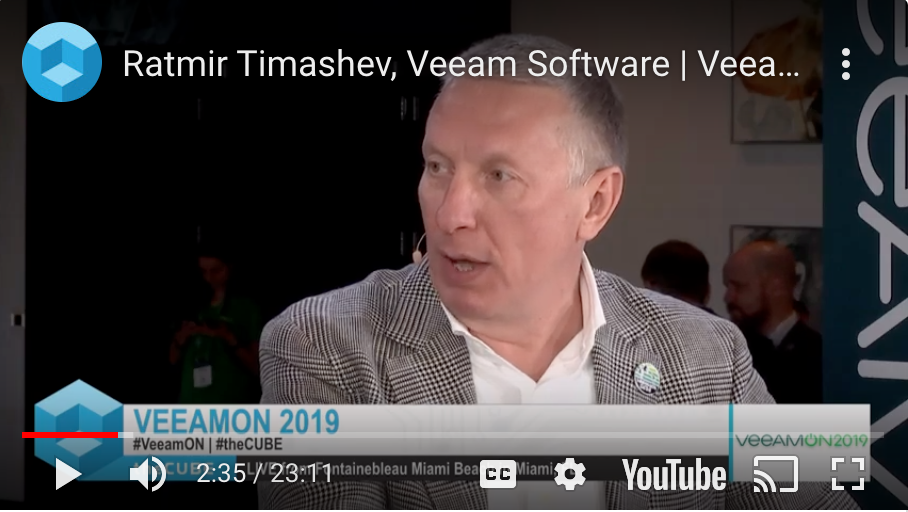 What we now know is Act 2 was about a few things: 1) As Ratmir said…hybrid cloud, multi-cloud management, etc….but 2) it's also about an awesome exit for its two founders; and 3) handing over the reins and creating a more traditional governance structure for Veeam. Veeam is moving from a company that was closely held and opaque to one that is still closely held but hopefully somewhat less opaque. 
Insight Partners Playbook
Which brings us to the Insight Partners acquisition. In the money world there's a spectrum. On one side are banks who are the most conservative and on the other end are VCs who are most aggressive. In the middle you have private equity firms who traditionally invest in companies, squeeze them for EBITDA and take money out. But there's a new breed of PE company that has emerged and Insight is more of a hybrid. They invest in a number of companies as VCs and they're more of a "rule of 40" PE…meaning it's not just about EBITDA it's about growth plus EBITDA. So a rule of 40 PE company can dial down EBIT and go for growth or dial up EBIT and moderate growth if the times warrant. It's a great model. 
We expect Insight to bring structure and leadership with the goal of taking Veeam public at some point – because we don't see a logical buyer at this point at these valuations. 
The Customer Voice
Let's get into some of the ETR spending data. Here's a narrative they put out recently that to me sums it up well: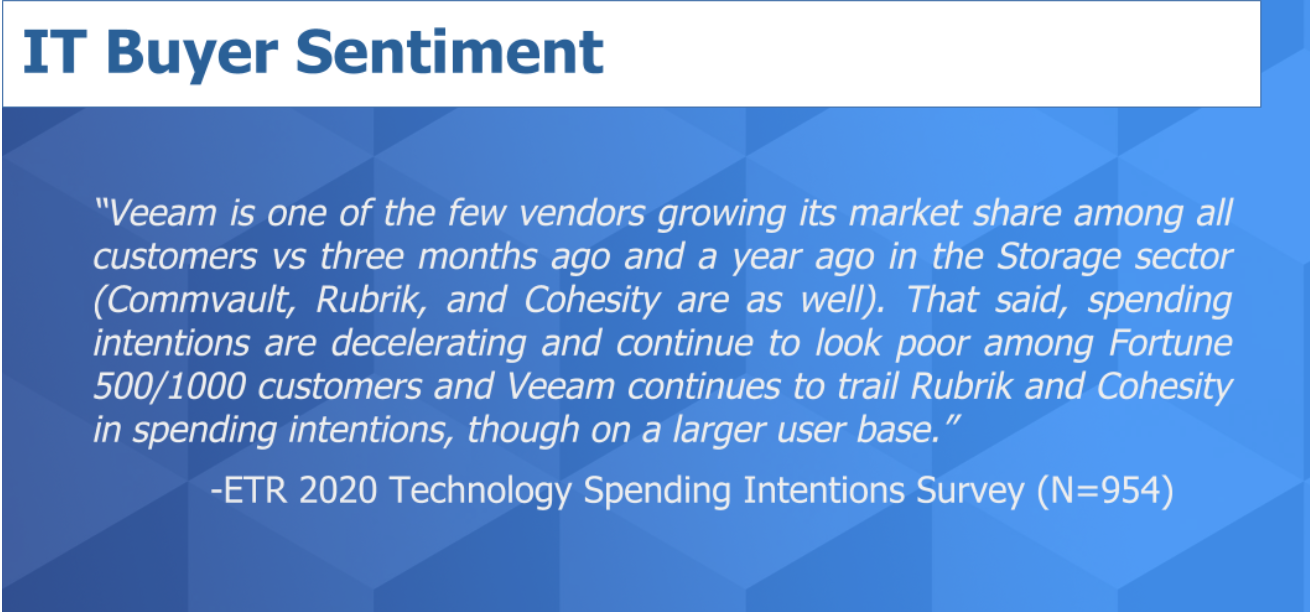 As you can in the above statement – Veeam is doing well but there are some cracks in the enterprise armor. This airline customer quote below sums up one of the reasons for Veeam's success:


Spending Data Shows Veeam's Steady Rise but Some Headwinds in the Enterprise
The next chart shows the progression over time of Veeam's progress in terms of what ETR calls marketshare. Remember marketshare is a measure of pervasiveness in the ETR survey. You can see in the data Veeam's steady rise since ETR started tracking them at critical mass in 2014. You can see the steady decline in the survey for Veritas and Commvault and what appears to be rapid momentum building for Rubrik and Cohesity — two companies we said in our 2020 predictions Breaking Analysis would continue to do well. Notice that we're required to black out the January 2020 survey which is ending shortly…so stay tuned for those results.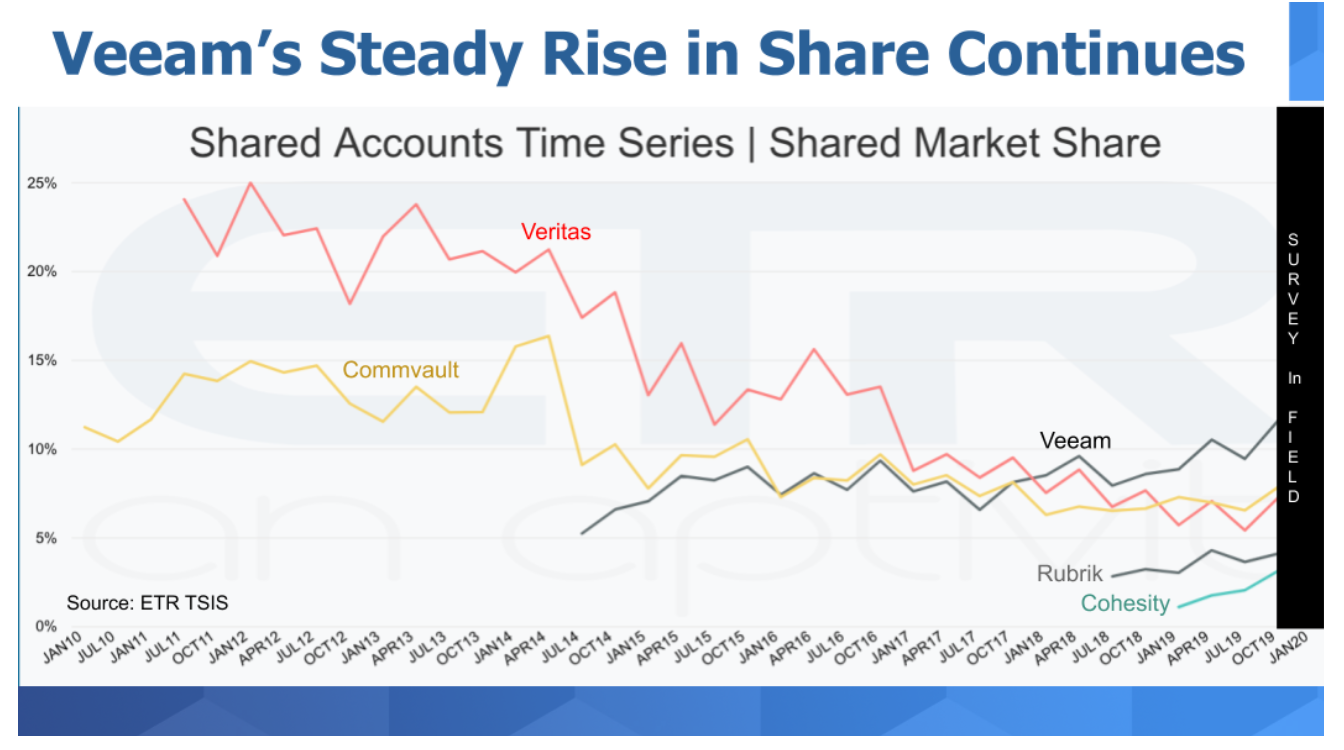 Let's drill a bit more into Veeam's market performance.
The chart below shows a candlestick of Net Score and Marketshare across all respondents for Veeam. Remember, net score is a measure of spending momentum that subtracts customers spending less (the red) from those spending more (the greens) and is represented over time by the blue line. You can see the blue line bounces around but holds steady in the past two years generally is in the 30 to 40 percent range on the left hand axis.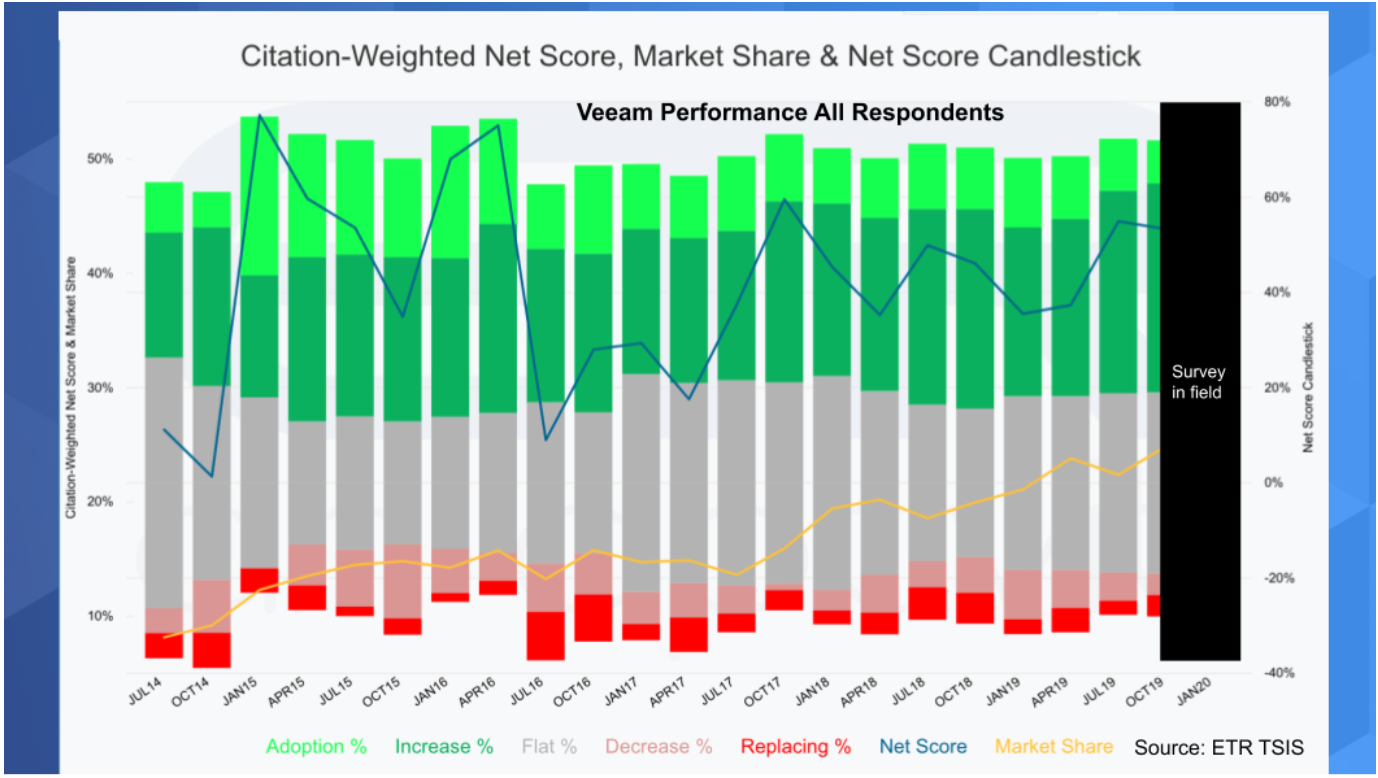 The yellow line – which is marketshare or pervasiveness – also continues to steadily climb as a shown in the earlier chart. Again this is among all respondents across the ETR data set. 
Veeam's Performance in Larger Enterprises
Let's look at the next chart which isolates Veeam's performance in the largest companies using the F1000 as a proxy. 
Notice that the picture in the chart below is much choppier. Marketshare (the yellow line) is not bad, although unlike the previous chart it's not steady. And it's actually quite stunning…Peter McKay left in October 2018 and that's when Veeam pulled back on its big enterprise push and you can see the noticeable and steady drop beginning at precisely that timeframe.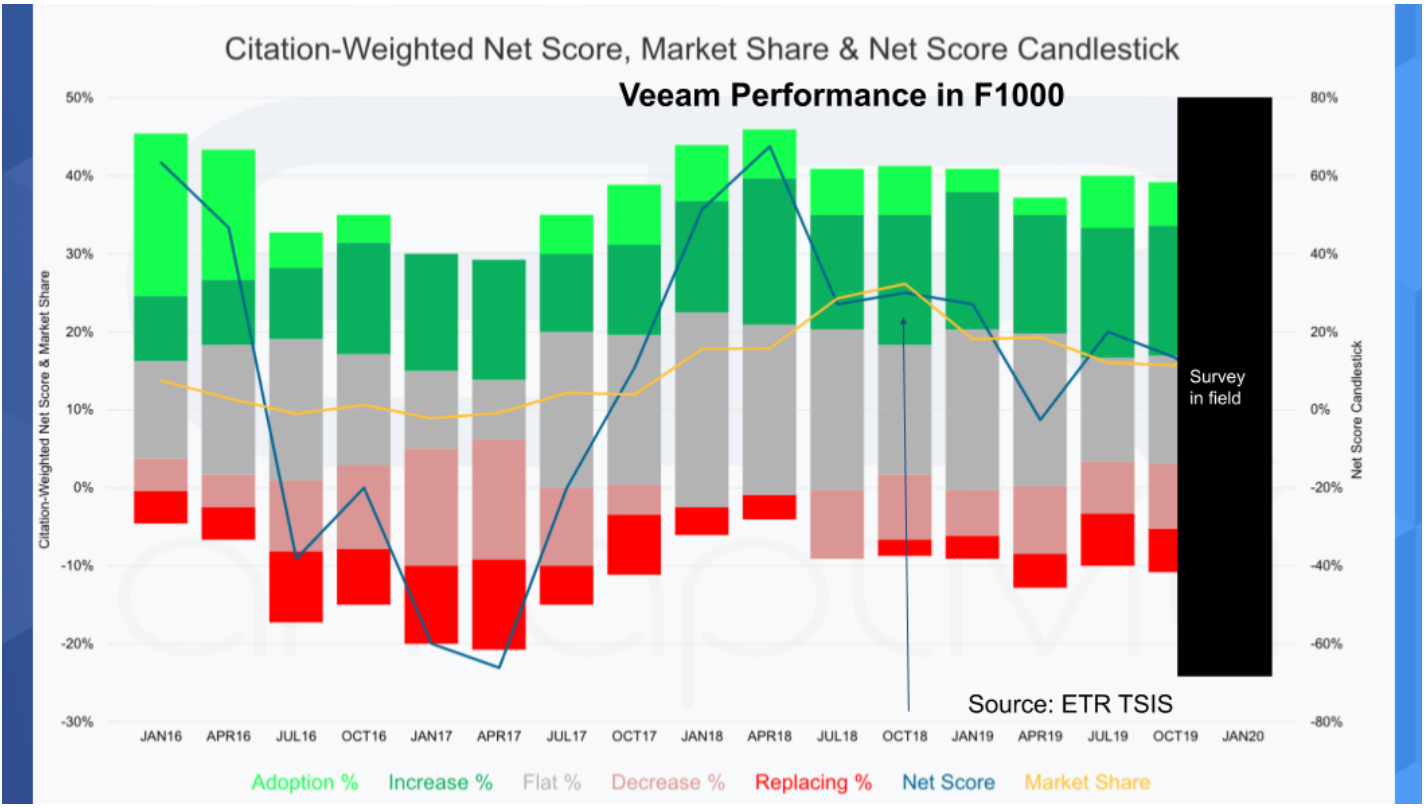 What Does the Next Chapter Bring for Veeam?
What's happening here is we're entering a new Chapter for Veeam – Act 2 so to speak. With new leadership and new governance. Danny Allan is taking over as CTO and he previously ran strategy. Bill Largent will be CEO. The HQ is moving to the US. In our opinion, Veeam's issues in the US have been more execution-related than anything else. Veeam is a leader so partnerships with Nutanix, Cisco, HPE and NetApp should continue to improve and be productive. 
Let's dig a bit into Veeam's architecture and a point of frequent discussion in the community. Veeam has a Windows-based architecture Is that a blessing or a curse? Well the pros are that the Veeam team came out of a Windows world and they know the platform. They are amazingly good at adding function without screwing up performance. You saw this a couple years back when they were making a push into the enterprise and increased file size and the number of objects they could support. 
And when Veeam added cloud backup it was a very good product. Unlike many products when they first tried to port to the cloud. Recovery from the cloud is tricky…things are out of sync creating a metadata challenge and generally Veeam was able to achieve a consistent level of performance with its cloud product. 
On the other hand, most if not all modern architectures today are based on Linux. Once you start getting into multi-cloud and cross cloud management you're going to be interfacing with lots of Linux-based systems. So Veeam will have to migrate code and maintaining consistent performance will be tougher. 
NOTE: Veeam's cloud native backup is Linux-based. The question is, as they connect cloud native Linux to on-prem Windows, will Veeam be able to maintain its product excellence. As David Floyer often points out – there are lots of ways to skin a cat and Veeam's engineering team has proven it can solve tough problems and deliver great products. 
US Execution and the Enterprise Push
We think for Veeam the bigger challenge is execution in the US and enterprise. Customers who attend Executive Briefing Centers want to see roadmaps and enterprise features and specials so we'll see if that's something that Veeam will stomach. If they do and you're one of the incumbents you should be worried that Veeam could do a "land and expand." While Veeam isn't as strong in large enterprises, big companies do buy from Veeam. Maybe in a smaller division or remote location but it's not like Veeam doesn't do business in large accounts…it does. So in a way they've landed and if they get it together they can expand. 
In our view, enterprise customers should be pressing Veeam on its roadmap and having the company clarify its vision around hybrid and multi-cloud management. As well, here are four key questions to ponder:
Will Veeam be more transparent and open to do specials for enterprises and their big partners (who expect them to say how high when they say jump)?

Will they be able to maintain their engineering culture and customer loyalty?

Can they figure out the enterprise and how long will it take?

How will Veeam's culture change as the two founders step down?
We're big fans at theCUBE of founder-led companies and when founders leave, cultures often change. When founders stay they're intensely committed even beyond great CEOs who are not founders. Two examples: 1) Dell – Michael Dell went to the mat to keep his company and now look at Dell Technologies. It's completely transformed; 2) Oracle – Look at the lengths Larry Ellison goes to win. Compare that to a great CEO in Joe Tucci at EMC, for example. When his tenure was over he was done he was done. EMC wasn't his baby so the point is how will this affect Veeam's culture and prospects long term?
We believe the bottom line is the big opportunity is in the US. That's about execution and we expect consistent market share gains to continue. The enterprise will take longer, more patience and more money. With Veeam transitioning from essentially the two founders' lifestyle business into a company built for an exit they'll have more money to invest, greater transparency and a path to build on their past successes.