Data shows that most CIOs expect a U-Shaped recovery from COVID-19. Specifically, 44% of roughly 700 executives surveyed believe revenue declines will continue through most of 2020 with growth returning next year. This is a key finding of the latest flash survey data from ETR. 
Not surprisingly however, the shape of the recovery will be mixed and vary substantially by industry sector. 
How CIOs see the Recovery
The chart below shows the responses of the latest survey taken in May of this year.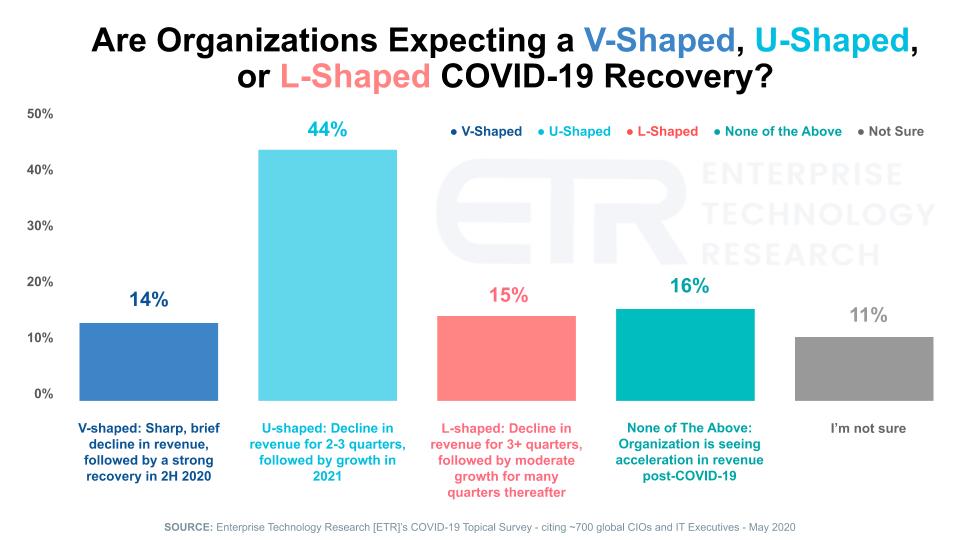 While a majority of CIOs and IT executives indicate that they see a U-Shaped recovery, a large proportion (30%) are more sanguine. Specifically, 14% expect a less severe decline in revenue and fast bounceback in the second half of 2020. Another 16% expect an acceleration in revenue post-lockdown. 
So as we've been reporting, the COVID pandemic didn't suppress all companies. Some benefitted, including those with cloud solutions, annual recurring revenue models and work from home / remote work solutions. As well, the return of economic activity is not necessarily going to be a 'rising tide lifts all ships' story.  
There are some background assumptions going into this data as explained in more detail by Sagar Kadakia, head of research at ETR. For example, those CIOs expecting a stronger recovery base their scenario on the following two factors:
Another lockdown is unlikely.

A vaccine will be in place within the mid-term timeframe.
Note: At this time we continue to expect the delta in 2020 IT spending relative to 2019 to be approximately -5%.
The Picture Varies by Industry
As expected the forecast shape of the recovery is mixed and differs by industry sector.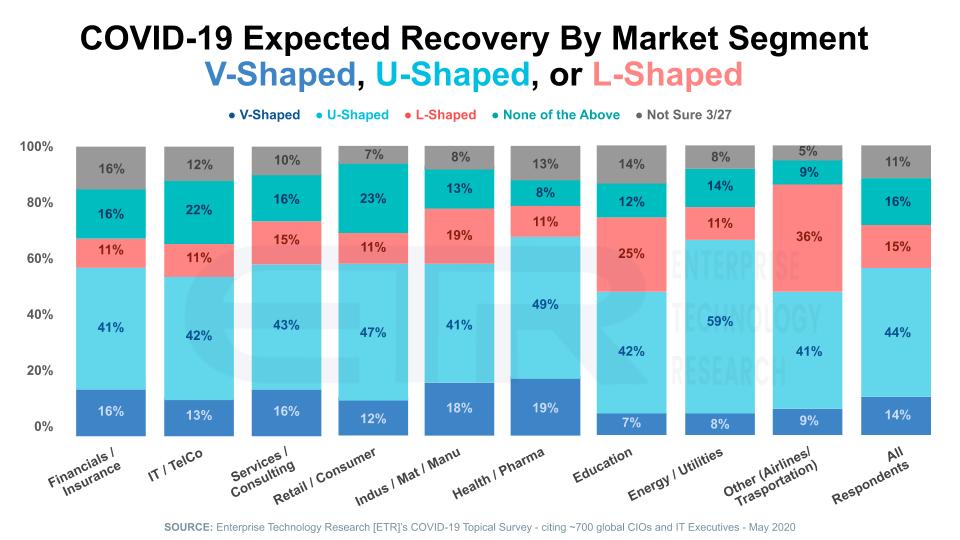 We've been reporting on the notion of a bifurcated market – really looking through a lens of technology and company. The chart above looks at the deltas through an industry prism and speaks for itself. 
Notably, sectors including IT/Telco and Retail/Consumer show the strongest current tailwinds and relatively low L-Shaped recovery expectations. For example, in IT/Telco, the combined V-Shaped (dark blue), U-Shaped (light blue) and Accelerated (turquoise) bars add to 77%. Retail / Consumer somewhat lower at 66% but stronger than some others. Perhaps accounting for pent up demand in retail, offsetting double digit unemployment numbers. 
On the negative side, the Airlines and Education sectors have notably elevated L-Shaped response levels (pink-ish bars) at 36% and 25% respectively. 
The bottom line is the picture is perhaps not as dire as previously thought but still generally mixed with the more positive responses based on certain assumptions as mentioned that may or may not materialize. Hence the reasons why companies this past earnings season have suspended guidance. 
Sagar Kadakia adds some color to this chart. 
CIOs Expect Permanent Changes to IT Spending Priorities
Despite the uncertainty, As seen in the chart below, CIOs seem quite certain that budget priorities will be shifted due to COVID-19. There will be a "New Abnormal" in the 2020s.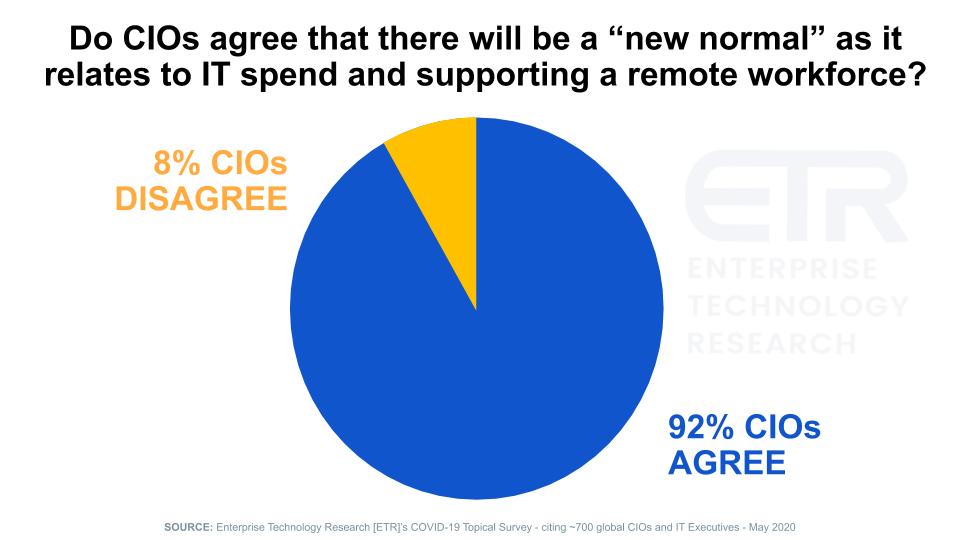 We've seen Twitter and other tech companies extend work from home or remote policies indefinitely. CIOs have reported that they are moving away from traditional MPLS networks. One CIO even said "I'd like to delete my data center…" but he can't. Others have indicated that security clouds for remote devices and workers was a permanent and increasingly important priority. 
An overwhelming 92% of CIOs agree that IT spending priorities will shift permanently to support remote workers…
Sagar Kadakia explains that productivity levels are pretty good and many organizations were actually fairly well-prepared to support remote workers. 
Uncertainty Remains 
The two big assumptions here are: 1) the pandemic won't come back at a level that will require another severe lockdown. Rather hot spots may occur but CIOs expect we'll be able to control subsequent outbreaks; and 2) there will be a vaccine and therapeutics that can treat the virus. 
We would add that many businesses expect the demographic of younger consumers will also help power back the economy. And we would expect better, faster testing in place by the fall to support the economic rebound  
But generally we agree that across-the-board, we would expect tepid earnings performances for the balance of 2020 with growth resuming in 2021. 
Stay in Touch
We will continue to update our forecasts as new survey data rolls in and theCUBE community provides additional data. 
Remember these episodes are all available as podcasts wherever you listen. – just search Breaking Analysis Podcast and please subscribe to the series. Check out ETR's Web site. We also publish a full report every week here and on SiliconANGLE.  
Ways to get in touch:  Email david.vellante@siliconangle.com | DM @dvellante on Twitter | Comment on our LinkedIn posts.
Also, check out this ETR Tutorial we created, which explains the spending methodology in more detail.
Watch this week's full video analysis: