Co-authored by Stuart Miniman
This week, Dell held its annual customer conference in Austin, TX. Official attendee numbers were not divulged but by our estimates between 4,000 – 5,000 customers and partners were on hand including a large Dell contingent. This is the third of four Dell World's we've attended and there's always a strong lineup  of outside luminaries speaking at the conference. This year's speaker juice was dialed back a bit and focused more on Dell (previous years included big names like Bill Clinton and Elon Musk); but still included thought leaders like MIT's Erik Brynjolfsson and Andy McAfee and Reddit founder Alexis Ohanian.

Here are our top takeaways:
Dell as a private company: Storytelling without the "90-day shot clock." The media circus that surrounded the privatization of Michael Dell's company in partnership with Silverlake was well-documented last year and the outcome clearly underlined this year's event. When Dell went private it had annual revenues of roughly $50-$55B and a valuation of ~$.45 on the revenue dollar, far below that of its peers. Four points are noteworthy here:

Michael Dell timed the market perfectly. The company (and the broader market) saw an unpredicted growth in PC's, which we believe helped boost the company's cash flow. In our opinion, Dell and Silverlake, by beating the man Mr. Dell has referred to as "The Great Icahn," bought at the bottom and walked away with total control of an asset that was significantly undervalued by the public market.
Dell is trying to capitalize on the turmoil in the marketplace. Examples include IBM selling its x86 server business to Lenovo, HP and Symantec splitting apart and Elliott Management pressuring EMC to divest its VMware ownership. These are all driven by capital market pressures and Dell is now positioning itself as: 1) the only end-to-end IT supplier and 2) a company with patient capital that can focus on customers and its long-term vision.
Dell can (and did) paint a rosy picture of its business, blending external data from the likes of IDC and crafting a story that showed it was gaining share in a variety of sectors. It forces the competition to unpack and re-tell its version of the truth, without the benefit of public financial statements.
M&A should continue. While many speculated that Dell's debt* would hamper the company's ability to acquire, Dell no longer needs to pay dividends and buy back stock. The assumption was always that if Dell's PC cash flows produce, it would be able to meet its debt service and generate enough free cash to remain acquisitive. By all accounts, since going private this fundamental remains in tact. We believe Dell is generating more free cash than when it exited the public market – perhaps back to 2011 levels in excess of $3B per year.

Dell as the enterprise shopping mall. Walking the floor we observed that Dell has virtually one of everything (in fact often more than one of everything). Dell has long provided access to all of the add-ons to PCs and servers through its S&P (software & peripherals) program. Through expanding OEM deals, partnerships and the new Dell Cloud Marketplace, buyers have the full spectrum of infrastructure, cloud, software and services to add to their cart. There's an interesting mix of Dell IP, solutions built on top of Dell hardware, plus a long list of partnerships to build out the menu.

Servers form the foundation – new 13g family
FX2 is the big-brother second iteration of the VRTX – converged server/storage/network hardware
Storage adds a $25k entry price all-flash array to the Compellent family
Many software-defined storage and hyperconverged options including the GA of the Nutanix OEM solution (Wikibon research)
Dell stated deepest partnerships with Oracle, SAP, VMware, Microsoft and Cloudera – this application focus makes sense to complement internal IP.

Integration remains an R&D focus. Speaking with customers at Dell World it was clear that they want Dell to continue to invest R&D money integrating the myriad products in the portfolio and simplifying the many ecosystem "Micro-climates" (Dell has different solutions for VMware, Microsoft, Red Hat, etc). Examples include storage- Dell talks about a single storage stack but there's more work to be done- Integrated systems, networking, security, systems management, etc. The portfolio is large and complex, designed to minimize gaps, however its breadth is often difficult for customers, partners and sales people to digest.
Dell software and services are hidden gems that should be more visible.

We estimate Dell's software business is approaching $2B. It comprises three high level buckets: 1) Security; 2) Systems Management and 3) Information Management (analytics and Big Data products). Dell emphasizes terabytes and form factors in its marketing messages but doesn't (in our opinion) talk enough about its software assets, strategies and vision. Software in our view is a key fulcrum for Dell's transformation into an enterprise player and will drive future margins.
Services are sticky. With the Perot acquisition, Dell can help enable smaller customers that don't have the skill sets to deliver on emerging complex initiatives such as data analytics that can be transformational. We expect Dell's services business to reach $10B in annual revenue within the next 3-5 years and it can be the "tip of the spear" for many enterprise deals.

Dell loves the channel (who doesn't)? Dell made its mark as the direct selling company but now 40% of its revenue comes from the channel. Two observations: 1) This percentage should and will grow in our opinion and blow through 50% within two years; 2) Dell has an opportunity to bring the channel into the world of hybrid cloud. The channel needs help in this regard but it's tricky as the vendor, the channel and the cloud service provider all need to profit.
What Dell isn't.

Dell will not make a smartphone. PCs and tablets, yes and a larger push into IoT, but it won't try to fight the Apple/Android bunch.
Ironically, while Dell created the direct model, and cloud is the new direct, Dell will not compete with the public cloud. Customers can go to the Dell Cloud Marketplace, buy a VM which can be on AWS, Google or others and have portability leveraging Docker. Dell is an arms dealer to the cloud and will remain that way for the foreseeable future.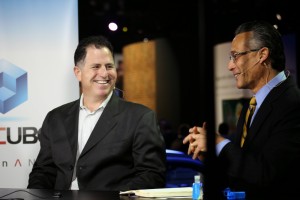 On balance we were impressed with the energy at Dell World and based on customer reactions, there's plenty of upside to Dell's business prospects. The company's enterprise strategy is all about delivering on the latest buzztech product trends (e.g. high density servers, converged systems, flash storage, Big Data software, "Dockerized" cloud, IoT, security, etc.), at a fair price. Does it matter that once HP splits, Dell will be the only true end-to-end supplier of enterprise tech? We think from a technology standpoint, probably not, but: 1) It simplifies transaction complexity for customers and 2) If Dell can make money at low margins, which it can, then it matters from an opportunity/TAM view and 3) From a supply chain perspective, Dell should now become the low cost enterprise supplier.
Observers should expect Dell to execute on the same vision it put forth as a public company – i.e. to transform into a broad-based supplier of enterprise tech, delivering fair value to customers. The big difference is we won't get to watch the financial transition until Dell re-emerges as a public company (if that ever happens). Rather we'll have to rely on the metrics Dell chooses to share with us. It is our believe that two to three years from now Dell could be worth $60-$80B, well over double the transaction price to take the company private. Next to EMC's acquisition of VMware, this could go down as one of the biggest coups in the history of enterprise tech.
For much more – see theCUBE interviews with Michael Dell, his executive team, VMware, Nutanix and customers: theCUBE at Dell World 2014
photo credits: Dell World stage (Stu Miniman), Michael Dell on theCUBE (SiliconANGLE)
*Note: A previous version of this post stated that Dell's debt was close to $20B. This is incorrect as when cash and asset back loans are netted out, net debt is under $10B. More information on the loan structure and the attractive rates related to the Dell privatization transaction can be found here.
Stay private and family owned or go public? Read some of the speculation that was floating around on this topic here. It looks like Michael Dell and Silverlake have options.