Next week theCUBE is back in action, this time covering two Big Data conferences in one. Strata Conference + Hadoop World on theCUBE kicks off live Wednesday (10/24) morning at 10 am ET on SiliconANGLE.tv. We're broadcasting all day Wednesday and all day Thursday (10/25) from New York City with virtually non-stop live interviews with the smartest nodes at the conference.
We've identified the most compelling news and trends that will be developing at the show and programed our coverage to flesh them out in great detail. Among other trending topics, you'll get full coverage and analysis of the emerging Big Data application development market, the state of real-time analytics in Hadoop environments, and new ecosystem partnerships, as well as some great advice for Big Data practitioners from Big Data practitioners.
As you'll see below, we've put together this handy poster that lays out the highlights. Hosts Dave Vellante of Wikibon and John Furrier of SiliconANGLE will welcome inside theCUBE guests including Big Data heavyweights like Tresata's Abhi Mehta, Cloudera's Mike Olson, Hadapt's Justin Borgman, MapR's John Schroeder, Continuity's Todd Papaioannou, Sqqrl's Oren Falkowitz, Platfora's Ben Werther, and Atlas Venture'sChris Lynch.
And that's just the tip of the iceberg. Also joining us live inside #theCUBE are Tableau Software's Dan Jewett,HP's Steve Watt, DataStax's Lara Shackelford, Thomson Reuters' Venkatesh Rangachari, Aerospike's Brian Bulkowski, Quid's Sean Gourley, Google's Michael Manoochehri, RainStor's John Bantleman, Cowen's Peter Goldmacher and many more.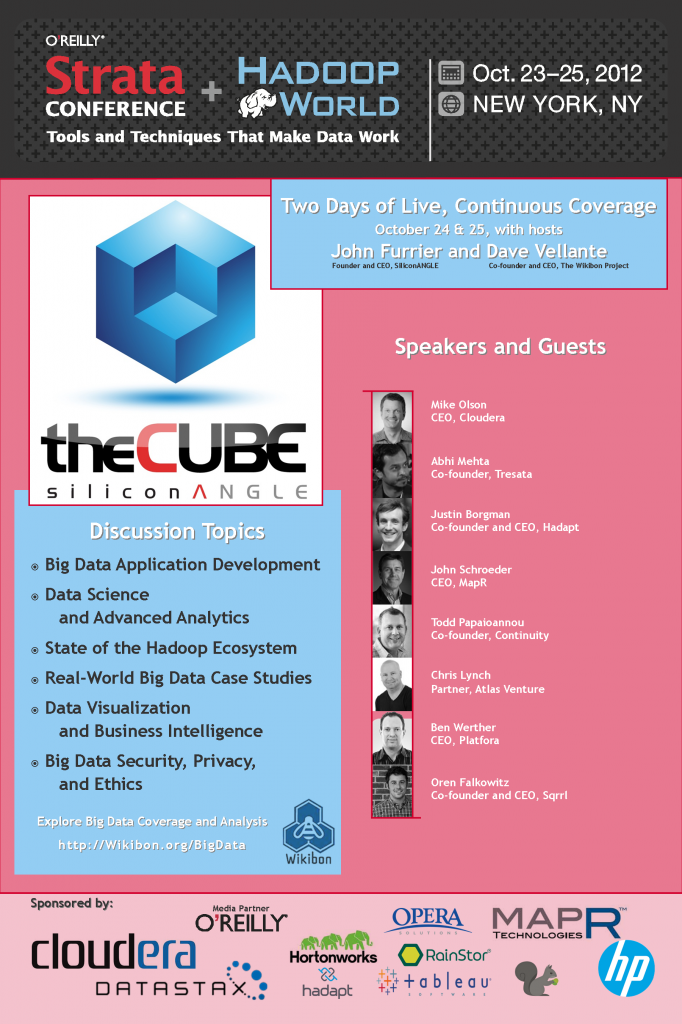 Wikibon/SiliconANGLE would also like to extend a big Thank You to our sponsors. Their support is what makes theCUBE at Strata Conference + Hadoop World possible! Thanks to headline sponsor Cloudera, MapR, DataStax, HP, Tableau Software, Opera Solutions, Hadapt, Sqrrl, RainStor and Hortonworks.
Don't miss any of the action. Just log on to SiliconANGLE.tv this coming Wednesday (10/24) and Thursday (10/25) and get involved in the conversation on Twitter. Use hashtags #thecube and #strataconf, and reach out to us at @stu @ furrier @dvellante or @jeffreyfkelly. And as always, see Wikibon's full library of Big Data research at Wikibon.org/bigdata.