Contributing Analysts
David Floyer
Stu Miniman
Premise
Wikibon believes that in order for in-house IT organizations to remain valuable to their businesses, they need to be able to deliver Private Cloud services that are competitive (pricing, agility, breadth of services) with Public Cloud services. In order to deliver competitive Private Cloud services, their Private Cloud implementations should adhere to these technical guidelines, which Wikibon refers to as True Private Cloud:
Built on converged (and/or hyper-converged) infrastructure, that can be highly automated and managed as logical pools of compute, network and storage resources.
Enables end-users (developers, line-of-business, etc.) to have self-service access to resource-pools and have visibility to costs.
Optimized for lower-cost operations from Day-0 to Day-N (install and beyond)
Delivered as a complete solution, with a single point of purchase/support/maintenance/upgrade.
The Private Cloud can live within the customer's data-center (on-premises) or be delivered via a dedicated Cloud Provider set of resources (e.g. Virtual Private Cloud).
The Private Cloud should be designed to accommodate hybrid use-cases, where the IT organization can accommodate both CAPEX and OPEX requirements of the business.
See Wikibon's full definition of True Private Cloud
IT Simplification Matters
Over the last decade, there has been a realization that IT has a critical role in the success of most organizations. This means that outsourcing (my mess for less) and cost cutting (IT as a cost center) cannot be the strategy for IT. When the business needs to deploy a new capability or create a new service, technology is likely to be a critical component, and therefore companies that have the internal resources to respond rapidly will maintain a competitive advantage. Therefore, infrastructure cannot be a boat anchor on the capabilities of IT. Companies that spend 70+% of budgets in the care and maintenance of infrastructure do not have the resources (and often don't have the knowledge) to meet new business requirements. Infrastructure should essentially be "invisible"; IT needs solutions that can be spun up quick and allow IT and the business to be agile. Converged infrastructure is a first step towards simplifying the consumption of infrastructure. A key value proposition of converged infrastructure is reducing the variability of configurations and eliminating complexity. This strategy is an alternative to the creation of the perfect "snowflakes", where IT feels a sense of ownership but has to spend a significant amount of time optimizing, tweaking and the upkeep of the environment. Virtualization helps with resource utilization, but does not significantly change the operational model of how infrastructure is managed. The operational model defines true private cloud environments more (with a focus on more automation and less interaction with the infrastructure) than the components that make up the infrastructure.
The Wikibon whiteboard video below discusses the relationship of infrastructure, management and applications for True Private Clouds.
From Individual

 

Boxes

to

Pools

of

Resources
Converged infrastructure led the way for moving beyond the individual technology silos of storage, compute and networking. Managing infrastructure at the rack level was a great first step. CIOs want business outcomes, not point technologies; so the capability to treat infrastructure as a pool of resources that isn't tied to a single box or rack is compelling. Advanced converged infrastructure and hyperconverged solutions have the tools to discover and manage the various devices as a total solution (not just as disparate pieces). Proper management tools allow practitioners to set SLAs and monitor the entire environment, spanning across multiple boxes.
The change in the deployment and management model towards self-service "by the drink" enables business users to escape from the traditional capital expense model where purchases are made based on a forecast for hardware as part of a 3-5 year upgrade cycle. Business units does not usually think of projects in this manner; It is more agile to add or subtract capacity and performance as needed; when infrastructure is managed as a flexible pool, it fits the needs of the business much better. A business unit can just ask (and justify if necessary) for resources to solve a problem or go make (more) profits. Ideally, additions of performance or resources can be allocated simply and automatically, rather than having to think about the need of adding new boxes or components. A good management platform will allow details such as performance and availability to be shared as a common language between developers and operations.
The Path Forward with Converged Infrastructure
In 2015, EMC's VCE group continued its growth with over a $3B annualized demand run-rate. The acquisition of EMC by Dell and growth of hyperconverged infrastructure (which includes Wikibon's Server SAN category) are challenging transformations for EMC (see theCUBE Conversation with new President of the EMC Converged Platform Division, Chad Sakac). While VCE is well known for the Vblock Systems converged infrastructure solution, it has expanded its offerings to include a broader suite of infrastructure (blocks, racks and appliances) and developed its own software suite. VCE's method for creating a pool of resources is through a software layer utilizing VCE Vision (management) paired with the networking capabilities of VCE Vscale Architecture (a high speed spine/backbone based on Cisco Nexus technology). VCE describes Vscale Architecture as the "resource superhighway"; the concept of convergence is extended across a broad portfolio of systems across multiple data centers, alooking for new resources to be added and managed in a flexible way. A key value of VCE's processes has been the rigorous Release Certification Matrix (RCM), which assures that the firmware releases and virtualization releases can be maintained across devices – this is extended across the full suite of VCE solutions.
Tools like VCE Vision that allow for configuration updates/management are a fundamental underpinning of True Private Cloud solutions. In order to shift some of the burden of infrastructure operations to the platform or vendor, solutions must have simpler (ideally, automated or single push-button) upgrades that allow for continuous operations. VCE's suite of tools include understanding the "best known state" — the proper level for security, firmware, and health — and an Architecture Aware Health Monitor, which calculates a health score/indicator. VCE's tools extend the value of the RCM to a full compliance management life cycle: the tool scans the environment, downloads required firmware and validates configurations after the upgrade. Simplified upgrades and management reduces the operational burden of IT and reduces the time to change. This translates into allowing IT to pass more responsibility for infrastructure work to the vendor, who is able (across a larger customer base) to add security and functionality more frequently and quickly at lower cost. The saved IT resources can be more responsive to business needs by focusing further up the stack, and delivering more business value.
VCE Vscale Architecture can help operationalize new technology adoption, including the addition/transition to of hyperconverged infrastructure (VCE's solution is the VxRack) and SDN (VCE supports both Cisco ACI and VMware NSX). VCE Vscale Architecture is the internal fabric that enables both incremental resource expansion (simpler scale-out) and management of multi-system architectures (greater utilization of resources and flexibility to leverage a variety of resources while maintaining a single management interface).  In simple terms, it provides the capability to link any server to any storage, providing both the enterprise network resources and protection necessary.
Wikibon has analyzed the advantage of expanding the value of VCE Vblock Systems with VCE Vscale Architecture. The analysis looks at the following: 5 Vblocks with an additional 2 Vblocks added in the next 5 years versus starting with VCE systems that are grown as part of the Vscale Architecture (using the same EMC and Cisco components) which can be added in smaller increments. This is allowing a customer to get the value of Vblock experience while using more granular components. The study looks at the benefit of migrating from Figure 1 shows the cumulative 5-year savings of different configurations of Vblock and Vscale, and Table 1 in the footnotes shows the financial details. The different curves in Figure 1 show that savings are always positive initially with the number of Vblocks that are deployed (both initially and over time).
Wikibon observes that VCE has a proven track record of delivering improves operational efficiencies with converged infrastructure. Wikibon believes the introduction of VCE Vision, VCE Vscale Architecture, and expected future enhancements will help accelerate users down the path to true private cloud. The savings from Vscale Architecture over Vblock Systems is currently about 12.5% of the total cost. Wikibon expects that the continued reduction in infrastructure operational costs, which will occur as levels of automation, orchestration and self-service increase. Wikibon expects the increase in savings as Vscale Architecture becomes a True Private Cloud will accelerate 30% or significantly more. Additionally, the movement of maintenance and improvement from enterprise IT to vendors will reduce the cost of computing and increase the speed of introduction of new functionality.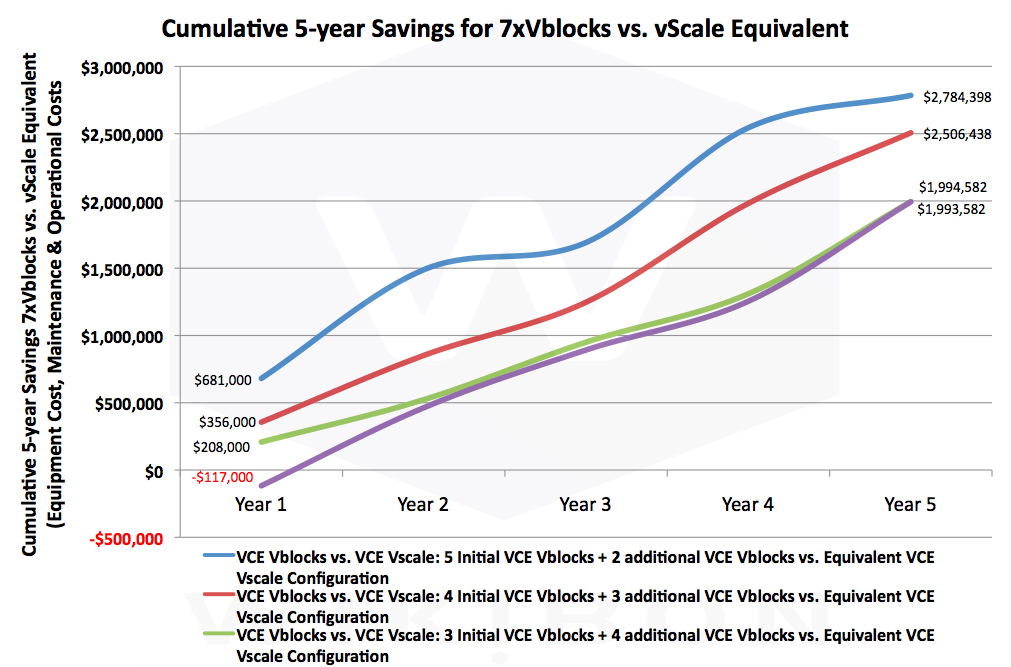 Action Item
Shifting the operational burden of IT is a strategic imperative to enable CIOs and application managers to go faster. The promise of cloud (including both public and true private deployments) is that a much higher % of operations is automated
Shift the burden to platforms and vendors
Requires planning and likely changes in roles/skills
Top goal is agility (related to DevOps)
Footnotes
Table 1 provides the financial details in support of Figures 1. The table provides the top case (blue line) in Figure 1. The calculations assume that the same server, storage and networking will be used over the 5-year period, and that the cost of components will reduced by 25%/year.