Executive Summary
Wikibon Premium members may  access the full Big Data Vendor Revenue and Market Forecast, 2011-2026 report here.
The Big Data market continued its maturation in 2014, experiencing both significant growth as measured by vendor revenue associated with the sale of Big Data products & services and increased adoption of Big Data tools and technologies by large enterprises across vertical markets.
For the calendar year 2014, the Big Data market – as measured by revenue associated with the sale of Big Data-related hardware, software and professional services – reached $27.36 billion, up from $19.6 billion in 2013. While growing significantly faster than other enterprise IT markets, the Big Data market's overall growth rate slowed year-over-year from 60% in 2013 to 40% in 2014. This is to be expected in an emerging but quickly maturing market such as Big Data, and Wikibon does not believe this slightly slower growth rate indicates any structural market issues.
Wikibon also extended its market forecast for Big Data through 2026 (Figure 1) from 2017. Wikibon expects the Big Data market to top $84 billion in 2026, which represents a 17% compound annual growth rate over the 15 year period beginning in 2011, the first year Wikibon sized the Big Data market. After a several-year period of intense growth, Big Data market growth will slow considerably in the outlying years of the forecast. This growth pattern, represented by the well-known Ogive curve, is common to disruptive technology markets as they mature.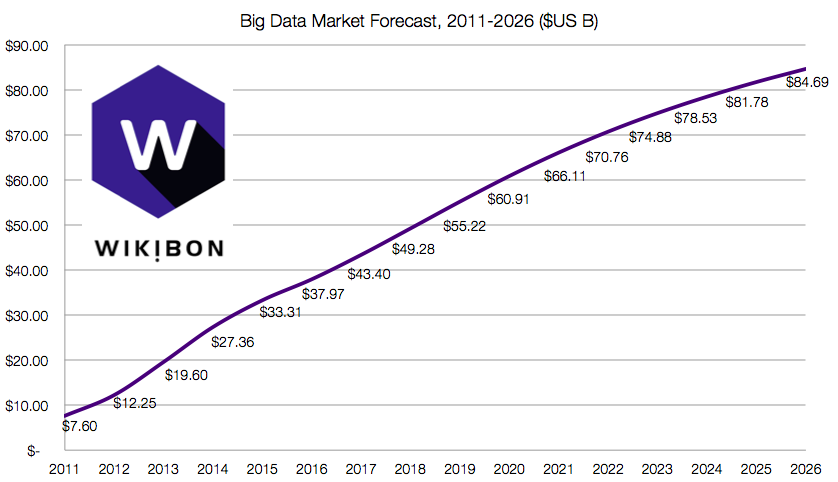 There were a number of factors driving growth of the Big Data market in 2014. They include:
The emergence and maturation of data warehouse optimization as a definitive, initial Big Data use case applicable across vertical markets.
The continued maturation of Big Data products and services, particularly with regard to data governance, data transformation and data pipeline creation capabilities.
The increasing establishment of Big Data-driven decision making as a key strategic priority in board rooms and C-suites across vertical market but particularly in the financial services, retail, healthcare and telecommunications industries.
In the remainder of this report exclusive for Wikibon Premium members, Wikibon provides the following:
A vendor-by-vendor Big Data revenue breakdown for over 60 vendors;
A detailed breakdown of the current Big Data market and forecasted growth by sub-segment …

Hardware
Data management software
Hadoop software
SQL software
NoSQL software
Applications and analytics tooling
Professional services

Qualitative analysis of the macro-environment associated with each market sub-segment;
Expanded qualitative analysis of market drivers, market headwinds and other underlying assumptions/factors supporting Wikibon's extended Big Data market forecast through 2020.
Wikibon Premium members may access the full Big Data Vendor Revenue and Market Forecast, 2011-2026 report here.