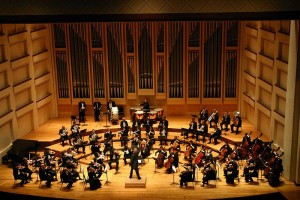 The virtualization layer has become a commodity.  VMware knows it.  Microsoft knows it.  VMware is working hard to remake itself as less of a hypervisor company and more of a management and orchestration company.  Microsoft has frantically added new features to Hyper-V which put the product practically on par with VMware from a feature checklist perspective.
Although both companies realize that the hypervisor has become a commodity, maintaining control of the virtualization layer is still considered an important job and a way to ensure that market share swings the right direction, at least from the perspective of both companies.
Obviously, the virtualization layer isn't really going to go away.  However, for a decade now, the virtualization layer has enjoyed tremendous attention as it has all but reinvented the data center. With most organizations now fully vested in the world of virtualization and with multiple vendors filling the need at this layer, attention is now shifting to overall management and orchestration tools as IT managers seek to find new ways to decrease operational complexity, embrace cloud, and reduce overall IT spend where possible.
The hypervisor has been critical
Necessarily, the focus has been on the virtualization layer for a number of years.  This virtualization layer has enabled a paradigm shift in how data center environments are built.  It's enabled organizations to maximize and centralize business workloads in ways that weren't possible in the past and introduced a level of data center convergence that wouldn't be possible without the hypervisor.  With the hypervisor, organizations undertook major new systems consolidation projects aimed save money, improve utilization and ROI of IT systems, and enable new business opportunities.  With the convergence of disparate systems into fewer hosts systems, businesses have been able to get to market faster with new products and en entire industry has grown around supporting this virtual computing paradigm.
Over the years, comprehensive management tools have been purpose built to manage these hypervisor-based environments.  With these tools – and sometimes with just the hypervisor itself – new ways for managing IT environments have emerged.  Today, it's common to deploy virtual workloads hat are seamlessly, and sometimes automatically, shifted to different hosts based on a variety of business rules.
In fact, existing and underway software solutions are already enabling some opportunities that may not have been as palatable before.  Companies like Scale Computing are leveraging the open source KVM hypervisor to create lower-cost clusters that can be used by organizations that seek the many positive outcomes sought by businesses, but without some of the cost and complexity of more what have become more traditional solutions.
A bold new future
This software management layer will define the next era of computing.  Simple single hypervisor-based management tools were fine for the previous generation of computing, but as the hypervisor has become commoditized, it's also itself become the focus on the watchful eye of the cost conscious.  For hypervisors that carry significant expenses, budget hawks are beginning to question why other, seemingly equally capable hypervisors cannot be used in their place or why the organization can't simply deploy multiple hypervisors, all managed as a single whole.  Both VMware and Microsoft have management tools that can manage each other's hypervisors, but there are also third party companies that specialize in managing virtual environments.  Perhaps the leader in this space is HotLink.  HotLink provides tools that extend an organization's existing management layer – vCenter or System Center Virtual Machine Manager – to have the ability to manage a range of hypervisors, including vSphere, Hyper-V, XenServer and Red Hat Enterprise Virtualization (RHEV).
More importantly, though, HotLink also enables its customers to include cloud infrastructure as a part of an overall, integrated strategy.  HotLink's products also support Amazon EC2 and CloudStack as management targets.  With such tools, customers can simply shift workloads seamlessly between any supported platform using, for example, vCenter.
Of course, Microsoft and VMware are also jumping into the cloud arena.  Microsoft itself has built out its Azure cloud platform and, with the coming release of Windows Server 2012 R2, customers will be able to live migrate local workloads to Azure-based virtual machines.  VMware earlier this year announced its vCloud Hybrid Service to enable similar functionality.
Orchestration will grow in importance
I recently wrote about the importance of using automated orchestration tools to streamline disaster recovery opportunities, but I certainly see an important role for all kinds of orchestration and automation as we move into the future, particularly as cloud integration becomes more common.  Today's local workload management systems are already migrating workloads into the cloud, but I certainly see potential for this migration being automated based on any number of business rules, including time of year, marketing promotions, and more.  However, I even see some more simpler automation coming across the IT spectrum, including tasks as basic as user ID management.  Identity management is surprisingly lacking in many organizations and, once implemented, can relieve IT of so many problems, such as user accounts not being created or deleted on time and even passwords needing to be reset.
But when it comes to orchestration, I also certainly see a need for more data center-focused activities to be better handled. This is where end to end tools such as System Center come into play. Tools like System Center have the capability to keep a watchful eye on IT systems and to take action when something is amiss.  For example, System Center Operations Manager can watch all of the services on a system and, if a service fails, make an attempt to proactively restart that service rather than simply page a human to do it.  While the example is simplistic, it can be scaled to just about any activity in the data center.
While it takes time to get to a high level of automation, the end result is an IT department more focused on the business than on technology.  That is the next era of IT and it's sorely needed as IT systems have often become overly complex and too reliant on humans, which takes IT's focus off the bottom line and refocuses it too much on the bits and bytes.
Next steps
So, what's a CIO to do?  Today, ensure that you're taking active steps to simplify your overall data center architecture.  This may be as simple as adding a management layer atop the whole thing that can bring some ease to what might be complex management systems.  Over time, look for any and all opportunities to automate routine tasks.  Implement monitoring systems that can proactively remiediate certain issues.  Implement identity management.  Simply put, if your people have to touch something routinely, try to find a way to automate the task and redirect the efforts of your staff more directly to the business wherever possible.