The Backdrop
IBM's acquisition of Red Hat is a blockbuster designed to accelerate the company's lagging sales. Here's a first take on what it means for IBM, Red Hat, the ecosystem and customers.
Despite strong IT spending, there were storm clouds on the horizon for both IBM and Red Hat.
IBM's strategy generally and its cloud strategy specifically were not working. It's overall revenue growth has been anemic and essentially non-existent. It's stock is close to a nine-year low and other than services and mainframes IBM is not the clear #1 leader in any of its key segments. It's Watson strategy was not panning out and the company is at best a distant #4 player in public cloud. IBM recognizes this and is pivoting to become a facilitator of hybrid cloud. Good move.
IBM's developer platform, Bluemix,  had failed to achieve initial objectives. IBM's massive outreach to developers had only modestly moved the needle. Red Hat is a game changer in that it gives IBM instant access to a large developer base with a company that has developer street cred.
Red Hat had a vision to charge forward to $5B in revenue but after 60+ quarters of beats, Red Hat missed and guided lower last quarter and its stock has taken a huge hit. It was looking at a potentially long slog under the watchful eye of Wall Street. As the old adage goes on the street – "the first disappointment is rarely the last…"
The IBM Narrative
On its financial analyst call this morning, CEO Ginni Rometty laid out a cogent case for the Red Hat acquisition. She said this is a significant move for IBM and a game-changer in the market– that it resets the cloud landscape. The strategy is to become the #1 undisputed leader in hybrid cloud.  Her contention is that we're entering the second chapter of a $1 trillion market. Chapter one according to Rometty was moving the easy workloads to the cloud. IBM data suggests that clients are only 20% of the way and the next phase is about attacking the next 80%.
IBM suggests that the average enterprise client has 1,000 applications and as many as sixteen clouds and they want to re-write, re-factor and modernize – but the inhibitor is making workloads portable across multiple clouds. Her claim is that other clouds are proprietary and and IBM Red Hat are pursuing an open, no lock-in strategy built on containers and Kubernetes. Moreover, Linux is the now the number one platform for both on-prem and public cloud workloads – so it's the starting point and the destination for the cloud.
Why Red Hat? 
According to Rometty, IBM has been a long standing champion of Linux and open source, dating back to its $1B investment in Linux twenty years ago. Red Hat gives IBM access to eight million developers with 90% penetration into F500 enterprises. Red Hat's strategic value is its large installed base, open ethos and multi-cloud chops (OpenShift, cloud automation, developer ecosystem, etc.).
The Numbers
IBM will pay $190/share for Red Hat which values the company at around $34B net of cash. Red Hat is a roughly $3B company growing at nearly 20% annually. It has software-like margins with approximately $1B in free cash flow. IBM, which has approximately $14.5B in cash and short term vehicles on its balance sheet, will finance the all-cash acquisition with a combination of cash and debt. The deal is not expected to close until the 2nd half of 2019.
IBM expects the deal to add 200 basis points to revenue over a 5 year CAGR. IBM says the deal will be accretive to profit margin and free cash flow in year 1 and operating earnings in year 2 of the deal.
Questions and Comments on the Deal
While IBM is paying a significant premium (~60%) for Red Hat, relative to its June highs IBM is only paying a roughly 8% premium. Many questions remain, specifically:
How will we measure "hybrid cloud leadership?" I guess we'll know it when we see it. But today there is no clear leader. Microsoft probably has the strongest claim but AWS and VMware are making moves. Oracle too has a strong claim within its Red Stack installed base while Dell and HPE remain the top arms dealers for hybrid cloud.
Why did Red Hat bail on its $5B revenue vision? As recently as this summer, the company was taking a confident posture toward this goal. What changed? Why did Red Hat capitulate and what does that say about the prospects for the company going forward and the market in general?
Can IBM really preserve the Red Hat brand, its perceived independence and its culture. IBM has fierce dogma around its brands. Other than the possible exception of The Weather Company, IBM rarely if ever not "blue-washed" one of its acquisitions.
IBM cited that Red Hat would help it supercharge the core IBM portfolio. Is this really a meaningful growth opportunity? We doubt it will be a game-changer. Rather the strength of IBM's core software products, like Watson and other analytics and cognitive solutions, in our view, will be a function of the quality and leadership of those products, rather than better integration with the Red Hat stack. Frankly, IBM could have achieved this objective without spending $34B as Red Hat is open and a relatively easy integration target.
This is largely a services play. Rometty emphasized this point and Whitehurst said lack of services scale and industry expertise was a top inhibitor to growth. How will this impact the balance of the SI / services ecosystem? Why couldn't Red Hat have addressed that constraint with the likes of Accenture, EY, PwC, Deloitte, KPMG and others? How will the SIs respond to the deal now that IBM – a fierce competitor – is in the driver's seat?
How will the balance of the ecosystem respond? Microsoft is a recent partner with Red Hat. VMware and IBM have been partners in the cloud but VMware and Red Hat aren't so friendly. What about HPE, Dell, Cisco, Lenovo – wouldn't these partners prefer Red Hat remains independent? What about AWS? If IBM really pivots hard to this new strategy of becoming a leader in open, multi-cloud these concerns will be managed.
Does this put Canonical and Suse in play and will one of IBM's competitors make a move to pick up an asset that is competitive to Red Hat – albeit without the market presence?
What role will Red Hat management play in the merged companies? Will Whitehurst stay? What's the IBM succession plan and does Whitehurst fit in to those plan?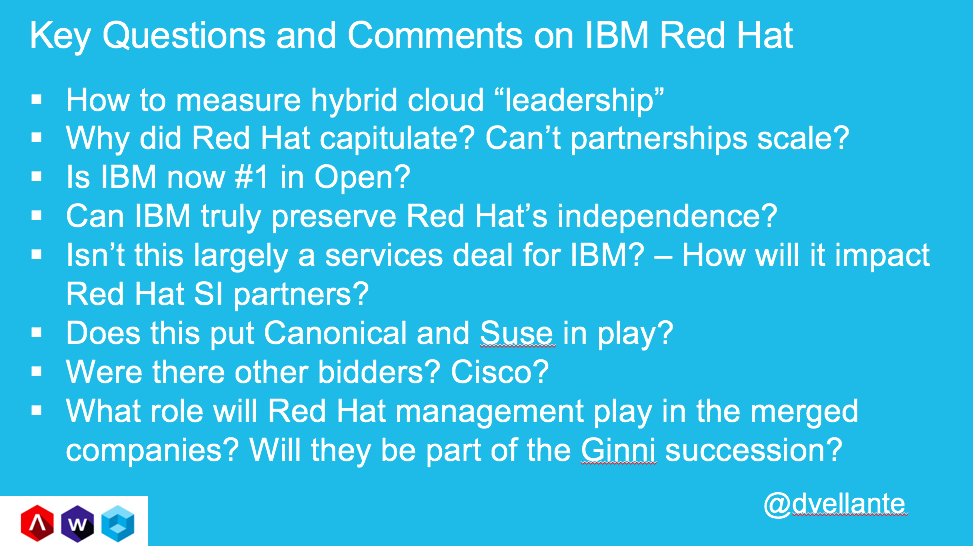 Winners & Losers
This is a huge strategic move for IBM. Prior to Red Hat, IBM's largest software acquisition was Cognos for $5B. Red Hat is a premium asset for IBM with core Linux, OpenShift and other Red Hat products giving IBM a leg up on hybrid. But it underscores that IBM's public cloud strategy fell short. Our big concern over this deal is IBM's ability to keep Red Hat neutral. We'd feel much better if IBM created a structure not unlike VMware, where a portion of the company is sold to the public and IBM retains a controlling share and provides governance.
The big winners here ostensibly are IBM and Red Hat (and in theory their joint customers). IBM was struggling to grow and Red Hat was facing some icebergs ahead. With this acquisition, many of IBM and Red Hat's partners (e.g. AWS/IBM, Microsoft/Red Hat, the big SIs) now face a new dynamic. If IBM truly is pivoting to become a provider of open, multi-cloud services these concerns will be overstated. But the ecosystem will be skeptical and it will take years for IBM to prove this out.
Did Cisco (or Microsoft) miss out – i.e. were they in the mix? Would Oracle be interested in an alternative Linux platform to attract developers? And what about the big SIs – Accenture, Deloitte, EY, PwC and others?
Finally – how will Red Hat employees respond. Many at Red Hat drink the open Kool-Aid – despite IBM's support for open source over the years do Red Hat employees envision IBM as the steward of open source for the next decade?
Customer Impact
The biggest risk to customers in our view is IBM's nasty tendency to buy software companies and hike pricing. Customers should get commitments from Red Hat before the deal closes and lock in favorable long-term pricing. As well, customers should run alternate scenarios in their planning to hedge bets with alternative suppliers.
If you're a big Red Hat customer – 100% I would give a call to Mark Shuttleworth and get his take on this deal…
Here's a video @Stu and I did analyzing the deal: