Premise
When Wikibon first forecasted that 2/3 of enterprise IT spending would transition to converged infrastructure, many industry watchers did not think that the few stack solutions (Oracle Exadata, VCE Vblocks, NetApp/Cisco FlexPods) would be more than a niche of the market. Cisco and Oracle were big winners in the first generation of converged infrastructure. In 2014, Wikibon's Server SAN market definition and forecast resonated with the community, but once again, the eventual shift of a large percentage of deployments moving away from traditional SAN/NAS deployments raised eyebrows. While is still very early in the adoption of hyperconvergence / Server SAN solutions, adoption has already accelerated faster than Wikibon's initial forecast. Dell has quietly and then very loudly ($67B) been making moves to ensure that a shift in architectures to new uses of compute and storage benefit Dell. Wikibon has written a number of pieces on Dell's acquisition of EMC (see here, here and here), this note will examine some of the immediate impacts and ripples of the transaction on the (hyper)converged market.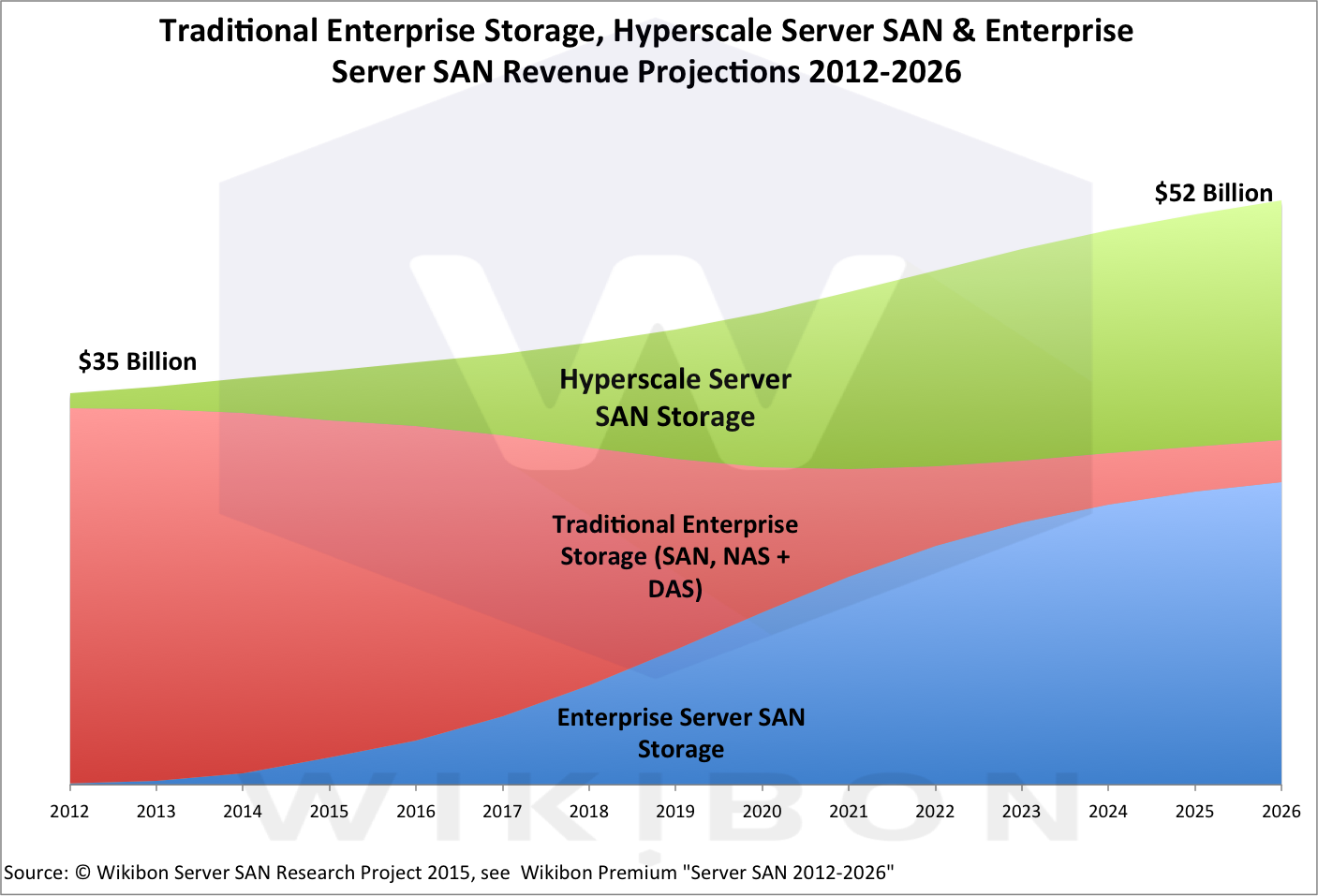 Still Converging
The top value of converged infrastructure to end-users is simplifying the IT experience. Cisco expanded its data center presence by delivering the UCS platform that was designed for virtualization (VMware). Storage partners have been critical in the deployment of UCS deployments, especially EMC and NetApp in the early days, now expanded to dozens of storage partners. Oracle and IBM focused on stacks where they own the applications. Converged infrastructure solutions are still growing much faster than the storage market rate. Cisco continues to expand offerings; IBM VersaStack is getting a lot of attention (see theCUBE interview with IBM's Eric Herzog) and Nimble Storage says that converged infrastructure offerings like its Cisco-based SmartStack are a significant part of its business (see theCUBE interview with Nimble Storage's Dan Leary). There have been a lot of questions about what Dell's acquisition of EMC means for VCE. As discussed in an earlier Wikibon piece (The End of the Storage Industry As We Know It), Vblocks will remain an important part of the VCE portfolio since Dell, EMC and Cisco do not want to open the door for any enterprise sales to switch to competitive offerings. To expand on what this means for Vblocks, from an architectural standpoint, Dell does not have an equivalent blade server replacement for the Cisco UCS (where memory-density is a key differentiation – see comparison chart on Blades Made Simple). Additionally, the entire VCE portfolio relies on Cisco's networking, and Dell does not have an immediate replacement. Michael Dell and Cisco CEO Chuck Robbins are in direct contact and customers can be assured that buying a solution today won't lead them to a dead end. While there is rightfully a lot of attention on the emerging hyperconverged marketplace, users that are still buying SAN and NAS devices will continue to migrate to converged stack offerings. In general, customers still have on-going concerns about lock-in, but they are equally faced with the business challenge of reducing costs. With the breadth of choice of converged systems in the market, customers are beginning to find a the level of vendor flexibility they like, while reducing costs for acquisition, setup, operations and maintenance.
Hyperconverging Industry?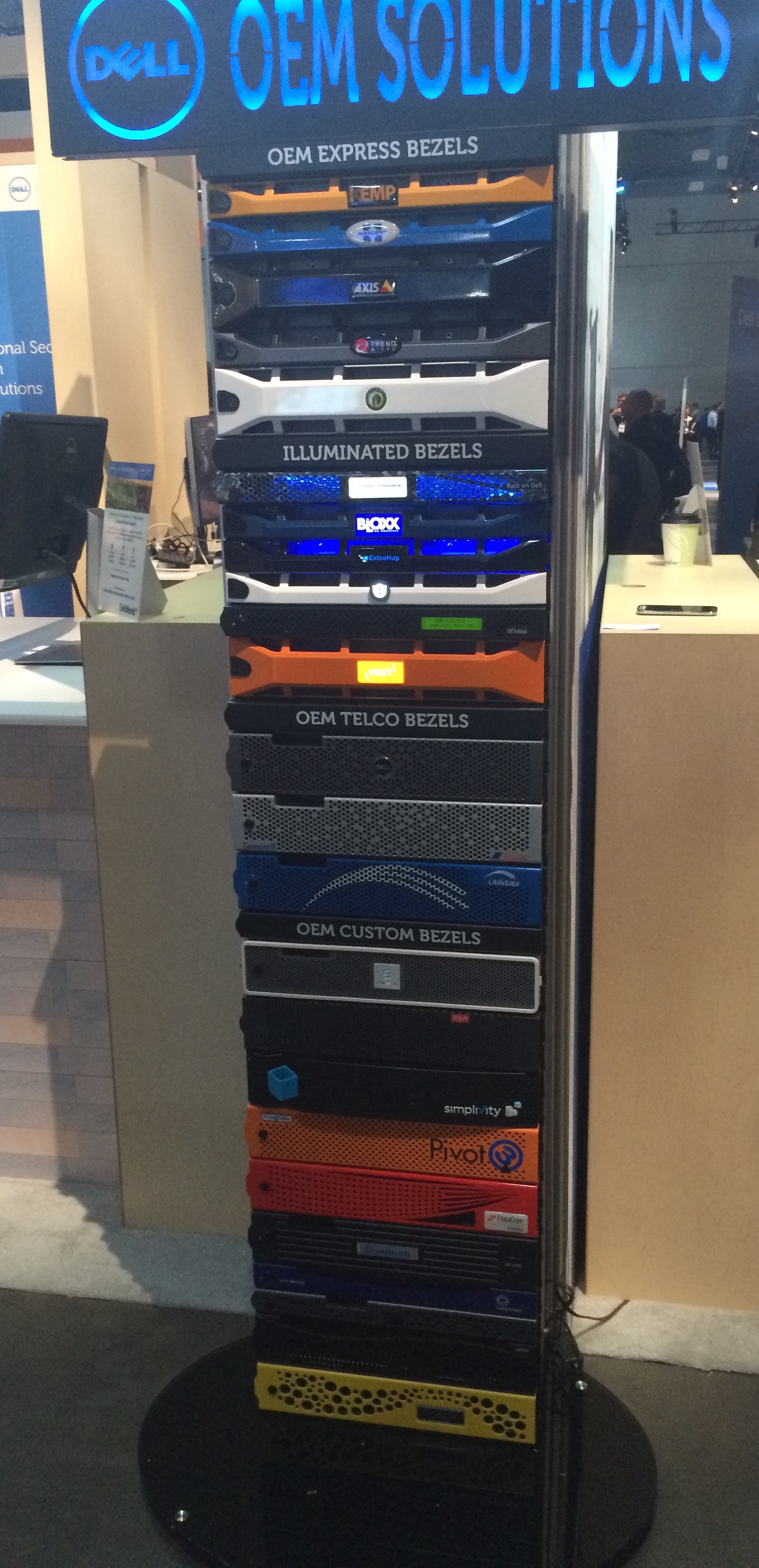 The move to Server SAN (aka hyperconverged infrastructure) is a different architecture than converged infrastructure. The systems are built as a distributed architecture, so the nodes are smaller and almost always built using rack servers rather than blade servers (networking people have debated for years whether to use large chassis or small devices to build the best large network). Dell has long had a significant OEM business (see image) and many of the early hyperconvergence players started with Dell including Pivot3, DataCore and SimpliVity. Dell also has partnerships with Nexenta, sells VMware VSAN, and OEMs Nutanix. Even before acquiring EMC, Dell had the largest portfolio of offerings, but that does not necessarily equate to revenue or thought leadership. As a server vendor, it does position Dell to ride the wave of adoption as these new technologies continue to grow. Cisco continues to partner for storage (the short-lived product from the Whiptail acquisition was not a hyperconverged offering) including meet-in-the-channel with SimpliVity, reference architecture with Maxta, and investment in Stratoscale. HP has seen significant growth in the StorVirtual product line and continues to offer VMware VSAN solutions (it did end sale of EVO:RAIL; see theCUBE interview with HP's Rob Strechay from VMworld 2015). Lenovo enters the discussion with the acquisition of IBM's x86 business (including PureFlex converged infrastructure) and recent signing of Nutanix as an OEM.
While it will take time to sort out the full ripples from Dell's acquisition of EMC, we know a few impacts on the hyperconverged market. While EMC is a competitor to many Dell server OEM customers, it is not expected that storage or hyperconverged companies that leverage Dell hardware today will make any near-term changes. Maintaining and growing the server business is a core concern for Dell, adding EMC will increase the solutions that will leverage Dell rather than ODM (such as Quantum), and Dell has assured companies and users that they will not make any moves to disrupt the OEM business. Adding EMC ScaleIO directly and increased coordination with VMware VSAN positions the Dell Enterprise group (basically, today's EMC and some new pieces) to have a stronger position in this growing part of the market. Nutanix now has hundreds of customers with Dell globally and has seen strong growth over the last two quarters. That being said, it is likely that the Nutanix/Dell relationship will undergo changes over the next year since EMC; it is likely that Dell would like to keep Nutanix as a server client, but it will be up to Nutanix if they will want to continue using Dell in addition to Supermicro (the standard Nutanix solution) and Lenovo even after Dell and EMC are one. When customers buy public cloud or hyperconverged offerings, they are less likely to care about the underlying hardware. This is why most Nutanix customers didn't care if the server is Supermicro and the company is leveraging this approach to offer the Acropolis hypervisor (built on KVM). Users like the simplicity of getting the resources they need, and quickly. This is the new user-experience benchmark that on-premises vendors will be measured against, where the underlying technical nuances matter less than the time to delivering resources.
While Enterprise Server SAN solutions have seen huge growth, hyperconvergence is still an emerging market. While there are many factors in Dell's acquisition of EMC, new architectures that impact both compute and storage are critical for the new Dell. Acquisitions and partnerships will help position new and existing players for one of the few growth areas (Wikibon Premium clients see the full Server SAN forecast) in otherwise of tough market segments.
Action Item: CIOs need to leverage solutions that will allow IT to do more than simply run the business. Both cloud and Server SAN technologies shift complexity away from IT and into the hands of suppliers, freeing up cycles to respond to business requirements to grow and transform the business. The shifts in the vendor landscape are an opportunity for users to pilot multiple solutions to both find the best technical fit and negotiate the best deal.