Yes, THAT John Cleese was an instant classic guest on theCUBE live from ServiceNow Knowledge 2015.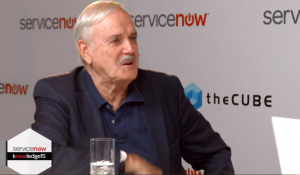 While Cleese may not know the challenges of the CIO, in speaking to a CIO event, he said, "I like geeks, because they all love Monty Python." His intellectual humor (people who like Monty Python are known to be smart he says) played well at the conference and the crowd watching his interview could be heard laughing throughout the segment.
When theCUBE team pulled questions from the audience via social media, Cleese told Dave Vellante that Facebook "is for people who aren't important enough to get in the gossip columns and newspapers". And when John Furrier tweeted, Cleese reprimanded him for being on a device and not paying attention.
When asked about technology, Cleese pointed out that technology is easy and that even in the 13th century, man could build huge beautiful cathedrals and that the real problem is getting along. He noted that we all know how technology can put barriers between people and that we need to work more to interact and talk.
I'm living in the past. I don't like the future and I don't think much of the present. -John Cleese about being a futurist
The full interview is below – we've done thousands of interviews, but this one is the funniest with the most bizarre (Python-esque) ending.