PREMISE: If the future of infrastructure and applications are being created by open communities and directed by foundations, whom will IT call for support? Open source software has reached an inflection point that will force many IT leaders to reconsider how they acquire technology and engage with the communities that build it.
For fifteen years, Portland, Oregon has hosted the OSCON conference, a city that prides itself on its unique culture, epitomized by the phrase 'Keep Portland Weird'. For years, the majority of the IT industry felt like that attitude was a perfect description of the open source software and communities at OSCON. As the open source communities evolve, they have to evaluate the ramifications of open source becoming more mainstream and widely adopted. What happens to communities when "open source software" transitions to just "software" and open source becomes the de-facto development and licensing model? The cultural and business perspectives of the "suit wearing" crowd and the "hoodie wearing" crowd have previously been quite different, but they are beginning to intersect and co-exist more frequently.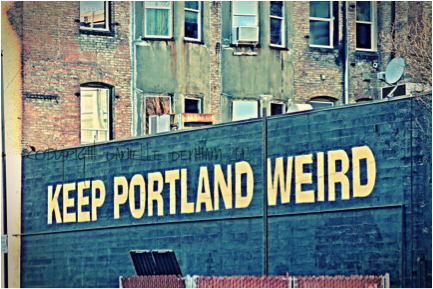 In the past, traditional IT companies have looked at open source software as an enigma. There has been a mindshift from open source software as something that was used in the bowels of IT that didn't necessarily have corporate approval to active contribution and preference towards using open source software. There is often a disconnect between the creation and usage of open source software from the monetization of open source. Traditional software vendors are trying to sort out a business model that allows them to blend commercial offerings and open source.
For more on open platforms and contribution, watch Marshall Van Alstyne on theCUBE from MIT's Digital Economy event
This dichotomy of open and commercial is at the center of massive IT and business disruption. The IT industry is undergoing one of the most disruptive stages in its history. While it's becoming cliché to say that, "software is eating the world" (Marc Andreessen, 2011), open source software is truly at the core of the major revolutions in mobile devices, cloud computing, social media, big data analytics and IoT. These trends dominate the latest Internet Trends report and are projected to expand their influence for the next 5-10 years.
Mobile – Android has become the leading mobile operating system, with a strong ecosystem of companies growing share in Asia and emerging markets
Private Cloud Computing – While VMware is still the dominant platform for Private Cloud deployments, the OpenStack community is beginning to stabilize (theCUBE coverage from OpenStack Vancouver), and VMware is responding to competitive threats from Docker by releasing open source projects of their own.
Public Cloud Computing – For years, the largest public Cloud Computing companies have used open source software to build their infrastructure and services. Recently, we've seen these companies begin to open source more of the infrastructure software they use. Examples: Rackspace OpenStack; Google Kubernetes; Digital Ocean (various projects), CenturyLink Cloud (various projects). In some cases, such as Kubernetes, this technology is being commercialized and integrated into other platforms (e.g., OpenStack, Docker) and being targeted as Enterprise IT.
Social Media – While advertising often drives their core business, these companies are contributing a large number of projects back to open source communities. Examples: Facebook (various projects, including Open Compute) and Twitter (various projects, including Mesos).
Big Data Analytics – The Data Warehouse and Business Intelligence markets have been dominated by companies such as Oracle, SAP, SAS, Teradata and others, but the emerging Big Data analytics market has it roots in open source and the evolution of technologies like Hadoop and Spark. In addition, the NoSQL database market is dominated by projects such as Cassandra, MongoDB, HBase, Redis, Riak and others.
Internet of Things (IoT) – Embedded Linux is the foundation of the billions of devices that will make up the next-generation of the Internet.
As reported by Black Duck Software in the 2015 Future of Open Source Survey, over 75% of companies are now running some aspect of their business on open source software, with a majority saying that they participate in open communities. This creates an interesting supply and demand mismatch between the largest IT suppliers and their evolving customer base. It also brings up three interesting questions:
Many open source projects are funded and staffed by the largest IT vendors (e.g., IBM, Intel, Red Hat, HP). Does this give them a competitive advantage in shaping the future of IT, even if it doesn't directly impact their bottom-line?
Not every company leading company is a significant contributor to open-source. Why don't Amazon Web Services, Apple and Oracle contribute back to open communities, especially given increasing competition in their markets?
Going forward, will larger portions of IT budgets be focused on the implementation of open source software, especially as it relates to the growing trends we highlighted above?
Discussion of The Future of Open Source with Basho's Matt Brender (below)
The Expanded Role of Open Source Foundations
Traditionally, IT buyers have sought risk-mitigation by buying from established vendors and by requiring that those vendors adhere to industry standards. This model is being challenged by open source software, where there is no centralized standards-body (e.g., IEEE, IETF, WC3) to define standards. Rather, standards evolve through implementations, customer adoption and evolving iterations to software. In some cases, an individual project attempts to become a standard (e.g., runC for containers), but this standard is established via functional software and not an isolated standards-committee.
Stepping in to fill this void is the evolving role of foundations within open source communities. Open source has had broad foundations in place for many years, to help incubate and coordinate projects and provide a legal framework to protect copyrights and implement licensing. Both the Linux Foundation and Apache Software Foundation are examples of this.
More recently, project-specific foundations have been created for popular and wide-reaching projects. The OpenStack Foundation, Cloud Foundry Foundation and the newly announced Cloud Native Computing Foundation (CNCF) are three examples that act somewhat similar to more traditional standards-bodies. Not only do they manage the legal aspects of the projects, but they also structure the framework for architectural discussions, roadmap planning, project awareness (marketing) and several other aspects that are needed. These foundations are established because the vendor involvement could be highly competitive or contentious, and the foundation provides the marketplace a level of transparency into how the technology is evolving. It helps address the marketplace concerns about vendor lock-in, as well as allowing customers to have a means of actively participating in the community. The market is taking notice of this new foundation model, as seen by the attendance at the recent OpenStack Summit (7000 attendees) and Cloud Foundry Summit (1500+ attendees), both of which were highlighted by customer testimonials. The launch of CNCF coincided with the launch of Kubernetes v1.0, which had packed rooms at OSCON 2015 and is supported by 20+ industry-leading companies.
In the past, standards-bodies would often focus on a single protocol or aspect of the technology. As systems become more interconnected and complex, today's foundations are now focused on broad architectural guidance. Wikibon highlighted this complexity in Evolving Container Architectures.
Are there too many foundations now? The Linux Foundations's Jim Zemlin says, "There is too much software to write to have it all governed under a single foundation." Others argue that all the foundations are bringing too much corporate bureaucracy to the process and creating too many opaque backroom discussions.
Is there too much overlap between the foundations? Even within the "Cloud Native" market, there are the Cloud Foundry Foundation, Cloud Native Computing Foundation and the Open Container Project. Each foundation has different members and their charters are overlapping in areas. For many customers, this will create confusion.
It's important to note that these open source foundations do not guarantee interoperability between implementations. Depending on the licensing being used for a given open source project, there is still freedom for vendors or ISVs to create differentiated variations on a project and include them only in their commercial offerings. Companies will need to dig into a specific implementation to understand how much aligns to the core project and how much are vendor-specific value-added additions.
ACTION ITEM: The use of open source software continues to accelerate and expand in the marketplace, especially in areas where technology is significantly disrupting established business models. IT organizations should be actively seeking to understand how open communities operate, how different licensing models work, and how they can be more actively engaged with both the vendors and communities that are shaping open source software.