Premise: As Wikibon interviewed hundreds of IT leaders over the past couple years, one trend continued to create a question in our minds – why were there so few Private Cloud implementations that operated like Public Cloud services? 
"Private Cloud" is a concept that has been marketed by IT vendors since 2007-2008, as the revenues of leading Public Cloud IaaS services crossed the $250M level. IT organizations were beginning to receive requests for faster, self-service, "on-demand" access to IT Infrastructure, and stories of "Shadow IT" were starting to become more commonplace. By 2009-2011, the vendor marketing push had shifted to "Hybrid Cloud" as more IT organizations began to feel the pressure to get some level of control over the rise in Public Cloud usage. This shift in focus highlighted the increasing demand from internal business groups to have more simplifier access to Cloud Computing resources. In essence, the user-level expectation, from developers or line of business users, is being defined by the Public Cloud services.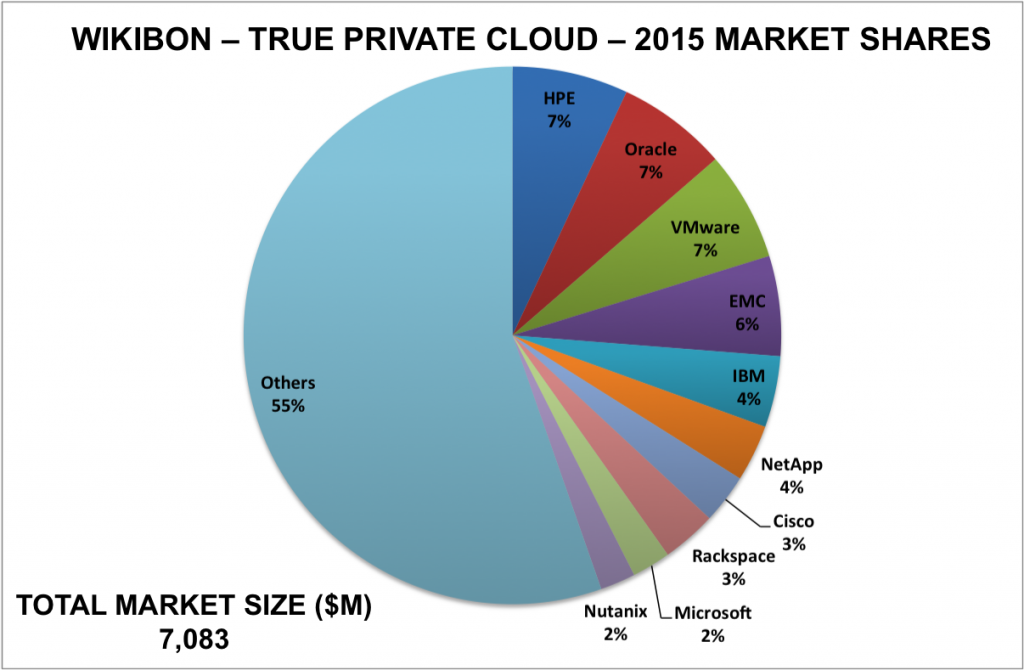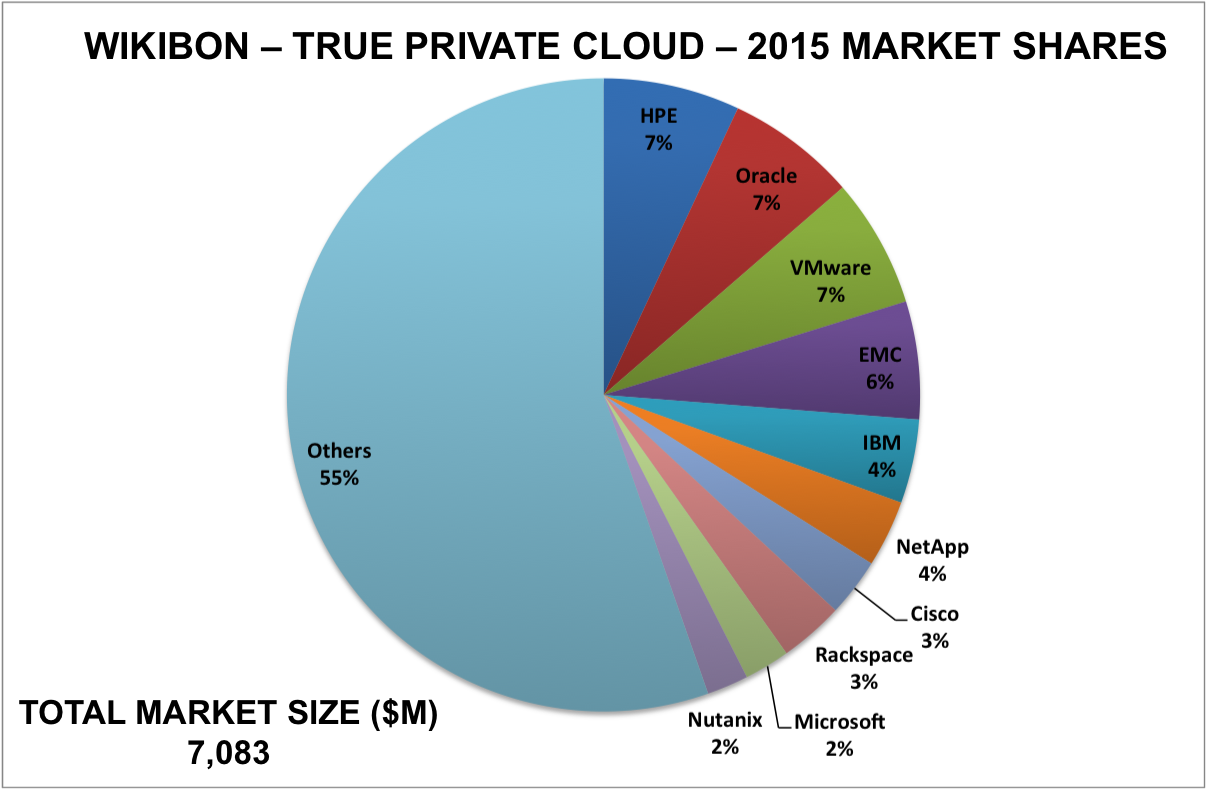 [Update: A previous version of the report failed to include Oracle revenue in the chart above]
Sizing the Private Cloud and True Private Cloud Market
Wikibon recently released the Private Cloud market sizing and forecast for 2015-2026 [premium for Wikibon clients]. In analyzing this market, we kept the question of "why were there so few Private Cloud implementations that operated like Public Cloud services" in mind, pushing us to create the definition of True Private Cloud. The definition was not created to have yet another market segment to count or track, but rather to emphasize that there was a significant disconnect between solutions being marketed by IT vendors and implementations by businesses. By allowing the bar to remain low for on-premises implementations, primarily consisting of virtualized data center resources, IT organizations were aligning themselves into a position of limited value to their business, especially as many businesses attempt to drive technology modernization ("digital business") initiatives. Deploying virtualized resources is undifferentiated heavy lifting by the IT department, when business users are asking for faster access to application resources.
Wikibon's analysis determined that the current (overall) market size of True Private Cloud implementations is $7B, well below the IaaS Public Cloud market in 2015 ($25B), and smaller than Public Cloud leader Amazon Web Services ($7.9B in 2015). This market sizing is delivered both on-premises by IT departments to their business, as well as by Managed/Hosted Cloud providers.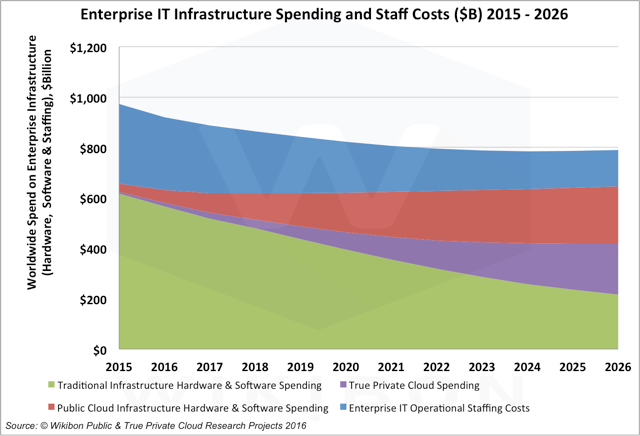 Moving forward over the next decade, Wikibon expects the size of the True Private Cloud market to grow to a level that is nearly the size of the "traditional on-premises IT" market (as that market shrinks in size), but it is useful to look at some of the reasons why Private Cloud (overall) has not kept up with the pace of growth of Public Cloud. NOTE: Some of these reasons overlap with Wikibon's assessment that the Hybrid Cloud market lacks maturity.
Virtualization is not Cloud
It has been said a number of times in the past, but it bares repeating again, just deploying virtualized infrastructure does not mean that an IaaS cloud has been deployed. The IaaS cloud must be able to automate many additional tasks that surround the virtualized infrastructure – addressing, network routing, load-balancing, isolating resources for security, managing the scale-out of resources via automated tasks, etc. The capabilities of virtualization are now mature and the need for new capabilities is slowing, as seen in VMware's Q4'15 earnings report where compute license revenues are beginning to slow. Far too many of the "Private Cloud" offerings being brought to market from 2010-2015 were based on the transition that IT departments were making from physical infrastructure to virtual machines. Not enough focus was placed on Cloud Management and Automation frameworks, which drove considerably lower revenue vs. hardware refreshes and virtualization licenses.
People and Process Change is Difficult
On the IT side of the equation is the challenge of retooling the skills of the IT organization, and restructuring the organization model for applications and operations teams. Wikibon has explored the evolving organizational dynamics for Cloud applications.  
Cloud Management is NOT a High-Revenue Business or High-Priority IT Focus
As the market has seen over the past 3-4 years, it is very difficult to be a stand-alone Cloud Management software business. While there have been a number of acquisitions (Ansible/Red Hat, Cloudscaling/EMC, Cloupia/Cisco, DynamicOps/VMware, enStratius/Dell, Eucalyptus/HPE, Nebula/Oracle, Nimbula/Oracle, PistonCloud/Cisco, etc.), most of these M&A deals were sub-$200M. The leading independent automation frameworks (Chef, Puppet, SaltStack, etc.) generate $100M or less in annual (licensing, support, consulting-services), so they do not get the attention from the large IT vendors to drive acquisitions or become the focus of large sales campaigns. They also require a new set of skills for IT organizations, which often lowers the priority of deployments vs. other new projects and refreshes. In contrast, Cloud Management is an underlying, "invisible" feature that is embedded within Public Cloud offerings. It is embedded in self-service portals and behind programmable APIs. With just a few clicks on a Public Cloud dashboard, the automation needs of the IT department are eliminate for application developers.
Cloud is a Service-Based Model – for Applications
Delivering compute, network and storage resources on-demand is the foundation of any cloud architecture, but that has been readily available from Public Cloud services since 2007-2009. Since then, the list of Public Cloud services has rapidly grown to include a broad range of capabilities that can be used to build and enhance applications – such as Database-as-a-Service, Data Management services, Elastic Load-Balancing, Auto-Scaling, Queuing services, Notification services, Authentication services, CI/CD services, Replicated Backups across geographic regions, and many more. These types of services were previously managed by IT groups outside the I/O teams, so the focus to deliver them as-a-Service were not priorities for those teams. In many cases, the lack of these services within a Private Cloud environment led to the expansion of Shadow IT at many companies.
Do Business Applications Need a Private Cloud?
Some businesses attempt to deploy a Private Cloud that is focused on automating the deployment of common business applications, such as Oracle databases or Microsoft Sharepoint. While this capability is useful to reduce IT costs, it is a difficult business case to justify the ROI.
Over the past 5-7 years, the growth of Cloud Computing has been driven by two key factors:
Enabling Developers to Build New Applications Faster
Moving non-differentiated business functions from on-premises deployments to SaaS consumption models
In Wikibon's interviews with many IT practitioners, the ownership of SaaS applications is often managed outside the core IT teams; often times by a line-of-business or shared-services function. This non-differentiated applications are not candidates to get migrated to a Private Cloud environment, as they are often replaced by a similar and more user-friendly SaaS applications.
This leaves the application-development use-cases as candidates for a Private Cloud. For many businesses, in-house development was moved off-short during the 1990s or 2000s in an attempt to reduce costs. The trend to bring these skills back in-house are beginning to grow, as more companies see the need to go through a "digital transformation" and better align technology to the core of their business and customer interactions. These digital transformation initiatives will mostly be aligned to Cloud Native applications, instead of legacy applications, which means that Private Clouds will require a greater level of application-centric services that the basic IaaS clouds that exist today.
Cloud Skills are in High Demand – But Application Skills are Higher
As with many industries, highly skilled workers will seek to maximize their earnings potential by aligning themselves with higher paying roles. The technology industry is no different. In 2014-2015, only PaaS and Chef were in the Top 10 highest-demand jobs. In 2016, Cloud Computing technologies such as PaaS, OpenStack, CloudStack, Chef and Puppet all make the list. Similar capabilities to OpenStack and Cloudstack are embedded in Public Cloud services today, but this demand trend shows that businesses are now looking to make investments to get their Private Cloud environments to more closely align to the automated, developer-friendly capabilities of the Public Cloud.
Will this new demand for Cloud Computing skills help accelerate adoption towards True Private Cloud environments, or has the Public Cloud market accelerated too fast to keep up?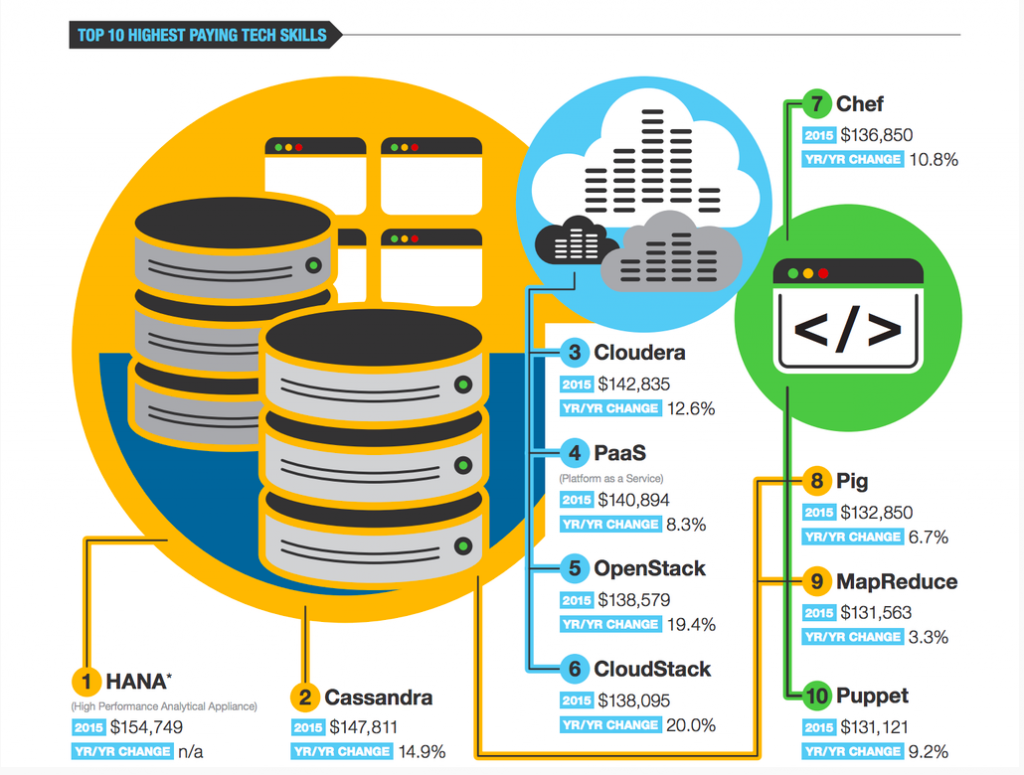 The upside to the future of Private Cloud environments is the demand and compensation levels for Platform-as-a-Service (PaaS) skills. Not only do PaaS platforms (structured or unstructured) hide some of the underlying IaaS complexity that has held back Private Cloud to-date, but it is much more focused on application-level value back to the business. As was stated before, Cloud is about delivering services to simplify application development, application deployments and application usage. PaaS platforms are much better aligned to those business demands.
Action Item: For CIOs and IT organizations that are required to build Private Cloud Computing services, due to security, compliance or legacy-integration issues, it is critical to be setting the bar higher in the services that are delivered to the business. Wikibon's True Private Cloud drives much greater alignment to the Public Cloud services that are redefining the end-user experience that is expected in 2016 and beyond. The True Private Cloud framework allows IT to reduce costs and focus less on non-differentiated infrastructure capabilities, and allocate greater time and resources towards the application-level services that can differentiate the business.