Wikibon Analysts:
David Floyer
Stu Miniman
Ralph Finos
Currently, Enterprise Server SAN has revenues greater than $1 billion, with an annual current growth rate of greater than 150%. This research looks at why Server SAN is growing so fast, who are the main players, and what is the likely impact on current Enterprise networked storage.
Wikibon reviews the Server SAN research and adjusts the Server SAN definition to include System Drag. System Drag is the equipment and additional software to support a Server SAN implementation where the revenue is not directly attributed to the Server SAN vendor (e.g., a software only sale).
Server SAN consists of two components, Enterprise Server SAN and Hyperscale Server SAN. The speed of adoption of Server SAN has exploded, and Figure 1 shows the impact of adding System Drag, and the very fast adoption of Server SAN from 2012 to 2014. Figure 1 shows the restated results for 2013 and 2014, with Enterprise Server SAN hitting $1.1 Billion.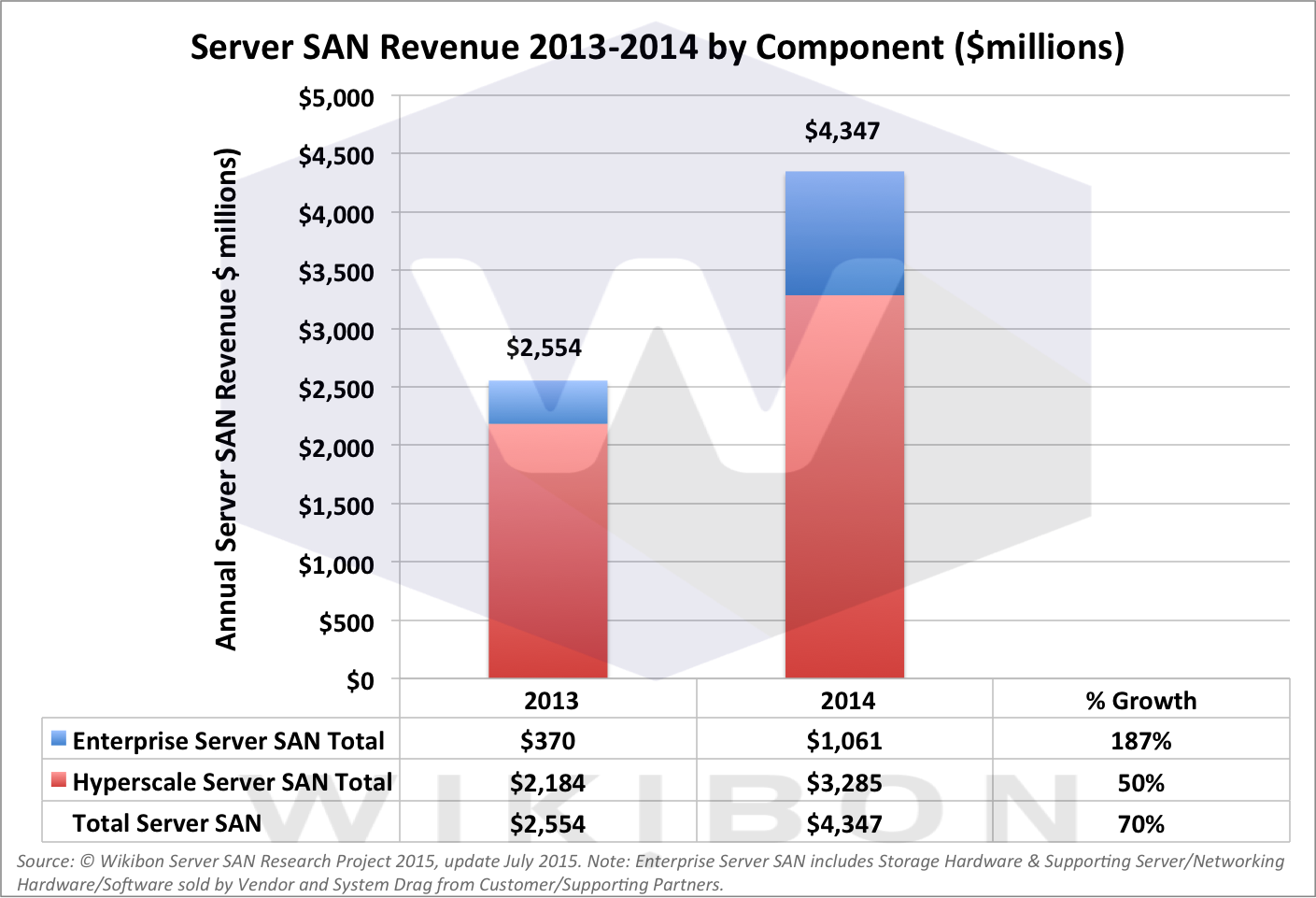 Wikibon integrated its cloud revenue projection and Hyperscale Server SAN projections, as shown in Figures 2 and 3 above. Hyperscale Server SAN has also been growing faster than previously projected and reached $4.3 billion in 2014.
Figure 4 is a Wikibon extended projection, designed to paint a picture of the profound changes roiling IT storage. The exact figures in the outer years are less important than the shape of the curves, reflecting the strong market forces at play. The overall growth of Server SAN is projected to be about a 28% CAGR from 2012 to 2026. The total Server SAN market is projected to grow to about $48 billion by 2026. The traditional enterprise storage market is projected to decline by -16% CAGR, leading to an overall growth in storage spend of 3% CAGR through 2026.
Apart from flash arrays, the traditional enterprise storage market is in decline. The one area where traditional storage systems can continue to serve is the long-term data retention segment. This usually requires infrequent access to the data, but more frequent access to metadata about the archived data. Wikibon has discussed this segment in a research paper: The Emergence of a New Architecture for Long-term Data Retention. In this segment, object based architectures can distribute data across multiple sites using highly efficient erasure coding. Because of the fast data transfer character of tape, "Flape" (Flash & Tape) systems could be ideal for this kind to system. Companies like DDN with WOS, Cleversafe and Scality are pioneering new ways of drastically reducing the cost of long-term data retention.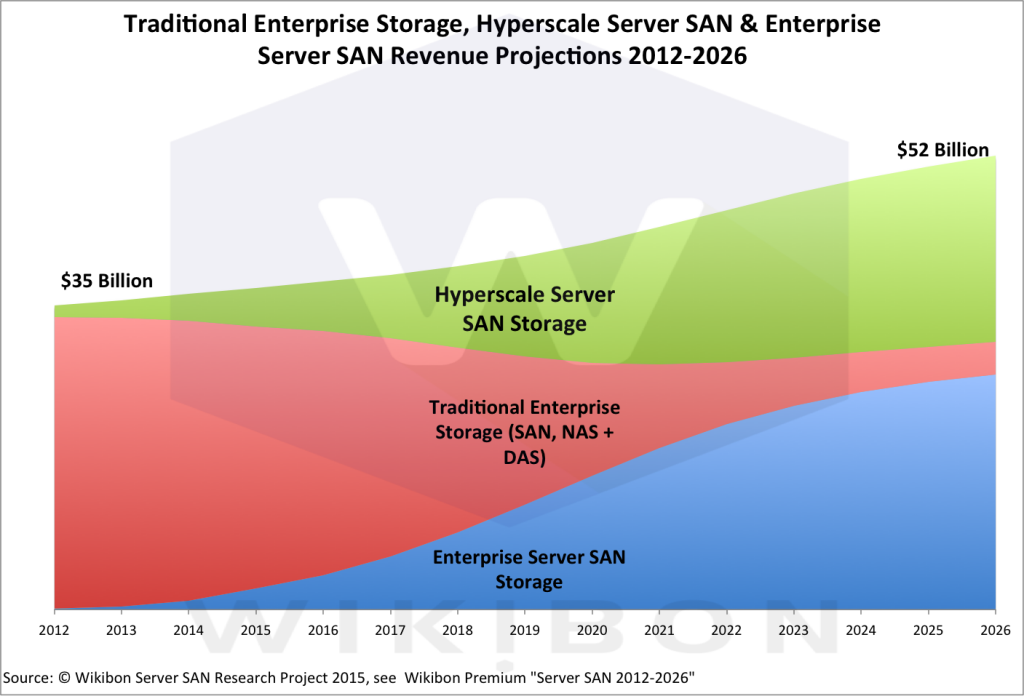 As Figure 2 shows, traditional enterprise storage is being squeezed in a vice between a superior, lower cost and more flexible storage model with Enterprise Server SAN, and the migration of IT towards  cloud computing and Hyperscale Server SAN deployments.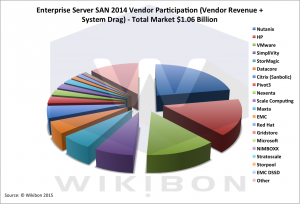 Figure 5 shows the percentage vendor participation in the 2014 Server SAN marketplace. Vendor participation is the sum of vendor revenue and Systems Drag. The top five leading vendors by vendor participation are Nutanix, HP, VMware, SimpliVity and StorMagic. The top five leading vendors by vendor revenue are Nutanix, HP, SimpliVity, VMware and Pivot3.
Wikibon strongly recommends that CTOs & CIOs initiate Server SAN pilot projects in 2015, particularly for applications where either low cost or high performance is required.
The full report and projections are available to Wikibon Premium clients: Server SAN 2012-2026. This includes a detailed review of the vendor revenues and systems drag by vendor for 2013 and 2014.
More discussion about the vendors and the context of Server SAN with other IT operational trends is provided for Wikibon Premium clients: Server SAN Enabling a Modern Operational Model of IT.