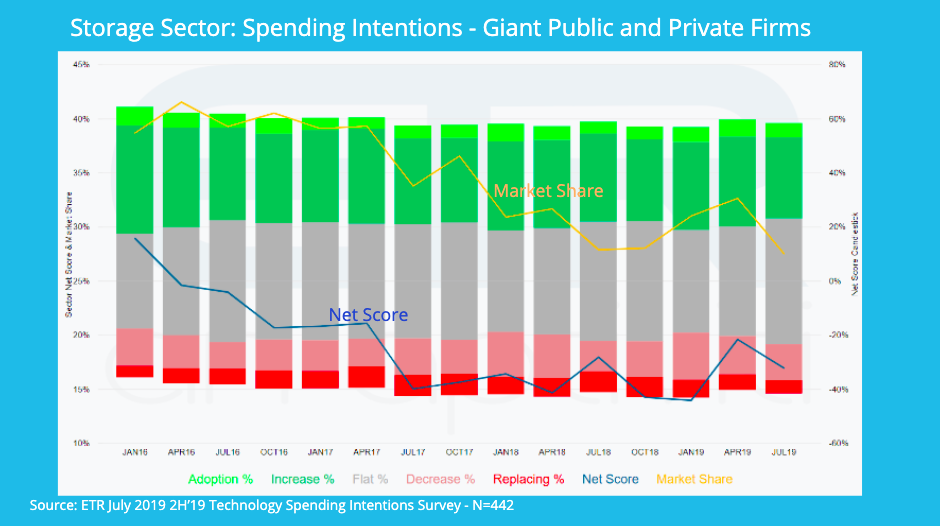 Dell Technologies hosted its investor day for financial analysts last week. We were able to attend and got a better understanding of Dell's vision, strategic direction, and planned actions to address its liquidity/conglomerate discount. Specifically, investors penalize Dell's stock price for three primary reasons: 1) its high debt load; 2) Dell's conglomerate ownership structure and 3) Michael Dell's significant voting control relative to other shareholders. We remain cautious about overall server and storage demand – especially in the face of pressure from the public cloud. Nonetheless, in our view Dell has several viable knobs it can turn to drive shareholder value. While it will take time, consistent execution and some market support at the macro level, we feel that over the next 18-24 months, Dell's position and value relative to the market will continue to improve.
Here's a summary of our key takeaways:
Knob 1 – Paying Down Core Debt – Dell is a giant company that generates ~$92B in annual revenue. One of the most substantial arrows in its quiver is the ability to pay down its debt. Dell throws off around $7B annually in operating cash and has paid down more than $17B in gross debt since the EMC acquisition. Within the next 12-18 months, Dell hopes to get its core debt leverage ratio to 2-3x. At that point the company believes it will be able to have a discussion with agencies about moving toward an investment grade credit rating. This reduces Dell's interest payments and along with debt reduction, drops right to the bottom line.
Knob 2 – P&L Leverage from Current Operations – Dell's stated strategy is to grow share relative to competitors. Currently Dell's server business is facing demand headwinds and a tough compare relative to last year when its server revenue grew many times faster than the market's 4-5% growth. Dell's storage business got back on track last year after struggling post-EMC acquisition. The company has gained back 375 basis points in the last 18 months and is dramatically simplifying its overly complex storage portfolio. Overall storage demand is weak right now in our view due to competition from public cloud providers and an injection over the past five years of all flash arrays; which has given customers performance headroom. We're watching this trend closely with the help of Enterprise Technology Research spending intentions data. On balance we believe that the storage market, despite current softness, will bounce back as new workloads come on line. Dell's client business continues to provide a core revenue foundation for the company with some runway left for Windows 10 adoption, which should help demand and the income statement overall.
Knob #3 – VMware Integration – Under the governance of Dell, VMware integration to core Dell products has only increased relative to what it was when EMC owned VMware. Some examples include VxRail, vSAN, VMware's Cloud Foundation married with Dell infrastructure, NSX with Dell networking products, cloud orchestration offerings, as-a-service solutions and simplified management of devices and applications. We expect to see continued focus on VMware integration across the Dell portfolio. VMware for its part will continue to embrace partners but the deepest solutions engineering integration will stay with Dell (and AWS). To the extent that Dell can more deeply integrate with VMware it will be a more attractive one-stop shop for customers. Dell believes that industry consolidation will favor the company as customers desire fewer vendors to manage. While we're somewhat skeptical that customers will be able to easily reduce their number of suppliers, VMware integration is one clear opportunity to deliver on that goal.
Knob #4 – M&A and Corporate Structure – When Dell bought EMC many pointed to Dell's debt load and its inability to make acquisitions in the same aggressive fashion as did EMC. On the contrary, VMware has been very acquisitive. As an example, VMware recently announced the intent to acquire Pivotal – a company with a roughly $4B market value. VMware was able to use its existing ownership in Pivotal, and a share swap with Dell, to pick up Pivotal for less than $1B in cash. VMware announced the intent to acquire Carbon Black and launch a security division and is now in a position to compete in the security space as well as go after developers with a cloud native / Kubernetes story. While many criticize Pivotal as the ugly step sister in cloud native development, VMware has a track record of acquiring underperforming or smaller assets and using its size and market power to take a leadership position (e.g. Nicira and AirWatch).
TAM Expansion – Not much financial detail was given in the meeting to new AI workloads and opportunities at the edge. We suspect this is because there won't be meaningful or easily measurable revenue coming from these areas in the near term. But longer term market growth in adjacent areas could confer opportunity for a company with a customer base as large as Dell's.
Final Thoughts
We have near term concerns over the overall spending patterns implied in the ETR survey data. Storage and server spending intentions data show a steady decline in these sectors for the past several quarters, relative to other tech initiatives. We see this as a function of higher spend on cloud, digital transformation and other high priority initiatives. As well, we see flash providing near-to-mid term headroom for storage buyers. However we see both of these as temporary trends because digital transformation efforts are going into production and will require more compute and storage as they scale. The key for Dell, and any infrastructure company that doesn't own a cloud, will be to gain share relative to its competition. To this end Dell has the right strategy in our view– but its not alone in this objective.
Here's a full video analysis of our assessment from the meeting: