PREMISE: The discussion of breaking the storage silo and creating solutions that are converged and/or distributed has come to a head with seismic shifts including the largest acquisition in history and the thundering growth of cloud.
It's the end of the world as we know it (and I feel fine). -R.E.M.
We often discuss the history of IT as the adoptions of waves – such as the mainframe, client/server and cloud/mobile eras – every once in a while there are large events that cause broad ripples in the industry. EMC helped create the storage industry when it offered storage for mainframe and later open systems as stand-alone products. Over the last two decades, the competitive landscape for storage has been fierce and fragmented. Each segment of the market has different dynamics; while there are clear leaders, even a shift of 1% in overall revenue market share is rare to see in a year. New technology trends like flash and (hyper)converged infrastructure are drastically changing architectures, but even the storage companies that have IPOed (Fusion-io, Violin Memory, Nimble Storage and Pure Storage) are far away from being $1B in revenue per year (these 4 combined fall below that mark in 2014). There are two recent examples of significant shift in the storage marketplace – the obvious is Dell acquiring EMC for $67B (the "earthquake" that led to the title of this article) and the other is AWS whose revenue will end in the $8B range in 2015 will have well beyond $1B (likely beyond $2B) in storage services consumed this year.
New King of the Storage Hill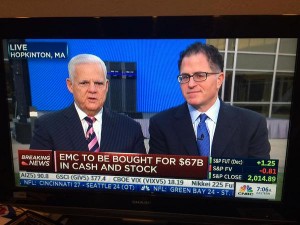 Rumors of EMC being acquired were nothing new. In fact, it felt like the boy who cried wolf, so when Michael Dell and Joe Tucci appeared on CNBC to announce a definitive agreement, everyone was in shock. I worked at EMC from 2000-2010 and first there were rumors of IBM, then Cisco and more recently HP merger talks, but Dell was never one that we considered. EMC and Dell had a very lucrative partnership for 10 years (2001-2011), but ended it as Dell increased M&A (acquisitions of Compellent, Ocarina and others) of storage solutions. The EMC and Dell channel partners and field fought over accounts and since the "breakup" it was a bit ugly. When Dell went private in 2013, an acquisition of this size seemed unfathomable.
See Top 10 Things You Need to Know About Dell Buying EMC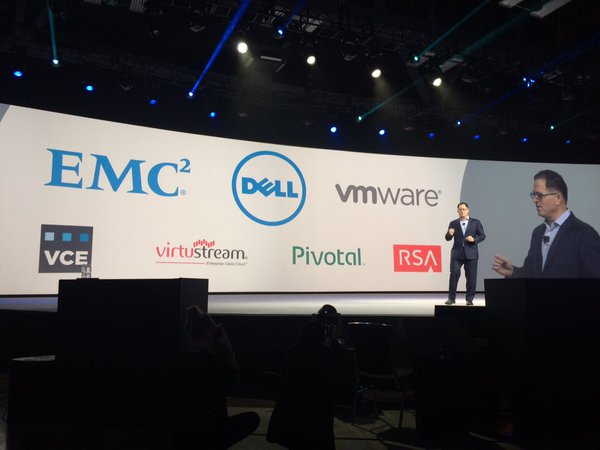 Dell and EMC got to know each other very well during the decade-long partnership. Additionally, many of the senior executives in the Dell enterprise group are recently joined from HP had seen the potential of EMC's assets that HP failed to acquire. And while Dell is a global brand with strong positions in many markets and products, it is still mostly known for its PC division. The EMC acquisition instantly boosts storage credibility and capabilities in the enterprise market. A deal of $67B is so big and complex that none of us on the outside have a full view of what it will look like by the time the deal closes next summer. Ownership of VMware is a critical component and Dell has stated that it will not interfere with VMware's operations; the challenge will be gaining value to Dell/EMC while not holding back VMware – it was this topic that led to activist investor Elliott Management to seek change in the EMC Federation model. Already, EMC and VMware announced that the recently acquired Virtustream assets are spun out of EMC into a new cloud services business. Additional moves in the portfolio are expected before the deal closes. Dell has stated that it is fully committed to the PC business, rumors persist that the company is still actively seeking a buyer.
Full coverage of Dell World 2015 by theCUBE
As for the storage market, the new Dell with the addition of EMC revenues is the clear leader and has strong positions up and down the market as well as across almost every sub-segment. There is some overlap between storage lines, but more importantly for EMC, as a private company, they can manage the transitions or both product lines and margins without having to fear the Wall Street ramifications. Dell has claimed that it has made great progress without the "90 day shot-clock" and the combined companies will be able to put this to the test at larger scale. The companies will need to provide more information publicly for industry watchers to make any independent assessments.
In the not-too-distant future, when Dell logos are on buildings in Hopkinton and other EMC offices, will the company still be known as a storage company? EMC has been a leader in converged infrastructure and expanded well beyond storage with acquisitions (most notably VMware, RSA, Nicira and the pieces now in Pivotal), combined with Dell, the new entity can focus on end-to-end solutions. As Michael Dell said when addressing his HQ in Round Rock "I think converged infrastructure is happening. I think the boundaries that have previously separated the compute, and the storage and the networking and all the other boxes that have been put in the convoluted data center over time are going to disappear as virtualization, containerization sweeps across the whole data center." Many point to the acquisition as the deathblow to VCE. A year ago, VCE rejoined EMC as Cisco reduced direct investment in the joint venture; the division boasted over $2B in 2014 revenue and has had continued growth the first half of 2015. VCE has committed that Vblocks (a joint Cisco-EMC trademark) will always use Cisco servers, VCE also has VxBlocks, which allow the use of VMware NSX, and VxRacks, a hyperconverged offering that do not use Cisco servers. Cisco and Dell/EMC will not endanger billions of dollars of Vblock sales with top enterprise customers, so you can expect a close focus from all involved to not disrupt anything too fast. It should be expected that Dell servers will rapidly replace white-box options in VCE and other EMC offerings. Dell OEMs Nutanix software which competes with both EMC ScaleIO and VMware VSAN. Nutanix is the leader in the hyperconverged (Server SAN) market, but it is likely that Dell and EMC will lead with in-house options. The transition of traditional storage array architectures to distributed architectures like Server SAN are both one of the biggest opportunities and threats for the new Dell Federation.
When is Storage not Storage
After decades of storage being a separately purchased and managed entity, we are seeing many examples of indirect competition to the old storage model. Cloud is the quiet killer of storage. SaaS makes up 2/3 of the cloud market today and for every SaaS application that a company adopts, the data is typically not going in a customer-controlled environment. Microsoft always advised that customers use DAS (direct attached storage) for the office suite, but most customers bought NAS/SAN solutions from EMC, NetApp and the rest of the industry. With the move to Office 365 (over 60M monthly active commercial users), Microsoft owns the storage in Azure. Microsoft applications are a significant part of data center, and also VMware, environments. Azure and AWS IaaS don't compete head-to-head with the typical storage players for budget; rather the services get leveraged when applications are in these clouds. Discussions move from capacity and $1/GB to services and time to value (provisioning time).
Below: Mai-Lan Tomsen Bukovec, GM, AWS S3 at AWS re:Invent
The storage community is not blind to this trend, most of the players have both cloud and systems solutions to attract and retain customers.
Oracle is the leader in the full-stack solution with Exadata and has ramped up public cloud computing efforts (see theCUBE coverage of Oracle Open World 2015).
IBM shed the x86 business (sold to Lenovo), but doesn't lack resources in its stack

Open Power and Mainframe are finding new growth areas
Broad application portfolio including database, broad suite of analytics, and multiple Watson initiatives
IBM cloud has a strong open source focus including OpenStack and BlueMix (Cloud Foundry) on Softlayer

Dell has long, strategic partnership with Microsoft which they extended with a hybrid cloud announcement

Microsoft Azure uses Dell systems – Microsoft started to shift to white-box servers a few years ago, now that they are back on Dell
With the EMC acquisition and VMware ownership, Dell will have additional assets, overall, Dell and EMC are looking to be suppliers to cloud (and SPs) more than competing against the largest cloud providers
VMware said to partners a few years ago that when AWS wins, "we all lose", now when Azure wins, Dell loses a bit less

HP officially ended its HP Helion Public Cloud and will focus instead on hybrid cloud offerings leveraging OpenStack
NetApp has offered direct-connect solutions with AWS and Azure

NetApp has "hundreds of customers" with AWS
With EMC acquired, will NetApp find a buyer or stay independent? Cisco has been rumored for many years to be shopping for storage solution(s), but there are a number of startups that would fit into Cisco initiatives without completely disrupting all of its storage partnerships

What about all of the all-flash array (AFA), hyperconvergence and software-defined storage (SDS) startups? How do they tie into cloud?

Most of the AFA solutions target enterprise deployments, with the exeption of Solidfire, which started with and has strong adoption in service providers and a significant number of OpenStack deployments.
Many hyperconverged offerings including Nutanix and SimpliVity can have a backup node in public cloud, but for the most part they are not in service provider environments.
EMC's ScaleIO can be a hyperconverged solution or can deploy as SDS (storage separate from compute) which it has done at large scale in service provider deployments
The Future is Here and Distributed
Have the rules of the storage industry been fundamentally broken? There will continue to be more start-ups and more acquisitions. Many have criticized the storage industry for a lack of innovation and enterprise users for slow adoption of new technologies. Some moments take years for us to understand the implications (like EMC's acquisition of VMware) and others we know immediately that it will change everything (Cisco's launch of UCS, VMware's acquisition of Nicira); Dell's bold move will go down as a seminal moment in the history of the storage industry. Storage will remain a significant piece of customer spend and infrastructure requirements. Everything has changed, just as we've been saying for years.
Action Item: The full impact of the Dell/EMC deal will take time to sort out (see Customer and Partner Survival Guide to Dell/EMC), customers are in the driver seat, while there is consolidation, there are more direct and indirect replacements on the market for all solutions. Vendor cloud strategies are coming into focus, which allows users to evaluate the proper location for application portfolio.