Most years the community has a good idea of what the big focus will be at VMworld – in 2014 it was VSAN/EVO, in 2013 NSX, in 2012 the transition of Paul to Pat; but in 2015 we are "Ready for Any". VMworld is one of the most important technology industry conferences – much more than just its roots in server virtualization, it is the leading infrastructure ecosystem show and one of the top gathering places for cloud conversations. VMware has a huge user base and while most customers will want to get the latest information on the vSphere 6.0/6.1 product suite, industry watchers are fascinated by the fate of the EMC Federation which could include VMware and EMC merging through a spin-in or downstream merger. So while there may not be a singular theme, leading up to the show, there are numerous angles and hot technologies that will have the industry focused on VMworld.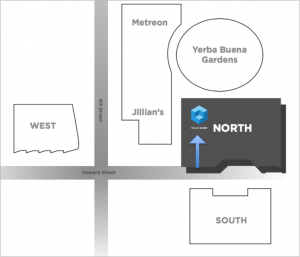 For the sixth year, the SiliconANGLE Media team is excited to bring theCUBE to VMworld; this year there will be a larger, double-stage set in the upper lobby of Moscone North (up the escalator from the keynote area rather than in the more crowded South with the expo hall). The expanded broadcast area will allow our team to cover a broad spectrum of topics through interviews and panels – and there are more ways than ever to participate. There has always been a good crowd to watch theCUBE interviews live at VMworld and during panels, we welcome the audience to ask questions. See the current line-up on SiliconANGLE.tv/vmworld-2015-sf – key topics and panels are listed below.
Below is theCUBE VMworld poster (thank you to all of our sponsors), below the image are some highlights to look for and a preview video with John Furrier (@furrier), Dave Vellante (@dvellante), Brian Gracely (@bgracely and me (@stu).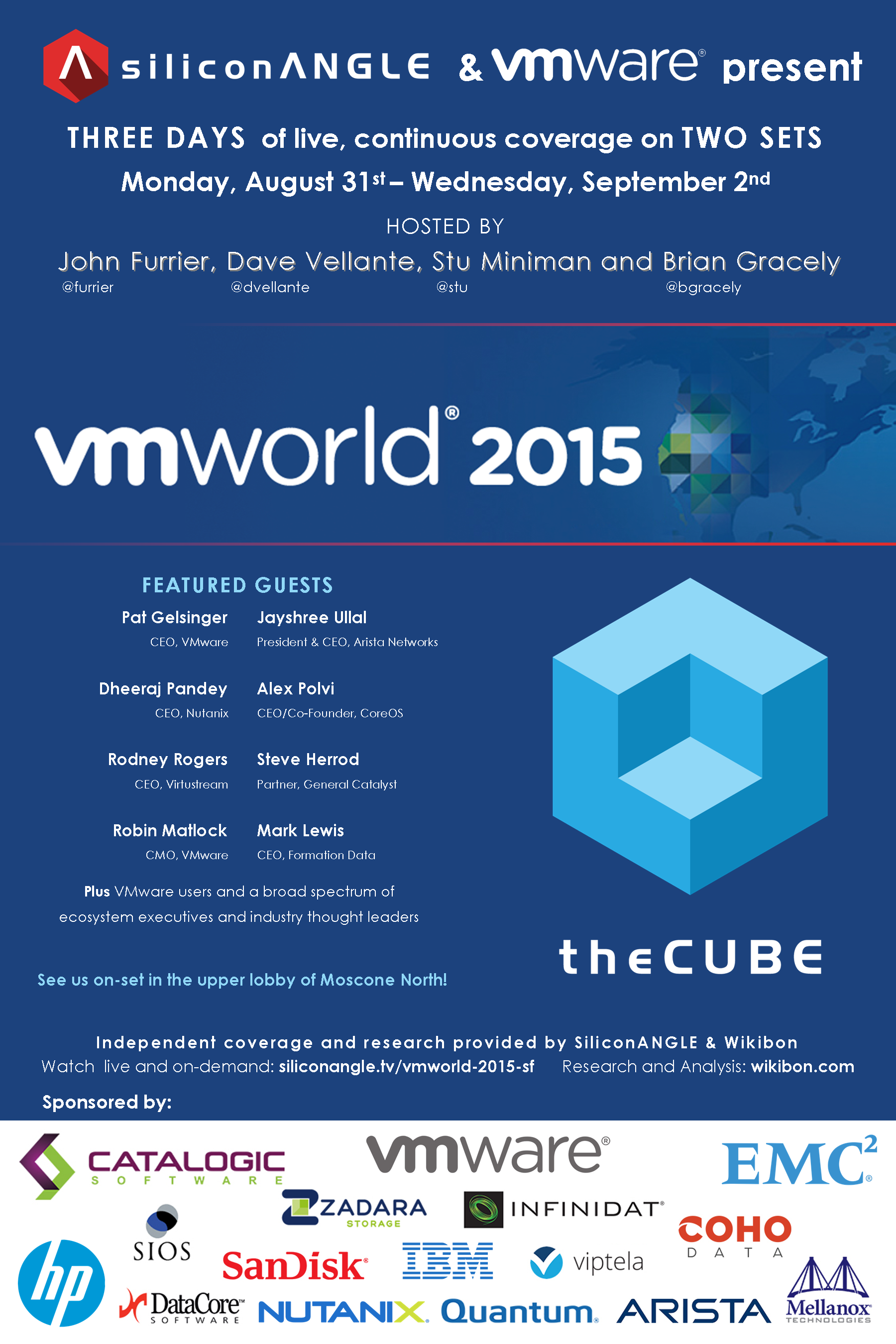 Highlights and Hot Topics on theCUBE
Top VMware executives: CEO Pat Gelsinger Tuesday 12:30pm; COO Carl Eschenbach Tuesday 2:30pm; CMO Robin Matlock Tuesday 2pm; CIO Bask Iyer Wednesday 9:30pm; EUC GM Sanjay Poonen Monday 4:20pm; Storage GM Charles Fan Monday 12pm.
Cloud: hybrid cloud does not mean that you can ignore AWS and Azure. Brian Gracely poses Many Questions Remain for VMware vCloud Air. VMware SVP of Cloud Services Product Development Ajay Patel will be on theCUBE Wednesday 4pm; Virtustream CEO Rodney Rogers (recently acquired by EMC) Monday 12pm; Ravello President Benny Schnaider Monday 2pm.
Hyperconvergence: In my Server SAN review of the last year, I stated that "VMware's launch of Virtual SAN (VSAN) was the single biggest event in the history of hyperconverged infrastructure." Hyperconvergence had the most buzz last year and the competition/partnership dynamic of VMware and the ecosystem will be on full display this year. It is still very early days for this market segment, so there is a lot of room for growth and change in the solutions and vendor landscape over the next couple of years. VMware VSAN customer panel Tuesday 1:30pm, Hyperconvergence panel including channel partner Tuesday 2:30pm, VMware VSAN on Wednesday 1:30pm (product updates) and 2:30pm (futures); Nutanix CEO Dheeraj Pandey Monday 9:20am; HP StoreVirtual's Rob Strechay Wednesday 10:40am; Springpath CEO Terry Cunningham Monday 12:30pm; ActualTech's Scott Lowe and David M Davis Monday 3:30pm.
Networking: It's been 3 years since VMware made the big Nicira acquisition and Martin Casado promised to transform networking. While the SDN wave has not yet reached mainstream adoption, VMware NSX boasts 700 customers and it is top discussion point in the networking world. VMware SVP of Networking Dom Delfino (last on theCUBE when he was with Cisco) Tuesday 4pm; NSX customer and security partner FireHost CEO Chris Drake Tuesday 4:30pm; Arista CEO Jayshree Ullal Tuesday 1:30pm.
Panels: Great line-up of panels on a variety of topics – questions from the audience in person or on-line (CrowdChat and Twitter) are welcome
VCs Tuesday 11am: Jerry Chen, Greylock & Ping Li, Accel
Containers Tuesday 2pm: CoreOS (Alex Polvi), Intel (Nick Weaver), RancherLabs (Sheng Liang)
Cloud Native Apps Wednesday 11am: Pivotal, Hashicorp, Red Hat OpenShift
Podcasts LIVE: Geek Whisperers Wednesday 10:30am; VirtSec Wednesday 2:30pm (with Bromium, HyTrust and VMware); vBrownBag Tuesday 12pm
20 minute preview video of VMworld with theCUBE host team (below)