At the third annual Amazon Web Services user conference (AWS re:Invent 2014), SVP Andy Jassy stated that "cloud has become the new normal". AWS claims more than 1 million active customers and the fastest revenue growth rate (>40%) of any multi-billion dollar enterprise IT vendor. As the trailblazer and leader of IaaS, AWS cannot be ignored by IT. There are only two types of companies: those officially using AWS and those whose users are going around IT to consume AWS (see "Stealth IT"). CIOs must either be using AWS solutions or benchmarking themselves against what can be done with AWS. The ascendency of AWS has been compared to Microsoft and VMware. Like those previous cases, it will take time before we know how large they will become and there are growth headwinds when an IT supplier becomes too powerful in a partner ecosystem or takes a large amount of revenue from customers.
In the first two years of re:Invent, the messaging focused on how broken IT was and that the future is about embracing Amazon. AWS has a strong tie with the developer community; at re:Invent 2013, the swag was hoodies, and the show floor was full of "born in the cloud" companies that were building businesses geared for the cloud-mobile world. With the goal ofinvading the enterprise, the rhetoric needed to be toned down. It felt as if AWS had studied "Rosetta Stone for the Enterprise"; the 2014 keynote spoke of "hybrid IT" and a hugely expanded ecosystem. The 2014 show floor was transformed from a bunch of small booths to an expo that looked more like VMworld or Oracle Open World than the developer gathering in the past. While the message is still that it is always best and cheaper to put workloads into AWS, customers who want "private" can get have greater control over network, compute, storage, key management and governance.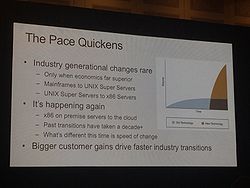 A clever analogy from AWS is that on-premises infrastructure is an ice cube; immobile and frozen at the time that it is deployed. While public cloud does have the advantage of being able to "instantly" spin-up or down an environment which is ideal for temporary or bursty workloads, it is not the only solution that can grow and add features as time goes on. Wikibon's market definition of Server SAN describes how the upgradability and scalability of hyperscale environments can be delivered to enterprise data centers. More than scale (which AWS has some strong claims to – see the interview with AWS Distinguished Engineer James Hamilton and my article from 2013Hyper-specialization is the secret sauce to Amazon Web Services), it is about building distributed architectures that will change and are designed for failure rather than hardened and unchanging. While on-premises vendors have created calculators to show that, for stable environments, it is cheaper to own than to rent, it is difficult to have an apples-to-apples comparison for total cost (operations, wasted time to start a project, migration costs and more) of ownership.
Andy Jassy also said that "lower cost structure is not the driver of transformation, it's about agility and innovation". This is a compelling message to businesses, especially those that have already shifted from IT as a cost center to IT as a driver of business value (also see Both Buyers and Sellers Must Learn to Compete in the Amazon Economy). Werner Vogels built on this theme by pointing out that development and test workloads, while often decried as not being serious workloads, are critical to help companies move faster. AWS continues to create compelling infrastructure building blocks while also moving up the stack to create full services such as Amazon Aurora – a fully MySQL database engine to run on RDS, which encroaches on one of the highest cost parts of IT, the database. AWS has said that vendors with high margins that are not delivering innovation will be disrupted.
A big question for users is will AWS be the ultimate lock-in. For years we've heard the "Hotel California" analogy – you can check-in but you can never leave. AWS claims that it needs to win a customer's loyalty every hour and doesn't play the old enterprise games (no special discounts at the end of the quarter). One surprising non-announcement was that while Google dropped prices the week before, AWS did not make any price drop announcements. The new support of Docker with the new Amazon EC2 Container Service does give users a bit more flexibility in choosing the supplier since despite the marketing boasts, the best place to run Docker is everywhere. It is supported by Red Hat, VMware, Google, Azure and AWS (interview with Docker CEO Ben Golub). AWS's head of engineering said the way that it continues to add new innovations so rapidly is by having small teams (following the rule that you can feed them with two pizzas) that are loosely coupled. The teams don't just own the creation of a feature, rather they own the entire experience from understanding the customer concerns through delivery of the solution; a very DevOps-like mentality. If AWS can continue to spin the fly-wheel of innovation (a highly scalable platform where new customers are part of the input), the only option will be to be part of AWS's game, because you won't be able to beat them.
Action Item: Users at re:Invent stated that AWS is focused on helping solve real problems rather than simply pushing products at them. Public cloud will continue to expand services and appropriate workloads at a tremendous growth rate (industry estimates are that 50% of all compute will be in public cloud by 2018). Today IT staffs are best served by doing an application-assessment to determine which applications live on-premises, which go to public cloud and which came be consumed via SaaS based on competitive differentiation and corporate edicts around GRC (governance, regulation and compliance).
Footnotes: For a great look at AWS financials, see Bernard Golden's Is Amazon Web Services Really Down and Out