Converged infrastructure is a trend that has been growing for over 5 years and is rapidly transforming the way that users consume IT. In 2012, Wikibon forecasted (see Converged Infrastructure Takes the Market By Storm) that 2/3 of infrastructure for enterprise applications would be packaged as some form of converged infrastructure by 2017. Now there are billions of dollars of converged infrastructure solutions (VCE has a $2B run rate and FlexPod has passed $3B in joint sales for Cisco and NetApp) that have been deployed. While converged infrastructure is a solution set that is available from most enterprise vendors today, the top providers over the last few years have been Oracle (with a full end-to-end "red stack") and Cisco (which has driven a large variety of solutions with a broad ecosystem). As with any growing technology market, the success of a market is bringing a wave of competitors and potential disruptors. In the disruptor camp are so called "hyperconverged" offerings – what Wikibon calls Server SAN – that are distributed architectures built for virtualized (and potentially in the future containerized/Dockerized) environments. While the IT world has not eliminated stovepipes of infrastructure (aka "cylinders of excellence"), the simplification of both the acquisition and usage of infrastructure with the various converged solutions will compel most users to consider it during the next upgrade cycle.
Convergence as a Mindset
Oracle and Cisco have a lot of differences in how they build and deliver converged infrastructure, but a commonality is that building the stack is not a side project or just a SKU to be built. Oracle is the king of vertical integration, from the database down to the hardware (including acquisitions like Sun and Pillar), Oracle is devoted to building a complete solution which doesn't leave any gaps that need to be filled. The Exa-family is simple to buy, has great performance for the set of applications that it is designed for and users can focus on the application without having to worry much about the infrastructure.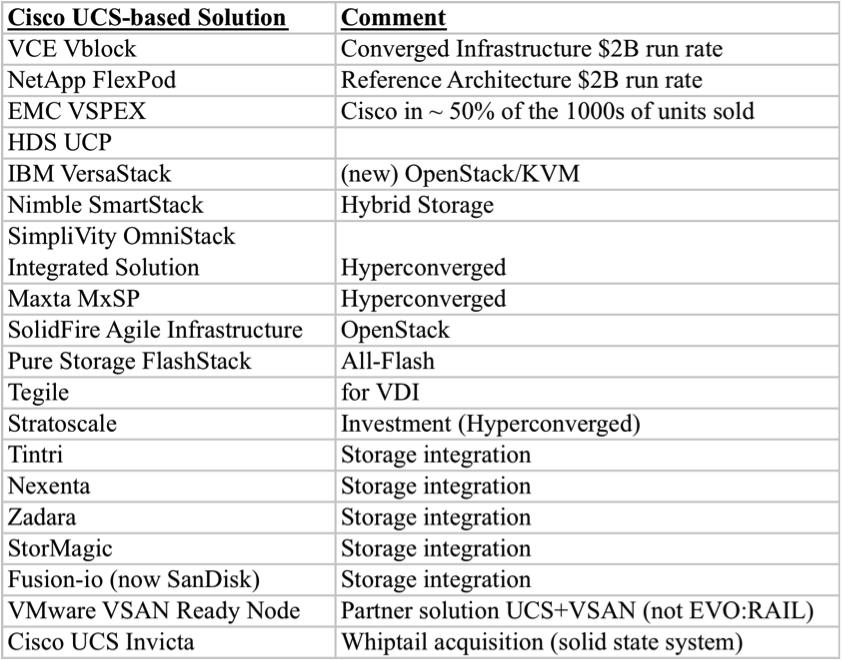 Cisco's entrance into the compute marketplace is often misunderstood. Cisco did not try to simply be a general-purpose server manufacturer; the UCS platform was built for virtualization with full consideration of how network, compute and storage should go together. This led to the Vblock architecture with EMC, which launched a joint venture Acadia, which turned into VCE, and is now an EMC company. Cisco does not OEM its products, there are a small number of global strategic partners including NetApp (which it created the FlexPod with), Citrix, EMC, VMware and IBM that have dedicated headcount to drive solutions. Additionally, Cisco has partner programs and integrated solutions with many more storage partners (see Figure 1). Cisco worked with technology and channel partners to focus on data center solutions; the most successful channel partners were those that took this opportunity to expand from networking into full solutions with converged infrastructure at the center. While the other server vendors have created competitive converged infrastructure solutions (often a single-vendor stack), until recently, most of them did not position these converged offerings first, which let others set the agenda when it came to convergence. Going forward, more users are asking about complete solutions and vendors and the channel will be leading the conversation with a mindset of convergence.
Hyperconvergence and VMware
The first generation of converged infrastructure solutions were built by taking storage arrays and integrating them with servers and networking. While these solutions offer simplicity and better economics than traditional infrastructure, there has been an opportunity to take advantage of the latest technology (including flash storage, services in software and increased density of cores) to create a new architecture that both reduces the components of infrastructure while enabling distributed solutions. These solutions are often delivered in an appliance form factor, commonly called hyperconverged solutions. While Wikibon agrees that a fully integrated hardware plus software solution is best for a fast deployment, most of the value is in the software (see The Rise of Server SAN). Software-based solutions can partner to create a full solution (such as Maxta software with Cisco UCS) and alternatively appliance-based solutions can often run on a variety of hardware or even as software-only (Nutanix uses Supermicro servers in its standard offering, has an OEM agreement with Dell and can run a remote software-only version in AWS).
The software for a hyperconverged solutions sits in one of two layers in the stack – either it is in the hypervisor layer (some call it a "stack owner") or it sits above the hypervisor in the VM/guest layer. VMware Virtual SAN (VSAN), EMC ScaleIO (in VMware), Scale Computing (using KVM) and NIMBOXX (KVM architecture) are stack owners while Nutanix, SimpliVity and Maxta are in the guest space. The debate on which approach is best is ongoing: in the hypervisor reduces some flexibility in platform choice and how/what services can be used, above the hypervisor leaves independence while requiring integration as new releases come out which can lead to unexpected changes to services or performance. When deployed as a full solution (instead of a build your own), the variability of the environment and control over versioning should be much better than traditional IT. With its hypervisor leadership and strong positioning in the IT ecosystem, VMware's entrance into the hyperconvence market with the VSAN and EVO Family solutions has given top of mind awareness of the space. The first full solutions for VMware VSAN were with the "VSAN Ready Node" program – a reference architecture with server partners including Dell, Fujitsu, Supermicro and Cisco (yes – even though Cisco and VMware are bitter competitors for SDN, they are still partners on many solutions including UCS+VSAN). At VMworld 2014, VMware launched the EVO family and first product, EVO:RAIL (see video with my analysis from VMworld), an exact configuration prescribed by VMware and delivered with partners including Dell, HP, HDS, EMC, NetApp, Fujitsu and Supermicro. VMware competitors have said that the EVO:RAIL launche has dramatically increased customer interest in looking at hyperconverged offerings.
While the VMware EVO:RAIL solutions are currently a 1.0 product with a high price tag (see discussion in Gabriel Chapman of Cisco's post), the solution will improve with maturity and VMware has gained strong thought leadership. This has not gone unnoticed by VMware's competitors. At its partner summit, Citrix announced that it had acquired Sanbolic, a pioneer in the software-led storage space. With Citrix's focus on desktop/VDI environments and the addition of Sanbolic, it has created the Citrix WorkspacePod and the first solution with HP Moonshot. This partner-friendly offering gives Citrix and its partners an alternative to EVO:RAIL, especially in VDI environments which is the first use case for both architectures. Missing from the hyperconvergence discussion is Microsoft. Microsoft's Hyper-V hypervisor has closed the gap with VMware's and Microsoft Azure is a leading hybrid cloud offering, so it is a little surprising that the Redmond-based company hasn't pushed deeper into this important growth area. Microsoft has been pushing enhancements into the storage world, especially with SMB3, which is geared more for a disaggregated architecture and doesn't fit with most of the existing hyperconverged solutions.
Breaking the Pain of Upgrades
In the early days of converged infrastructure, one of the biggest challenges was aligning budgets, different groups (that often didn't plan together) and upgrade cycles. This was usually overcome by choosing a project that could benefit from the new architecture – VDI was often the "killer app" – and expanding into more environments as time went on. With the smaller starting configuration and lower price tag for hyperconvergence solutions, there are many insertion points. A typical user will have yearly budgets for specific projects and will rotate the upgrades of each silo independently, such as servers in year one, storage in year two, network in year three, etc. Each of these upgrades causes pain and challenges. Hyperconvergence looks to break this cycle by pulling the components together into a pool of resources, which can easily be expanded and updated. A user example is Dairylea (see video interview), which was looking to add backup to an existing NAS environment and was able to upgrade its entire environment to SimpliVity for less money than the add-on would be for a legacy environment. Enterprise IT has squeezed on budget and manpower for years. The only way to handle the challenges of growth and respond rapidly to the needs of the business, infrastructure must become both more standardized and more flexible. Both converged and hyperconverged offerings deliver on the simplicity required to create a stable platform that allows IT to focus on applications and value creation to the business rather than just keeping the lights on.
Wikibon Sr Analyst Stu Miniman will be hosting a panel on Hyperconvergence with Nutanix, SimpliVity, Scale Computing and Gridstore at the VTUG Winter Warmer at Gillette Stadium on Thursday January 14, 2015. He will be speaking on this topic at Interop in Las Vegas and writing about it throughout the year.