Acknowledgements
This research was done in collaboration within the Wikibon analyst team, including:
Ralph Finos
David Floyer
Brian Gracely
Stu Miniman
Dave Vellante
Premise: "True*" Private Cloud will Start Shipping in 2016 
Wikibon believes that in order for in-house IT organizations to remain valuable and relevant to their lines of business, they need to be able to deliver Private Cloud services that are competitive (pricing, agility, breadth of services) with Public Cloud services. The IT focus has to shift away from operational "keeping the lights on" to driving new IT business value at a much faster rate. This "True" Private Cloud will be disruptive to existing infrastructure vendors offering, allowing overall costs and time-to-value to be significantly lower that existing infrastructure practices. 
Wikibon believes that "True" Private Clouds will start to be delivered in 2016 as complete solutions, with a single point for purchase, support, maintenance and upgrades. The solution stacks include integration of hardware, OS, orchestration/automation management software all the way through to a hypervisor, and in some cases through to middleware and applications. These solutions will move almost all maintenance work from IT departments to the vendor or systems-integrator.
The Current Problem with the Private Cloud Term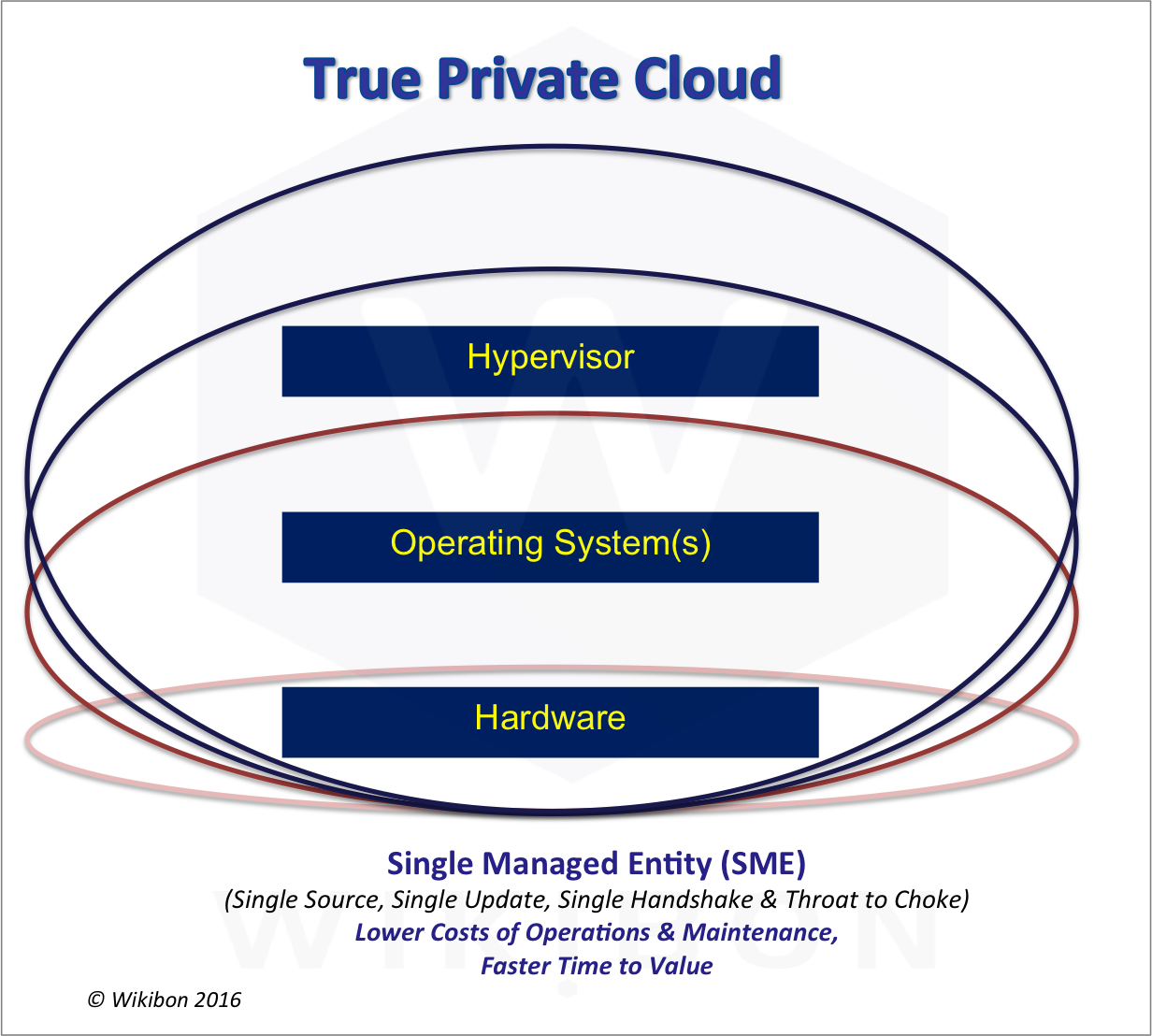 Initially coined around 2009, the term "Private Cloud" has been hijacked and used in multiple different ways by different vendors. Traditional infrastructure products have often been "washed" with the term private cloud. Wikibon is using the term "True" Private Cloud, but is open to hearing alternative suggestions.
"True" Private Cloud Definition
In order to deliver competitive Private Cloud services, Wikibon believes "True" Private Cloud solutions need to adhere to these architectural guidelines:
Built with a foundation of converged (or hyper-converged) infrastructure, that can be highly automated and managed as logical pools of compute, network and storage resources.

All maintenance of software and hardware, up to and including at least the virtualization layer (See Figure 1), is managed by the vendor. Some "True Private Clouds will include database layer(s), middleware layers and application layers.

Enables end-users (developers, line-of-business, etc.) to have self-service access to resource-pools and have visibility to internal costs or IT chargeback pricing.

Optimized with orchestration and automation for very lower-cost operations, from initial implementation to decommissioning.

A single point of purchase, support, maintenance and upgrade for a pre-tested and fully maintained complete solution (a single throat to choke).

The "True" Private Cloud can live within the customer's data-center (on-premises), be outsourced (especially in a cloud-adjacent mega-datacenter), or be delivered via a dedicated Cloud Provider.

The "True" Private Cloud should be designed to accommodate hybrid use-cases, where the IT organization can accommodate both the CAPEX and OPEX requirements of the business.
Conclusions
Wikibon believes that the current deployment levels of "True" Private Cloud is still fairly low.  Wikibon believes that the market is quickly evolving towards delivering solutions that are Operations-Optimized, and that the converged solutions of today (e.g., EMC Vblock with VCE Vscale, 
HPE Synergy with HPE OneView Composer, IBM BlueBox Local, Microsoft Partner Core Infrastructure Server Suite (CIS), Nutanix Xtreme Computing Platform, Oracle ODA, PCM & PCA, etc.) will meet the definition of "True" Private Cloud in 2016 or soon after.
Action item:
Wikibon believes it is a strategic imperative for CIOs to drive the majority of internal infrastructure spend towards "True" Private Cloud solutions in 2016 and beyond. CIOs should ensure that strategic vendors and their partners have a clear and committed schedule for implementing "True" private clouds. CIOs will need take advantage of this opportunity to reorganize operations and development, reduce internal IT costs and improve IT time-to-data and time-to-value.
Footnotes
* Please give Wikibon feedback on the definition of "True" Private Cloud, and suggestions of a better name! Brian.Gracely@Wikibon.org