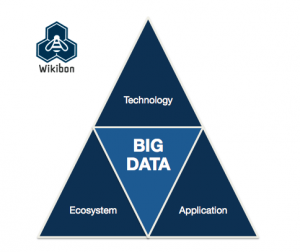 I've already laid out my predictions for Big Data in 2014, but I also wanted to let the Wikibon community know how my colleagues and I plan to cover Big Data in the year ahead. We've organized our research agenda into three major buckets.
Technology. Clearly the technologies and products that collectively make up Big Data – including Hadoop, NoSQL data stores, analytic databases, data visualization tools and more – are maturing at a rapid pace (much faster, for example, than relational databases did in the 1980s.) Big Data is also applicable across industries,  meaning these technologies are inevitably and increasingly intersecting with adjacent technology movements, namely the cloud, mobile computing and social media. As we have for the last several years, Wikibon will devote significant coverage to these developments with an eye on putting technology innovations in context for enterprise Big Data practitioners (both technology practitioners and line-of-business practitioners.)
Ecosystem. As with any young and exploding market, the ecosystem of Big Data vendors and service providers is in a state of near-constant flux. Just take a look at our Big Data market forecast and you'll count no less than 70 vendors in the mix – and that doesn't include the slew of start-ups whose revenue didn't qualify them for last year's vendor rankings. Making the Big Data ecosystem more complex (but definitely more valuable) are the many practitioner organizations that also contribute technology development through the open source community. These include Facebook, Twitter and Netflix. In 2014, this ecosystem will surely continue its rapid evolution with new start-ups emerging, some going kaput, mega-vendors making acquisitions and more. Wikibon will parse through the many developments in the Big Data ecosystem with the goal of helping enterprise Big Data practitioners understand their technology and services sourcing options.
Application. By application, we don't just mean Big Data end-user applications in the narrow sense. Rather, Wikibon will focus coverage on the real-world application of Big Data in the enterprise, the resulting business value created by these applications (a.k.a. The Data Economy), and the implications (both expected and unexpected) of Big Data on critical areas such as security, privacy, data management and data governance. This coverage includes use cases in vertical industries that fall under the umbrella term Industrial Internet, such as aviation, healthcare and energy. The Internet of Things, which encompasses both the Industrial Internet and the commercial internet, will also be an area of focus for Wikibon in 2014. We'll also report on developments in data science and analytics, Big Data adoption trends, and best practices for successful Big Data projects.
Of course, all three buckets are intimately related and overlap in a number of places, and should be considered as three parts of a larger whole. Hopefully you'll notice a common thread amongst the three focus areas: providing valuable analysis and insight to enterprise Big Data practitioners. At the end of the day, we judge ourselves on how well we've helped the enterprise understand and leverage Big Data for business success. Let us know what you think of our 2014 Big Data Research Agenda and please make suggestions as to topics and areas we may have missed that are important to you.